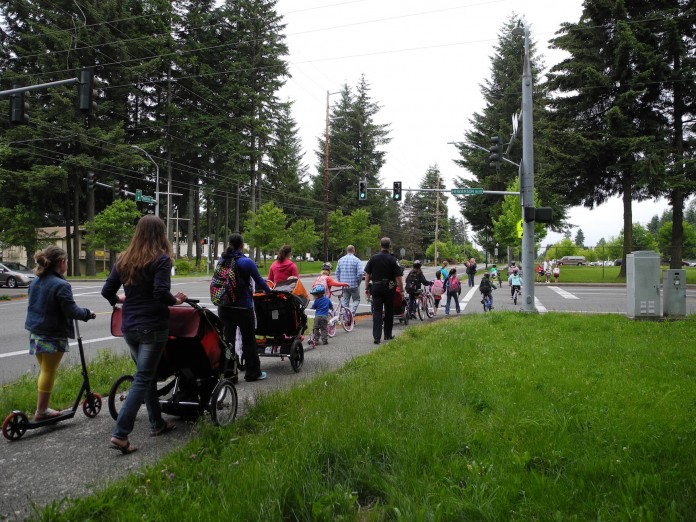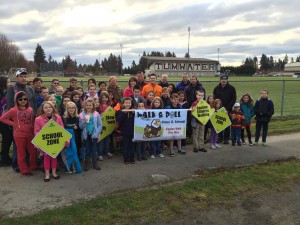 Many students will be walking to school on Wednesday, October 8.  It's international Walk to School Day, and the first monthly Walk N Roll day of the new school year. Students are encouraged to walk, bike, or ride the bus to school.
International Walk to School Day Events are planned for October 8 at the following schools:
Olympia: Pioneer Elementary and Washington Middle School
Tumwater: Michael T. Simmons and Peter G. Schmidt Elementary Schools
Lacey: Lydia Hawk Elementary and Nisqually Middle School
Students and families are encouraged to participate wherever they go to school. The cities of Olympia, Tumwater and Lacey have proclaimed October as Walk to School Month.
"Walk N Roll Wednesdays are awesome. I wish everyday was a Walk N Roll day," shares Randy Weeks, Pioneer Elementary School Principal. "We have tremendous traffic issues. Anything we can do to reduce the number of cars on the road is wonderful. "Plus," he says, "kids love it. They love riding, walking, and wheeling with their friends.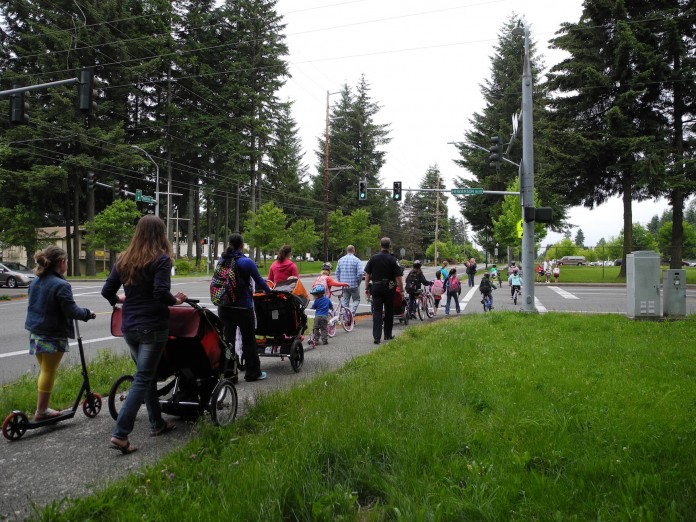 Courtney Edwards, a Pioneer Elementary fifth grader, bikes to school every day with her mom, Sherry. "We only live a few minutes from the school and we don't like to use a lot of energy," she says. "The best part is that you get your 'wiggles' out …talk to friends, and see the neighborhood cats and dogs. I love the walk to school days where we meet our principal and walk in a big group."
We've all heard that our parents used to walk 10 miles to school in the snow uphill both ways. While the stories may be exaggerated, it is true that past generations walked and biked to school more than students today. Five years ago, a group of community members posed the question "Why can't kids walk and bike to school?" and the Walk N Roll Program began.
Walk N Roll encourages and supports students and families walking, biking, and taking the bus to school. Partnering schools and cities work with Intercity Transit and Thurston Regional Planning Council on grant-supported Safe Routes to School projects. Thurston County Health Department, FedEx, and Safe Kids Thurston County also coordinate Safe and Active Routes to School projects.
"Walking to school is a fun way to get exercise, spend time with your kids, and teach them how to be safe," says Erin Scheel, who coordinates Walk N Roll at Intercity Transit. "We know that every transit trip begins and ends with walking or biking, and we want to give people more choices for how to get around."
The Walk N' Roll Program has been effective. Thurston Regional Planning Council reports that by the end of the program's first year 57% of students at a partnering elementary school were walking or biking to school and only 17% arrived by car.  At the beginning of the year, 47% of students arrived by car and only 24% walked or cycled.
Scheel encourages parents to check out the great safety tips from the National Center for Safe Routes to School.
Contact Erin Scheel at escheel@intercitytransit.com for more information on the Intercity Transit Youth Education Programs and remember to Walk N' Roll to school on Wednesday, October 8.