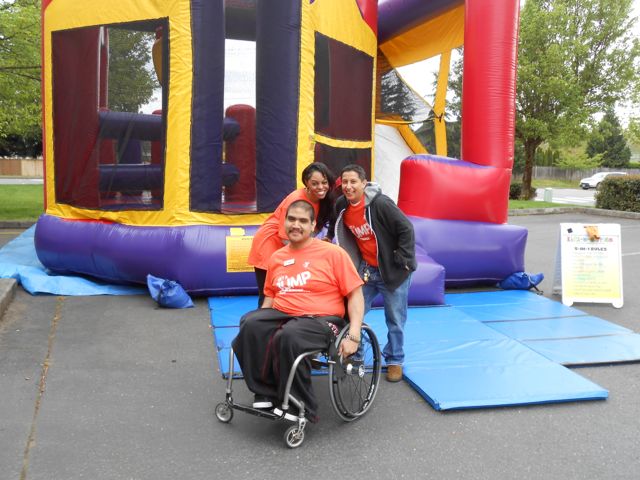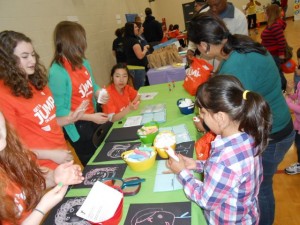 In this region, Spring Fever doesn't take long to set in.  My 5 year old was asking to play in the sprinklers within seconds of a positive weather report. She was crushed after our trip to the window illustrated the other age-old adage: spring showers.
But one easy place to burn off extra energy, no matter the season, is the South Sound YMCA.  Our area is blessed to have two branches nearby offering many amazing opportunities for classes, fitness, fun, and community.  So much more than just a gym, the Y is a hub for arts and crafts, community service, mentoring, and programs for all ages.
From 11am-2pm on Saturday April 5, both the Olympia Downtown and Briggs Community branches will host Healthy Kids Day, with free activities, swimming, games, and crafts.  This is an amazing opportunity for members and non-members alike to meet and explore some of the fitness and enrichment activities available.
An annual event, Healthy Kids Day is aimed to address the sobering fact that when the school year ends, kids are often exposed to far fewer beneficial activities, be they physical or mental.  By piquing interest in the spring, kids can begin to enroll in camps and classes which will keep them moving and thinking all summer long.
Mike West, President and CEO of the South Sound YMCA, put it this way, "Healthy Kids Day is not just a single day of fun, active play and learning – it's a kick-off to helping parents get a jump on creating a healthier summer."
This year's event will focus on life skills like nutrition, reading, volunteering, mentorship, and athletics.  There will be fitness challenges, face painting, crafts, and information on summer classes for interested parents.  The Olympia Downtown branch will host a bike rodeo during the event and Briggs Community will have an inflatable bouncy obstacle course.  The open swim time starts at 2:00 p.m. and everyone is invited.
Summer Learning Loss has been studied for years.  Simple, inexpensive solutions can be found at our local parks, libraries, and places like the Y which foster physical and mental health.  Play is a proven benefit to kids of all ages (and most adults could use a good dose too!).  Whether you're out on the town, enjoying a festival or museum or trapped indoors by our notoriously soggy weather, there's always something available to strengthen mind, body, and community.
The Y is a wonderful one-stop-shopping resource for every family and occasion.  Whether it's a Parent's Night Out, camps, childcare, or birthday party, the Y hosts it all.
In 2013 the South Sound YMCA served over 47,000 of our friends and neighbors.  Over $500,000 was given in financial assistance to local families across the region.  This benefit will reap so many rewards across generations to come, especially in the lives of our children.  By growing healthy minds and bodies, these healthy kids insure a strong future for our community.