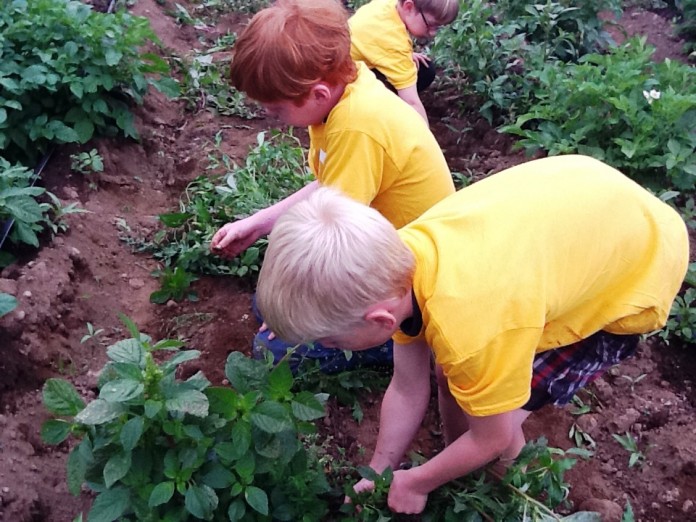 By Kathryn Millhorn
For over 160 years, the Y has been an organization focused on community.  They share through activities, charitable giving, outreach, and education.  There are now more than 10,000 neighborhoods across the country and 120 countries around the world that benefit from the Y's activism.  Key to their success is the philosophy that "the Y is made up of people of all ages and from every walk of life working side by side to strengthen communities.  Together we work to ensure everyone, regardless of gender, income, faith, sexual orientation or cultural background has the opportunity to live life to its fullest.  We share the values of caring, honesty, respect and responsibility—everything we do stems from it."
The Downtown Olympia and Briggs Community YMCA branches model this through their many classes, opportunities, and learning for all ages.
Tanya Bowers-Anderson, of the downtown branch, is passionate about reaching out because "we really need to get more kids involved besides gym, swim, and sports."  She says that their "teen programs are overlooked a lot" and hopes to change that by offering varied classes, mentorships, and activities.  These include dance, science, arts and crafts, cooking, job awareness, community service, and volunteering opportunities for all ages, but especially middle- and high-schoolers.
One focus Bowers-Anderson is proudest of is their teen job preparation group.  Through mentoring, community service, and training in "job awareness" she helps teens "work themselves into a job by experience."  Whether it's helping future babysitters train in first aid and CPR through the 'Safe Sitters' class (ages 11-13) or building Junior Scientists through experimentation and hands-on exploring, they have many offerings for all ages and passions.
The Briggs Community branch hosts Youth & Government, a program for students in grades 8-12 which meets monthly throughout the school year to form a "youth legislature," explains Shilpa Johnson.  This is part of a state-wide YMCA program which culminates in a spring-time takeover of the Olympia legislative buildings.  There they prepare and argue bills, facilitate and attend committee meetings, and explore all aspects of our state's government.  These hands on skills translate into tremendous benefits later in their education.
The Briggs branch also hosts home school physical education, drama classes, yoga for ages 6+, a climbing wall, and birthday parties.  These parties include an on-site host, all paper goods, cake, and plenty of time for activities.  As a parental date-night option, they also offer Middle School Late Night where students can be dropped off for an evening of video games, activities, dancing under the black-lights, sports, and swimming.  Briggs also has a climbing wall with classes offered for those aged 8+.
For adults, the local branches offer blood pressure checks, nutrition counseling, yoga, dance, pilates, zumba, massage therapy, personal trainers, and access to the Lance Armstrong Foundation's 'Livestrong at the YMCA: Exercise and Thrive.'
And of course all ages can participate in swimming lessons, classes, water fitness, and pool play time.
Membership at the YMCA is easy, with financial assistance available to families who qualify.  There are discounts offered to members of the military, certain insurance plans, and employees of various local businesses.  Forms for these are available online or you can call the downtown Olympia branch at 360-357-6609 or the Briggs Community branch at 360-753-6576.
The YMCA organization thrives because they practice what they preach.  For more than a century, they stand by their founding beliefs that "Our cause defines us: We know that lasting personal and social change comes about when we all work together. That's why, at the Y, strengthening community is our cause.  Every day, we work side-by-side with our neighbors to make sure that everyone, regardless of age, income or background, has the opportunity to learn, grow and thrive."
Here in Olympia, we are blessed to have two branches doing just that for all ages, every day.