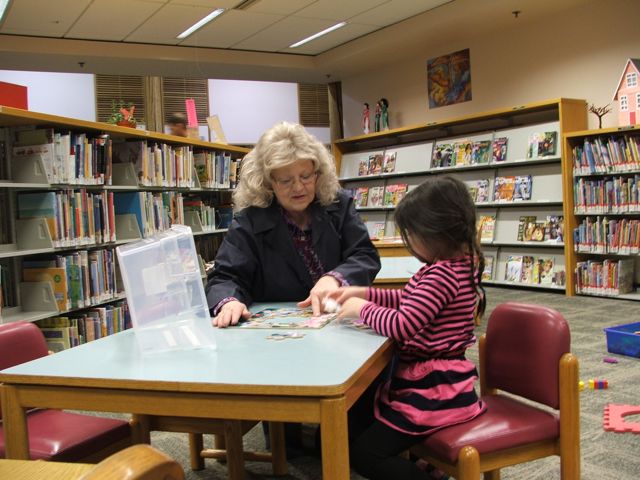 By Gale Hemmann

From e-books to story time, your local branch of the Timberland Regional Library (TRL) offers endless options for keeping kids entertained on rainy days. They offer read-alouds for younger children, volunteer opportunities for teens, all the latest popular kids' titles, and so much more. Even if you are already a regular library patron, chances are your local library offers even more than you already knew in terms of free family fun. And if you've never or rarely visited the library, you'll definitely want to get a library card and make it a regular stop. The Timberland Regional Library has five branches in Thurston County, plus four "kiosks" and two book drop-off sites in smaller communities, making it convenient for families no matter where you live.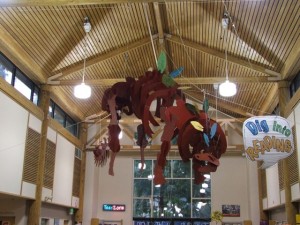 On a recent Saturday, this "Thrifty Thurston" writer visited the Olympia Downtown Library and Lacey Timberland Library branches to talk with staff and check out their latest offerings for kids and youth. I grew up in Lacey and remember spending many weekends and school holidays browsing the Lacey branch with my mom and younger brother. Though the collections and technology have changed, the Lacey Library retains its same charm: bright and airy, well-organized and spacious. The Children's Area boasts a large selection of kids' books, toys and games, and a reading area. During my visit, children of all ages browsed the books with their parents, sat and read together, used the computers to play games or explore the library collection, or built a puzzle at one of the library's kid-sized tables. Situated amidst Evergreen trees, the Lacey Library is lively yet tranquil, and remains one of my favorite spots in Lacey.
I then hopped over to the Olympia Timberland Library branch. Warm and bright, the library was bustling with patrons. In the large Children's Area, kids and their parents sat and read books together, looked through the selection of kids' DVDs, or talked with one of the youth librarians. The staff clearly enjoys their work; they are positive and upbeat when recommending books, and genuinely dedicated to sharing everything the library has to offer.
One of the library's popular activities for younger kids is Story Time, held at each major branch. The library offers story times for different age groups: Book Babies, as well as Toddler, Preschool and Family Story Times (check website for current schedules). For evening Family Story Time, everyone is encouraged to wear pajamas for extra fun. The library also offers motivation to keep reading at home – you can pick up a free "Read Aloud" kit at any branch this spring (March 1-April 12, 2014), do the read-aloud and singing activities at home and enter to win a prize. Keep an eye out year-round for the libraries' unique games and contests geared toward getting kids excited about reading.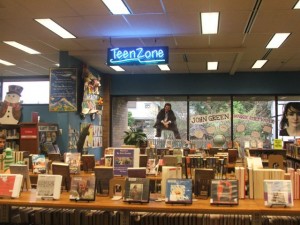 Some examples of cool upcoming programs this spring include a Life-Size Labyrinth and a "Time Travel Afternoon" (Lacey), a "Diary of a Reader" project (Olympia), and the Friday Family Films series (Tenino). You can view a list of current and upcoming events on the TRL website to plan your next Thrifty Thurston adventure.
The Timberland Regional Libraries also have plenty of opportunities for older kids and teens. Both branches I visited have a special "Teen Zone" area, with a large selection of juvenile and young adult books and magazines available for perusing. Pair this with the free computer access (I recommend scheduling ahead of time online to ensure easy access) and free wifi throughout the library, the availability to download music from freegal and e-books from the library website, and you have one cool, safe and free hang-out space for teens. The library also offers social activities and volunteer opportunities for teens, such as the Olympia Library's "Teen Tech Tutors" program. The Lacey Timberland Library holds the "Pizza and Paperbacks" teen book club for youth in grades six through twelve. (For a complete listing of activities for youth, visit the TRL website's "Teen" resource page.)
I asked several parent friends about what they most enjoy about taking their kids to the library. All were enthusiastic library patrons. My friend Nancy Wallace notes she takes her son and grandson at least once a week. She says, "The kids love it. They always get to do something new and meet other children. They also attend several library-sponsored events throughout the year. Love our library system. Definitely enriches the kids' lives and gives them something educational to do during the winter months."
Another friend, Robyn Cragun, says, "I take my son once a week or so, mostly because he enjoys playing with other kids his age. While he plays, I pick out his books and we read those every night before bed. Because he's not in daycare, the library is really the only time he has to socialize. Just that hour each week has helped him with things like sharing and taking turns." Many other parents noted the positive social benefits for kids of interactive library activities, and the educational benefits of spending time picking out books together.
And parents can pick up a few books (or CDs or DVDs) of their own, too, on the next library trip. This helps illustrate to kids that their parents enjoy reading too, and to view it as a life-long interest.
Another great thing about the library is the hours. The library is open Monday through Saturday year-round. They also feature drop boxes in several locations, making returning materials even easier. And, of course, downloadable materials are available 24 hours a day.
To find out everything your local library has to offer, visit the Timberland Regional Library website. You can also follow the Olympia, Lacey, Tumwater, Tenino, and Yelm Timberland Libraries on Facebook. Grab your library card and take your kids to "check out" some fun.
Thrifty Thurston highlights inexpensive family fun in Thurston County.  The weekly series focuses on family-friendly activities throughout our community.  If you have a suggestion for a post, send us a note at submit@thurstontalk.com.  For more events and to learn what's happening in Olympia and the surrounding area, click here.