By Claire Smith, Capital High School Intern to ThurstonTalk

Rachel and Palen Fenton, sister duo, are both queens of the court. They're finally playing varsity basketball together, and both loving it equally. It is Rachel's senior year and fourth year playing on the varsity high school team at Capital High School.  Palen is just in her freshman year is playing varsity as well.  They're both holding on tight and enjoying the ride to its fullest.
While some may believe that Rachel and Palen were born with a ball in their hands, they'll admit that they didn't fully dive into the sport until they were in first grade. Their dad gave them their first 'pass,' and really encouraged them to play basketball. Rachel and Palen also continued to play because of the unending support given to them by their family. The ultimate slam dunk was spending more time with their friends. The Fenton girls played at the South Sound YMCA, until they were old enough to play the Capital High School run program, Little Cougars. Now, they're students at the high school and are both shining stars on the basketball court.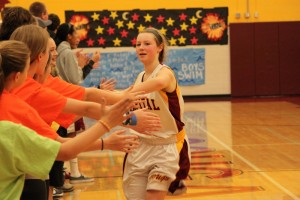 Undoubtedly, both sisters have been fortunate enough to have one-of-a-kind inspirations in their lives. Palen is really inspired by their current coach. Rachel's main 'coaches', in her life are her parents. Her dad, for being the best coach she could ask for and pushing her to new limits, and her mom, for always being her number one fan.
Like any experienced athlete, Rachel and Palen have battled and overcome hard choices and challenges. Rachel had to sacrifice a huge portion of her barrel racing competitions to continue to compete in basketball at an intense and competitive level, helping her become the success she is today. While a few tough high school seasons tested her faith, Rachel always rebounded, her love of the game driving her desire to play with her friends and for her school.
Palen is also an accomplished horseback rider, and the choice between basketball and riding was a tough one for her, though ultimately, basketball won out. Neither regret their choices, however difficult they may have been to make. Their love for basketball is unconditional, and it's so clear once you get to see how their passion flows during every play they make on the court.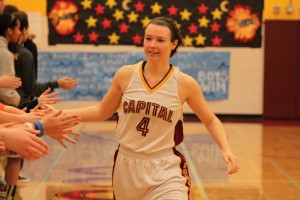 Palen plans to continue into college ball if she gets the chance, but Rachel is going to throw in the towel soon to focus on her next big goal – studying nursing. She says, "It's been fantastic, though. I've loved it."
When asked about their favorite part about playing together, there's zero hesitation. Rachel comments, "I've loved seeing my sister grow and get better at the sport and develop as a player."
"My sister gives me really good knowledge of the the sport and is very experienced,"  shares Palen.  She then adds, "My sister's got my back, which feels really great."
Rachel and Palen have both loved everything that basketball has taught them. Rachel has learned to get through difficult and rough times, to manage a good work ethic, and to work with people she may not naturally flow the best with. Palen has also learned her fair share of life lessons from basketball. She's learned fantastic teamwork skills, and that if she really wants something, she's going to have to throw herself into the corner for a shot – to really try hard and work at it.
Though the girls have had a challenging season, anyone who attends the games can say with confidence that Rachel and Palen are both queens of the court, and shine practically every moment they are out there, giving it there all and playing their hardest.
Go Cougs!