Submitted by The City Of Olympia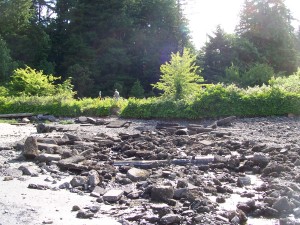 The City is partnering with the Port of Olympia and  South Puget Sound Salmon Enhancement Group  to restore estuarine functions and fish passage to the mouth of Mission Creek. The project will remove a historic derelict right-of way road and road embankment fill at the mouth of Mission Creek. The project will also remove concrete rubble and related drainage structures (concrete culvert and linear drainage ditches) with the intent of restoring fish passage and restoring natural sediment processes.
The road embankment fill and impounded channel will be removed within the higher-high water elevation zones.  A new channel will be created within the existing freshwater wetland to maximize fish passage.
The project will begin September 9 and will be completed by September 30, 2013, depending on tides.  The selected contractor is Sealevel Bulkhead Builders, Inc. of Kingston, WA.  Total project cost is $200,000 and is funded by the Port of Olympia ($120,000) and the Salmon Recovery Funding Board ($80,000).
Impacts:
The southernmost access to the beach (including east bay trail access) will be closed during construction.  Expect construction traffic on Mission Drive NE.
Project Background:
In 2005, the Port of Olympia obtained an easement from the City granting the Port the right to do the restoration project on this site.  In 2011, to move the project forward, the Port partnered with the South Puget Sound Salmon Enhancement Group (SPSSEG).  The Port put $120,000 toward the project and, together with SPSSEG, applied for a grant from the Recreation and Conservation Office (RCO) to cover the estimated remaining costs.   The Port and SPSSEG received the grant from RCO in December of 2011 and the project has moved forward under the leadership of SPSSEG.
To learn more about the Mission Creek Restoration read a full story on the area here.