It's gone but not forgotten.  This year marks the opening of the newly rebranded Washington State Fair at the Washington State Fair Events Center.  From September 6-22, the Fair will open with updated attractions, signage, transportation, and the brand new 60 foot high Rainier Rush roller coaster!
Visitors will notice many small changes, like updated signs and slightly shifted locations, but some key additions make this a year not to miss.  First, Thurston County folks can use their gas and parking money on more scones by taking the Sounder Train from Lakewood on either Saturday September 14 or 21.
Shuttle service is offered from the Puyallup Station to the Fair, making for a much smoother start to your adventures.  Monday through Thursday admissions also offer free People Movers within the Fair, a relief to tired feet!  Little bonuses like these make it possible to cover 160 food locations, 70 rides, 750+ artisans, rodeo and concert events, and animals with a smile…especially if you're staying for the 10pm Fireworks Spectacular, offered on September 6, 13 and 20.
The Washington State Fair opens Friday, September 6 with free admission until noon.
By accepting donations for the Puyallup Food Bank in lieu of payment, the Fair helped raise over 200,000 pounds of food last year alone.  This was balanced out by the 1.2 million Fair Scones consumed.  These calories are easy to burn off while exploring the FFA and 4-H State Fair entries, Hobby Hall, Home Arts area, International Photo Salon, Fine Art Show, and Planting Patch.  Fair BackPaks will also be sold this year, holding over $60 of food, beverage, and assorted items.  The four designs vary in price and are available while supplies last.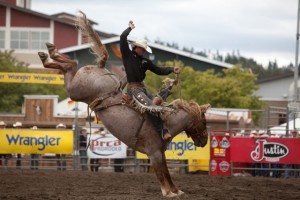 Opening day also features the Rodeo Breakfast, Rodeo Parade, and Washington State Fair Rodeo, with the winners one step away from the National Finals.  Smaller riders (aged 4-7) can try their hand at Mutton Bustin', trying for a six-second sheep ride that's anything but easy!
Concert goers receive free admission to the Fair with their ticket purchase.  This year's season features the amazing talents of Trace Adkins, Al Jarreau, Cheap Trick, CeeLo Green, Carrie Underwood, Alabama, Carly Rae Jepsen, Kid Rock, and Larry the Cable Guy, among others.  Full concert details, times, and ticket prices can be found at www.thefair.com/concerts or 888-559-3247.
Special event packages and pricing can be found at retailers around the Sound.  Participating Walgreens, Safeway, Fred Meyer, BECU locations offer deals on entrance fees, rides, and food.  September 9 and 16 are deemed Military Mondays, where active, reserve, and retired military service members and their families receive free admission, at the gates with valid military identification.
Thursday evenings, September 12 and 19, are 'Happy Hour Thursdays' with admission after 7pm discounted to $7.  Special activities for seniors over the age of 62 are lined up for Tuesday September 10 and 17.  On Sunday, September 22, the state-wide College Fair will have schools onsite to discuss their educational offerings.  The Comcast Dizzy Pass Ride Bracelet is available for unlimited rides either in advance or at the Fair itself.
Fair spokesman Karen LaFlamme says that from a new 60 foot tall Space Needle replica to the 50,000 lights hung as part of 'Luminasia', this year's event has "so many new and different aspects…that they haven't seen before."
With over 2,700 animals, 4,800 floral entries, 190+ rodeo athletes, 35,000+ seasonal hires, 86,000 ears of roasted corn, 50,000 hamburger patties, and nearly 3 million feet of paper towels waiting, it's sure to be an amazing event for everyone!
For complete event information, including hours, click here.