By SarahJoy Smith

Priest Point Park is an oasis right at the edge of Olympia. The park is 341 acres in size, and boasts a full mile of shoreline right on Budd Bay.  On a clear day you can stand at the shoreline and see a full view of the capitol rotunda in one direction, and the Olympic mountain range in its entire splendor in the other. But far more than just a beautiful view, Priest Point has much to offer its visitors in the way of outdoor fun as well.
As one of the largest within the city limits, the park offers a little something for everyone.  Covered picnic facilities, complete with BBQ and outdoor "kitchen" amenities like running water, are available to the public for a reasonable fee. Many a gathering, graduation, and even the occasional wedding are held here.  A formal rose garden is maintained in the spring and summer months that makes for a beautiful backdrop for such events.
Miles of trails meander through the wooded areas of the park, most of which provide relatively easy walks that even the smaller kids can do. But if the kids are less interested in walking there is always the large and inviting playground. Not to mention there is plenty of room to play by the water when the tide is out.
For the nature lover this is a wonderful place to observe wildlife. Heron, otter, eagle, seal, and even deer are some of the many wild residents seen daily by visitors.
This year, the park is getting some much needed restoration work to an area on the far eastern border known as Mission Creek. For centuries Mission Creek was a salmon run. Then sometime around 70 years ago it was paved over as a road.  (To read more about the history of a possible railroad along East Bay Drive, click here.)
Today all that remains is quite a bit of "rubble", and a bulkhead which is acting as a block to salmon trying to enter the creek. The restoration will remove both rubble and a portion of the bulkhead. Then native vegetation will be replanted, invasive species removed, and some aesthetic changes will be made along the adjacent path to make it more welcoming for both people and salmon.
The restoration of Mission Creek has been a long time in the making.  The main participants were proud to point out the joint effort between several different agencies. The Port of Olympia, City of Olympia, South Puget Sound Salmon Enhancement Group (SPSSEG), Squaxin Island Tribe, a funding group called Salmon Recovery Funding Board, and other agencies to a lesser extent  have been working together for ten years to get approval for this restoration.  As Lance Winecka, SPSSEG Executive Director pointed out, "It takes perseverance, but the take-home message is that we can work together with everyone to do what is right."
The significance of the Mission Creek project is twofold. To begin with, at the completion of this project the entire shoreline of the park will have been restored to its natural state. Another bulkhead was actually removed at the opposite end of the park a few years back. But more importantly, this creek is the last remaining estuary within the area.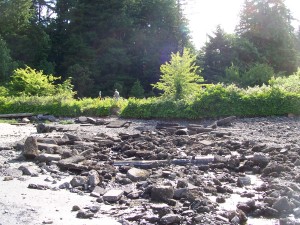 An estuary by definition is a place where salt water and fresh water meet. Throughout human history estuaries are the places that people live near because they provide many resources. As you can imagine the health of an estuary and the health of the people who live near that estuary are intertwined. Moreover, this restoration has the intended purpose of bringing the salmon back to an original spawning ground.
Salmon are an indicator species, which means that their presence or absence is a measure of how healthy a waterway is. When the salmon disappear it is a telltale sign that something is wrong with the natural balance of an area. Hence the reason this project was finally approved. Alex Smith, Senior Environmental Planning Manager for the Port of Olympia has been part of this effort for many years. "If (a site) has some kind of impairment, like Mission Creek does, it is a great candidate for funding because it can restore the salmon, which is good for all of us," said Smith.
Her counterparts with the City and SPSSEG agree with this sentiment. David Hanna, Associate Director for City of Olympia Parks and Recreation department, feels that this is a win-win for salmon and people. "Doing as much as we can to restore an area, so long as it does not do damage to the relationship between the people and the park is important," said Hanna. "Here we are returning a degraded system back to nature, and making the park better."
If all continues to go according to plan the project is set to begin in late August and completed no later than September 15. The park will remain open during the restoration and is not anticipated to affect visitors, so be sure to make your way there. And by this fall with any luck you may even get to see some salmon in Mission Creek attempting to return to their long forgotten home.
For more information about Priest Point Park, click here.  For more information about volunteering for the restoration project please contact Michelle Stevie at mstevie@ci.olympia.wa.us.