By Alec Clayton
It was drag queens that fought in the riot at the Stonewall Inn, which became the event celebrated in gay Pride parades throughout the country every June.  And it is a drag queen, Marlayna McBride (her entourage), who will be honored as the 2013 Grand Marshal of the 2013 Capital City Pride Parade in Olympia.
"It is an absolute honor and privilege to have been asked to represent this prestigious title," Marlayna said.
Meet Marlayna, also known as Adam Geribaldi; and Geoff Lamb, aka Deeva Devareaux;  and Troy Dazell, aka Flirticia Fondue, drag performers at Jakes on 4th in Olympia.
Adam, the director of the shows at Jakes, has been doing drag "full on," to use his term, since 1996 when he was crowned Mr. Gay Tacoma and performed in drag for the first time.  He now says of that moment, "I never had so much fun in my life."
Speaking as Marlayna, she says, "I have been part of Olympia's Pride Celebration every year." She performs on stage at Pride, is in the parade and behind the scenes and has been a judge for Pride Idol, which is held every year at The Urban Onion beginning in December. "What a great time I've had with everything that I do. As an entertainer, I pride myself on absolute professionalism and take my audience and fan base very seriously," she says.
If readers notice the pronoun switch when writing about him (Adam) to writing about her (Marlayna) it is because the moment drag performers put on their dresses and makeup they become another self and never get out of character until they change back to their masculine selves. Adam, Geoff and Troy do not display feminine mannerisms when not in drag. But once they "get in face," the phrase they use for getting into drag, they are fully in character and they remain so until they get home. "I don't leave the house until I'm that character," Troy says.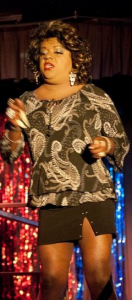 Geoff is 33 years old. "I always enjoyed women's clothes," he says. As a little boy he was envious of girls because they could wear so many different things and boys clothing were rather limited.  He says he hated the rough fabrics and cheap polyester of the boy's pants and shirts he had to wear when he was growing up in Georgia.
Geoff started doing drag at 14. "I looked exactly like my mother. I took her I.D. and would sneak into clubs." His mother would take him shopping. "Once I got my makeup on I wasn't Geoff.  Nobody questioned it," he comments.
"As a kid, I was always kind of gender confused," Troy says. "I met my first female impersonator when I was 19." He started dressing as a woman and said he could put on makeup and walk out on the street and everyone would accept him as female. As with many people — perhaps everyone — there are male and female aspects to Troy's personality, perhaps more so than many. "I love driving tractors and digging ditches, but also arranging flowers. Mother would ask my advice on how to dress," he describes.
For years the shows at Jake's were put on by Busty Palmer and the Jakettes. Busty left about four years ago and Marlayna took over. "I wasn't really prepared, I was just thrown into it," she says. She had hosted a few shows before and done a lot of fundraising throughout the Northwest. Despite that experience she felt like she was being compared to Busty at first. "I'm not her." She had to develop her own style, and she and her cast have now built their own following.
"I think we're one of the best around," Flirticia says.
There are 10 performers in the cast at Jakes, including three drag kings (women performing as men), plus a two-person technical crew. They don't necessarily rehearse together. "I see us as individual performers, individual artists," Flirticia says, but they each draw off one another.
Deeva says she will wrack her brain to come up with a song. "Nothing feels right until the day of the show. I will pick up a CD on the day of the show and decide which song to do."
Marlayna agrees, "we'll rehearse it and rehearse it, pick music the day of the show. The rule is if you don't know the song you don't hit the stage."
Flirticia rehearses obsessively. "One particular number I've rehearsed 129 times so far, and I'm not done yet," she says.   "The stuff that sticks to my heart is the old stuff (like Cole Porter). All the people I perform are dead: Ertha Kitt, Ella Fitzgerald. If it doesn't move me, it won't move the audience."
Deeva says, "I do a lot of rhythm and blues. My niche is the 1970s to 1995."
Adam (Marlayna) says he hates getting dressed. It takes him about an hour-and-a-half to two hours to become Marlayna. "Shaving, grooming, what we call manscaping. But the moment those lashes hit it's lights, camera, action," he says.
They all get dressed at home and then drive to the club in character.
"I can be ready in 20 minutes," Deeva says. She says the last thing she does before leaving the house is a final glance in the mirror. "That last little glance I see her, not me. My mother." Deeva's every performance is for her mother. She (he) says people believe he is a woman. "I have ripped my wig off because people didn't believe I was a man."
The drag shows at Jake's take place the last Saturday of every month. The shows features a wide range of ages and styles. The youngest performer is 24 and the oldest is 60. They perform country, rock, show tunes, rhythm and blues.
Marlayna, Deeva and Flirticia will be in the Pride parade "in face" and will perform on stage at Sylvester Park. The festivities begin Friday night, June 21 with a kickoff party at the Urban Onion. The parade down Capitol Way from the Capitol campus to Sylvester Park is Saturday beginning at noon, and the festivities in the park with speeches, food and information booths, entertainment headlined by the Kim Archer Band and emceed by Gregory Conn, will be from 1 to 5 p.m. June 22.