By Anne Larsen

A year ago, I wrote an article about running groups in Thurston County.  At that time I was amazed and proud of how many opportunities, many of them free, there were for folks to get out and run with other people. Really, if you enjoy running but also like a little companionship, you don't have to go it alone! (If you want to run alone – have at it – stop reading now and go run.) But……if you like a little company in the dark, sleet, rain, mud, etc….stick with me, it's going to get good!
So what's the scoop you ask? Who's running where, when, how long, how fast, etc.? Those are all excellent questions and the answer is….. "yes, yes, yes." Ia there ever any other answer?
The easiest way to connect with other runners and the vast Thurston County running community is via social media. Now if you're reading this that means you're in front of some sort of screen (and I don't mean door).  A quick look on Facebook and you will find at least 5 opportunities to run with a running group on your timeline. And, these running groups have ugly sweater parties, and drink coffee, beer, or water.  They are cool.
Ok, so we're on Facebook. Here is the fast and furious list of who to "like." You'll never run alone again- ever. We will get into the details later…first step – "like" the following:
Now the question goes into "why" join a running group. If you've read every one of my articles (who hasn't?) then you know that I love my running partners! Who else would tolerate me taking their picture all sweaty? Last year I came up with some reasons of "why" a person should join a running group, and I think that it bears repeating.
We can all use motivation and coaching from fellow runners. Whether you're an age division winner or first time runner, advice and motivation are always welcome.
Running will become an automatic part of your routine. Running groups typically have weekly scheduled runs. Put them on your calendar and treat them like a job. Don't let your running co-workers down!
You will have captive ears to share your achievements with. Have you ever seen that glazed look of non-runners when a runner starts sharing PR's, workouts, and mile-by-mile race replays? Your running buddies will be fascinated!
Structured times and workouts will make you a better runner. Your brain is taxed at school and work.  Let the running coach give your mind a break and let your legs do the heavy work.
You'll build your workout partners ten-fold. By expanding your workout friends you'll be able to buddy up during non-group run days and increase your fitness.
Chat and enjoy each other's company. Runners are cool. It's a known fact. Skip the therapist couch and go for a run with friends. You'll come back with all those important questions answered.
Get tips on racing, nutrition, gear and more. Runners love their gear. Get the inside scoop on what works, what's worth the money, and what to leave at the store. Find out what races hand out the best swag or what to eat pre, during, or post race.
See Thurston County! Explore the Eastside, Westside, Tumwater and more. You'll be more seasoned than the pizza delivery person on directions around town.
Make friends to race with and against! Hang out before races with your running buds and then cheer each other on at the finish.
Real-life runners are always way more supportive, funny, and cool (have I mentioned how cool runners are?) than any runner on a blog or online forum.  You might just meet friends you'll have for life.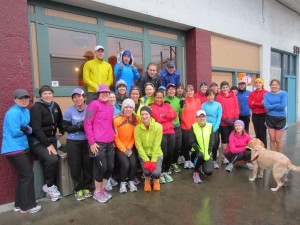 To get the real scoop of what's going on with all of the below running groups visit their websites or "like" them on Facebook.  Here is some quick info to get you started.
Guerilla Running: Viva la Revolution! Their goal is simple: to change the world, one run at a time. "Running provides opportunities to for individuals to reinvent themselves, to see themselves in a new and empowered light, and to bring that reinvigorated sense of hope and strength back to their families, communities and the world at large. Running can change the world by showing individuals they can achieve beyond their wildest dreams of themselves." Yep.
When & where they meet:
FREE Weekly Runs
Mondays. 5:30PM. Community Trail Run! Meet at the Henderson Blvd. entrance to Watershed Park.
Mondays. 6PM. 3-mile Lacey Run. Meet at the RAC in Lacey.
Wednesday. 5:30PM. Community Run! Meet at the Olympia Farmer's Market.
Wednesday. 5:30PM. Run Like a Grrrrl. Meet at the Olympia Farmer's Market.
Additionally: Really, if you're looking for an excuse not to train, then don't turn to Guerilla Running……..they offer something for everyone! Winter, Spring, Summer or Fall – you chose the distance and the terrain, and they will have a training group for you. New to running? Fabulous – they love new runners (really, they do). Experienced and want to improve upon your PR?  They've got the talent and know-how to help you achieve your goal.  (Read about organizer Craig Dickson here.)   Guerilla Running is unique in that they are constantly pushing themselves and the community to bigger and often more unique approaches to running.
Pints Pavement Pounders: Ah, beer and running. Can you say "hello happiness!" When I got this assignment earlier in the year I thought it was a dream. Megan Card leads this group of runners and walkers with the motto of "get fit, be social and pound a pint of two." Love.
When & where they meet:
Thursday nights – Pints Barn Tavern, Tumwater
The group is free and open to anyone who would like to participate.
The running route is posted on the group's Facebook page the Wednesday before the run. You show up at the Pints Barn a little before 6PM, sign in and run. When you hit 5 group runs you earn a tee-shirt and free beer (FREE STUFF!). It's fun for walkers, runners and dogs!
Club Oly Running: I was lucky enough to be a part of the Club Oly Running Pace Crew this past Spring for the Capital City Marathon. It was hands-down one of the best race experiences I've ever had. I was lucky enough to run 26.2 miles with my running buddy Alexis Erickson and encourage our pace group to meet their goal. It was awesome.
When & where they meet:
Club Oly meets Mondays 5:30PM at South Sound Running for a quality effort training run. These runs typically cycle through tempo runs, interval training, hill training and an easy/recovery week. Wednesday 6pm, the group meets at Marathon Park near Capitol Lake for an easy 5 mile run. The purpose of the Wednesday run is to have a good time and converse! Everyone is welcome regardless of pace, ability or membership status.
Additionally: Club Oly's Capital City 5 mile training program starts January 19th.
Capitol City Marathon and ½ Marathon Training  Group: This was the first running group I ever ran with (I was wearing cotton if that's any indication of how long ago it was). I still have fond memories of early Saturday mornings at South Sound Running. This is a solid running program that will keep you on track for success at the Capital City Half or Full Marathon.
When & where they meet: Train and run for the Capital City Marathon or Half Marathon! Beginning with a continental breakfast on Saturday, January 15th at 8:30AM in the Olympia High School Food Court, this program will train you all the way to race day. Group lectures and runs are at 7:30AM, Saturdays at South Sound Running. All runs include water stops. Whether you are a seasoned runner or just a beginner, they will help you meet your goal. For more information call 360.705.2580 or visit South Sound Running.
When & where they meet: Thursdays at Priest Point Park. Spring and Summer they meet at 6PM at the Rose Gardens located on the eastside of the Park. Beer at Fishbowl following the run. These guys are always running, and for long (almost epic) lengths of time! For the latest and greatest, you need to know then on Facebook.
So did I pressure you to join a group (or two, or three?) already? Running with friends will motivate you and entertain you as the miles slip by in conversation.
For additional race information or local running events be sure to check out www.ontherunevents.com!