There are two things in life that I have a hard time saying "no" to. The first is a run with friends. The second is a beer with friends. Combine two of my favorite things and what do you get? Pints Pavement Pounder (P3) Running Group! And clearly I am not alone. The night I ran with the P3 group ,95 other "like minded" folks joined me for some sweat, laughs and rehydration at the Pints Barn in Tumwater.
The group's motto:  "Get fit, be social and pound a pint of two" is a perfect fit. The group is free and open to anyone who would like to participate.
The P3's recipe for success is quite simple. Every Thursday night walkers, joggers and runners of all speeds and ability, converge at the Pints Barn.
One of the P3's Founding Mothers, Megan Card, established the group based on her experiences with the Flying Irish Running Group in Spokane.  The day before each run, the route is posted on the Pints Pavement Pounders Facebook page, along with the names of folks that will be "shirtees" that night.
The first time you show up you'll sign a waiver and then you are registered.  Once you are on the list, you check your name off every week that you run.  Megan updates the list weekly, showing how many P3 runs you have participated in. On your 5th group run you get "shirted" (meaning you become the proud owner of a bright neon green shirt) AND you get a free beer. Did I mention getting FREE swag is another one of my favorite things!
We gather in the parking lot a bit before 6pm on a recent Thursday evening.  Megan reviews the route. It's a simple course – all right turns – and if all else fails and you do happen to get lost, just head back to the Pints Barn! That's good news for me because one of my least favorite things is getting lost….yet it seems to happen quite frequently. The route was a flat 3+ miles through Tumwater, perfect for chatting with fellow runners and unwinding after work.  Watching the stream of neon shirted runners flood the streets of Tumwater was fantastic.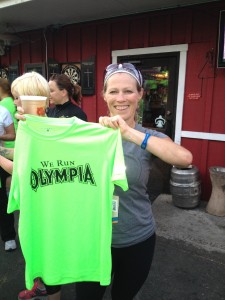 Upon finishing the run we all gathered in the outdoor area of Pints Barn for water, beer and conversation. Four P3 runners where "shirted",  and then everyone gathered for a group picture. I loved seeing moms from my neighborhood, athletes that I've run with in the past, folks from my indoor cycling class, and new runners!
The social theme runs strong in this group. I didn't hear a single runner mention "mile split times," "track workouts" or "long runs." What I did hear was stories of accomplishing 3 miles without stopping to walk (way to go Wendy and Kris!) and stories of folks that were just in for a beer one night and saw this group go for a run and THEN come back and have a beer…..so they joined them the following week.
Whether your motivation is beer or sweat (or both), you have a spot among the P3 group! "Like" them on Facebook for all of the details (and to see some fun pictures from their past runs) or throw on some running shoes and meet them at the Pints Barn on a Thursday night!
Here are some fun facts about the P3 group!
Their first official run had 66 participants.
Their record run is 96 participants.
The average run is 70 participants.
The total number of participants is 240.
Before their September 27th run they had collectively run 2,670 miles!