By Anne Larsen
Here's a shout out to all of you runners that have been stashing water bottles in bushes and knocking on friends doors for water (or just drinking off their hoses).  Or maybe you're a runner that has finally matured into caring a handheld water bottle or sporting a hydration belt, but long for those unencumbered days of just hitting the road without a water care in the world! It's not a long lost fantasy….trust me, you can run free again! Tasked with the job of tracking down water fountains in town I hit the road on Sunday with three fabulous running pals and we found more water fountains than we expected! Thank goodness many of them are combined with bathrooms – more water obviously equals more bathroom breaks!
So if I were to ask you if you had to guess…..just top of the head guess…how many water fountains we would find on a 16.5 mile loop starting by the Nova School and weaving through Olympia and Tumwater….what would you say? Four? Nope– higher. Seven? Wrong again. Twelve? Seriously, are you even really trying? We found 17 drinking fountains on our route, many with bathrooms! NOTE: These water fountains were spurting water and fully operating when we hit them on September 9th.  Since many are seasonal, I cannot guarantee they will be offering cool refreshment in January. Don't be cursing my name in the middle of an 18 miler in February when Woodland Creek Trailhead is drier than the desert. Double check!
Ok, so we're off and running! Our first stop was LBA….which many of you may know from soccer, softball, baseball games and the wicked cool zip line. Entering LBA you will find the first of its two water fountains, located next to the bark-trail.  It's a great cooling station for those running the trail or just wanting to make a quick stop in. The second water fountain is located near the bathrooms, behind the playground. Warning……this is a super short water fountain, probably more designed for a third grader, but it works.
Our next stop was Pioneer Park in Tumwater. We bushwhacked through some trails from LBA, popped back out on Boulevard Road, running down Yelm Hwy to Henderson Blvd to get to our second official stop. The water fountains at Pioneer Park are located in-between the bathrooms, behind the soccer fields. There is a running path leading up to them.
Never runners to take the easy way, we headed down the railroad tracks to our third stop, Tumwater Falls Park. Now you could easily run back up Henderson Boulevard and take the civilized way to Tumwater Falls…or you can channel your inner Jack Kerouac and hit the tracks. I would recommend doing this with someone that knows where the heck they are going, and only if you do not have an aversion to blackberry bushes.
At last, Tumwater Falls Park! Boasting the most drinking fountains in one stop – Tumwater Falls hosts three drinking fountains. The first one is located next to the playground, the second closer to the waterfalls by the bathroom, and the third is actually on the trail, right before the bridge. The scenery of the second two is great!
Back on the road we head to Tumwater Historical Park. Here we encounter our first dog water bowl – pooches need to stay hydrated too! Once again, the drinking fountain is located by the bathrooms. It's almost like a marriage in heaven those two things…..drinking fountains & bathrooms.
Next stop – the Interpretive Center located at Capitol Lake. Taking the path along the lake from Tumwater Historical Park you will hit the Interpretive Center in about ¼ mile. More bathrooms, more water! Within another ½ mile is Marathon Park, with our second dog water station!
With all the fabulous things happening down on Percival Landing, we hit four water stops in less than a mile. Bam, bam, bam, bam! We found a new fountain right before Percival Park with the coolest dog fountain! You'll also find water at Percival Park, the Farmers Market, and the new East Bay Public Plaza in front of the Hands On Children's Museum.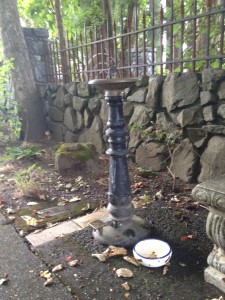 Are you hydrated yet? Eyeballs floating? That's what I thought! Pretty cool, huh?
We took off and went down East Bay where my favorite drinking fountain of all-time is located at Art and Marissa Foley's house. My running buddies and I have so many found memories of eating Gu's, sports beans, and laughing at this water fountain.  For example, Beth Glander said, "Art built a water fountain next to the sidewalk specifically for runners and the Saturday Morning Running club years ago and so many of us have been thankful for that extra sip." Great dog bowl, bench, and location.  Thank you Foley's!
Up the road from the Foley's is Priest Point Park. Once again, if you're the type of reader that looks for patterns, I'll let you guess where this drinking fountain is located.  If your answer is "by the bathrooms" you, my friend, are a rockstar at deciphering patterns! Because I know Boston Harbor Road is a barren desert for water, we head into East Olympia and hit Friendly Grove Park. Perfect spacing from Priest Point Park and a great little water stop!
Heading back home, we jump onto the Capital City Marathon and Half Marathon course and get our last bit of hydration at Woodland Creek Trailhead located on 22nd Ave. This water fountain, when it is flowing, is great for those running Watershed Park (you can pop out and get a sip) or for those connecting to the Chehalis Trail.
There it is folks! 16.5 miles and 17 water fountains….and we didn't even hit the Artesian Well, the water fountain in front of the Capitol, or South Sound Running!
So break the chains from those cumbersome hydration packs every once in a while! Run free! There is water flowing in Olympia!
Special thanks to Alexis Erickson, Karen Steen and Linda Hyuck for being such great sports, posing for pictures and tackling the water fountain adventure with me!  Want to see the complete photo set from the run, click here.