If you think your kitchen or bathroom needs a remodel but you are overwhelmed by the choices in new cabinet styles, paint colors, hardware designs and flooring options, then you will want to talk to Project Developer and Interior Designer Lindsey Barnes at Lifespan Construction in Tumwater. Barnes and the Lifespan Construction team can decipher what's happening in today's residential renovations, plus help you implement smart design for your home's future uses.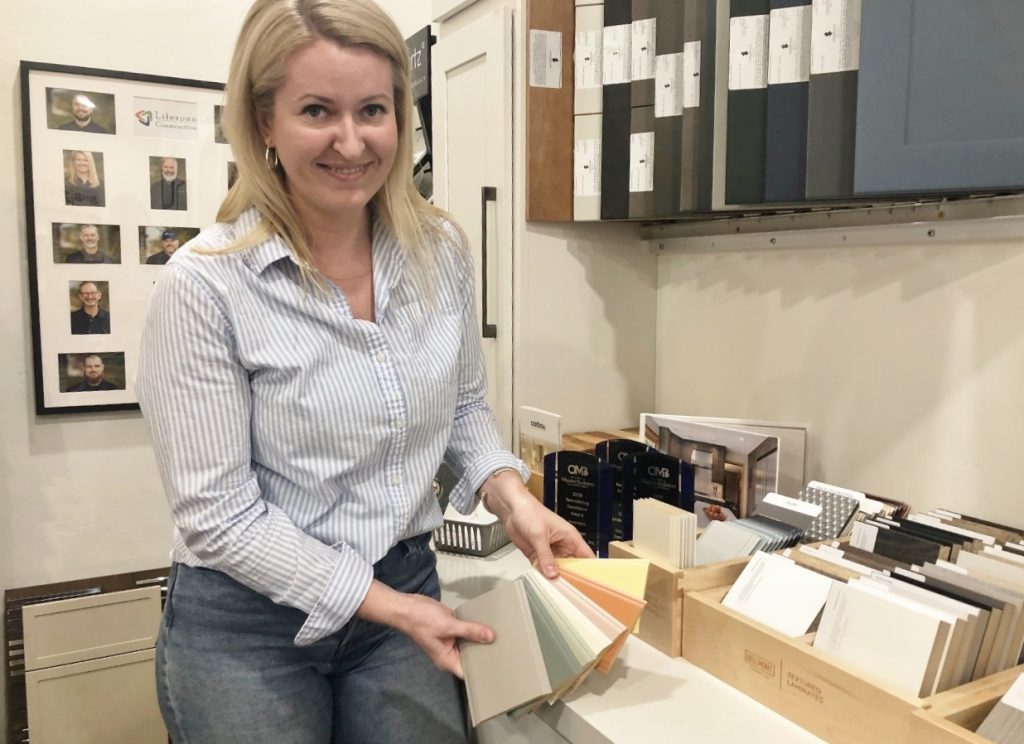 Lifespan Construction offers homeowners in the Olympia area a full-service design-build experience, tackling the whole project from start to finish. Taking on full-scale kitchen/bathroom renovations, additions, whole house remodels, and outdoor living space, plus the occasional smaller project. As a design-build company, they incorporate design and construction under one roof, bringing concepts to creation in every project.
Lifespan Construction's Design Team use Neutrals and Earthtones in Residential Remodels
If you are not in the interior design business or have not been paying attention to current residential construction trends, you may feel lost in the forest when it comes to new developments like the use of neutral pallets and earth tones in today's remodels. But Barnes and the Lifespan Construction staff can walk you through that thicket. "The use of warm woods like natural rift white oak, alder or walnut cabinetry, paired with a white or mixed-veined quartz countertop and champagne bronze hardware can really set the space into a relaxing environment to enjoy with your family," Barnes says. "The use of mixed metals, glass inserts, light fixtures and tile accents can give a space a refreshing upgrade. These elements help bridge together homeowners' existing furniture and soft-good furnishings that have more vibrant colors."
Barnes is an experienced interior designer who has been with Lifespan Construction since 2015. She was trained in design at the Clover Park Technical College Interior Design Program and has a bachelor's degree from The Evergreen State College where she studied sustainable design. She has also worked as an interior design consultant in Bellevue and a custom kitchen/bath designer in Issaquah.
As a long-time member of the National Kitchen and Bath Association (NKBA), she decided to get certified as an Associate Kitchen & Bath Designer (AKBD) – one of many NKBA continuing education programs offered to designers around the world – to further her education. Barnes brings over 12 years of experience in the industry and is an Olympia native herself.
As one example of what she watches in the home renovation world, Barnes says that updating kitchen cabinets is a significant way to improve and transform your home. "Cabinets are the big-ticket item, the 'wow factor.' They are the center of a home," she says. "Today's remodels use more neutral colors either on the walls, tiles or cabinets. The cool grays are leaving us and more of a balanced warm gray/brown is being selected to be paired with wood and metal tones. While white kitchens are still here to stay, people are getting more comfortable mixing in different hues, such as greens and blues. It's a nice shift to see the colors of the Pacific Northwest being brought into the home.
Utilizing Every Nook and Cranny with Lifespan Construction's Smart Designing
Today's homeowners want to maximize their space, efficiently using every nook and cranny. Barnes explains that as one illustration, today's kitchens typically have multiple uses and may need a more workable footprint. "Remodels help make them more user-friendly," she says. "It's not just a working kitchen. It's typically an entertainment space to gather with family and friends as well."
That's why Barnes enjoys taking time to do quality space planning in the development stage, prior to the remodel. "I like to hear from the clients," she says. "'What are you after? What do you like or dislike in your current kitchen? How do you envision using the new space?' Then I sit down and see what I can come up with. I usually start with appliance placement and then designated zones for cooking, consumables, preparation, nonconsumables and cleaning. This helps me incorporate cabinets for each area to help organize the spaces. I include spice pullouts, rollouts for pots and pans, garage pullouts and tall pantry storage cabinets. Many families like to cook together and may need an additional zone for food preparation or a lower countertop to accommodate for baking. We design to the client's needs. We make sure it flows well and specifically how they intend to use the space."
Increasing storage space is another goal of many remodels, whether it's in kitchen renovations, bathroom remodels, home offices or great rooms with fireplace built-ins. "People love storage," Barnes explains. "We can offer more useful cabinetry to help in many places. Kitchens, especially, need more drawers. That one motion of opening the drawer instead of getting on your hands and knees to dig an item out from the very back. We utilize every space."
Lifespan Construction Offers One-of-a-kind Home Customizations and Renovations
Lifespan Construction can help you identify those elements that will improve your home's appearance and function, and then customize the project specifically for you.
Those elements might include creating a built-in charging station for electronic devices, a designated snack cabinet that can be reached by your children, or a handy beverage bar for coffee, tea or smoothies with a separate water spout or prep sink for convenience.
Barnes says sometimes clients see projects or materials shown on remodeling shows and design inspiration websites such as Houzz or Pinterest, and want to translate those to fit their homes. "People will give us a photo and say, 'We like these light fixtures, wallpaper or shower tiles,'" she says.
Lifespan Construction can use those ideas to customize a design to fit a client's vision. Barnes says the team recently built a custom library nook that she created from an inspirational photo. It included a custom cushion made by a local supplier, unique wallpaper with a botanical pattern, wood shelf cubies and wall sconces. The perfect space for their children to snuggle up and read their favorite books.
If you are interested in an Olympia area home remodel with a well-established general contractor, reach out to Lifespan Construction.
Lifespan Construction
7924 Sweet Iron Lane Ste 104, Tumwater
360.584.3833
Sponsored