My fondest holiday wish is that Santa makes a special stop at The Rolling Pin on Olympia's westside to fill his sleigh for a delivery to my house. Then a clever elf transforms my kitchenware, resulting in making me ready and delighted for my next culinary adventure. There would be shiny stainless-steel pots, colorful spatulas and cute decorating supplies for holiday cookies. The espresso would be brewing while I tied my stylish apron.
In truth, all this is possible. The Rolling Pin, a kitchen store in Olympia, has a multitude of fabulous cooking and baking supplies. Shoppers can stroll each curated section to imagine how that kettle or that kombucha container will work for them. The shop is self-described as "fun, mid-century flair with local, useful, and well-made items for your kitchen." Mid-century might be described as things that have simplicity yet a sophisticated aesthetic. Who can't use a bit more of that?!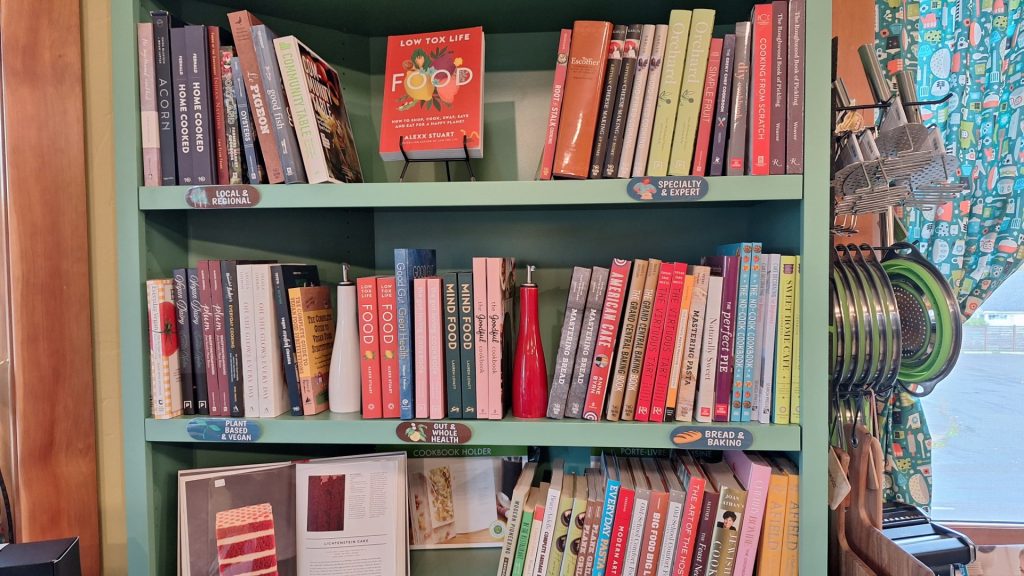 One-Stop Holiday Shopping for Kitchenware in Olympia
"The Rolling Pin is stocked for the holidays," says Manager Victoria Kantargis. She started working in the store a year ago, so the holiday season came up fast. She's used this past year to learn what customers like, what's popular and to bring to the store a host of desirable products. "There's a lot of new things," she adds.
Baking Supplies in Olympia at The Rolling Pin
Bakers can get specific when it comes to rolling pins. The classic roller is made from wood, and you'll see some beautiful hand-turned ones on display. You might want a marble roller to keep the butter cool. Some rolling pins are made to cut pasta, make borders even, or emboss your dough for a fancy touch. There are also choices in diameter and length.
The baking section offers pans made in the USA and reusable cupcake holders, both regular and mini-sized. I see the pie weights and feel inspired by "The Great British Baking Show." The Rolling Pin has your back to make you a better baker! For the non-exacting baker in your life, there's a set of three measuring spoons for a smidge, a pinch and a dash. Have you lost one of your measuring spoons? You can replace them singly. "Olympia has bread frenzy," says Victoria. Find proofing baskets and other bread paraphernalia at The Rolling Pin.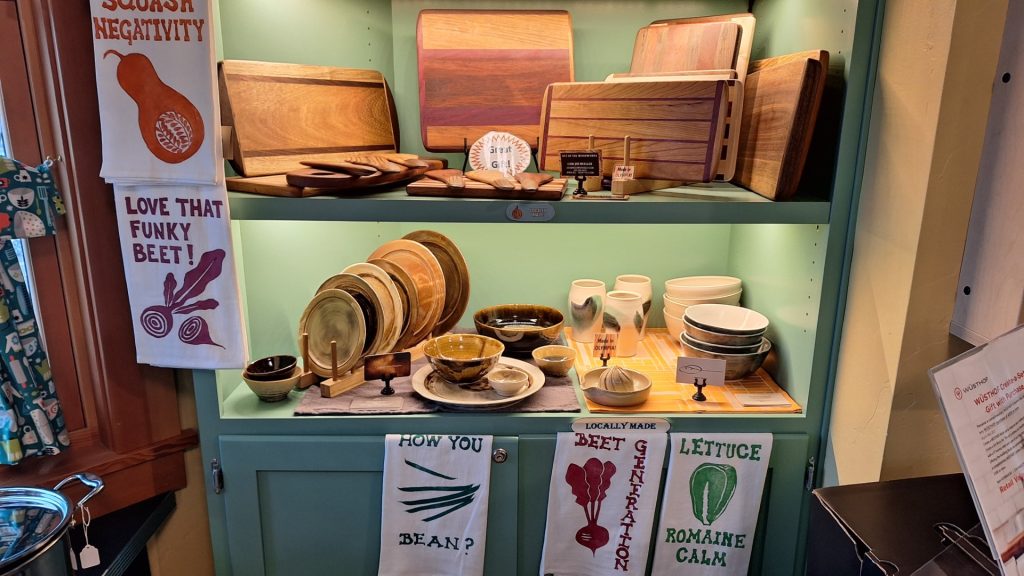 Find Local Artisans Showcased and Quality Knives at Olympia Kitchenware Store
Carl Joe Mueller is Out of the Woodworks producing lovely serving and cutting boards. Artist Thea M. Zwier of Cracked Clouds Studios has ceramics on display. There are also towels, aprons and other items made locally.
Prepping your food with a sharp, high-quality knife must be experienced to be appreciated. It makes the job easier and safer. "We expanded our knives," Victoria points out. Look at Shun, which is made in Japan, and Wüsthof from Germany. The knives from Portland, Oregon, are lovely to look at and hold. They are specialty knives made with blades of high carbon steel and handles from big leaf burl maple.
You can get your own knives sharpened by Maumasi Fire Arts. Just drop them off at The Rolling Pin. Once a month they are picked up on a Sunday and returned the next Thursday. The December drop-off date is the Sunday, December 10, 2023.
2023 Black Friday Deals at The Rolling Pin
The store will open early and stay late as shoppers enjoy 30% off merchandise. There will be door prizes and fun giveaways. Other sales will take place throughout the season, including Vitamix and certain knives.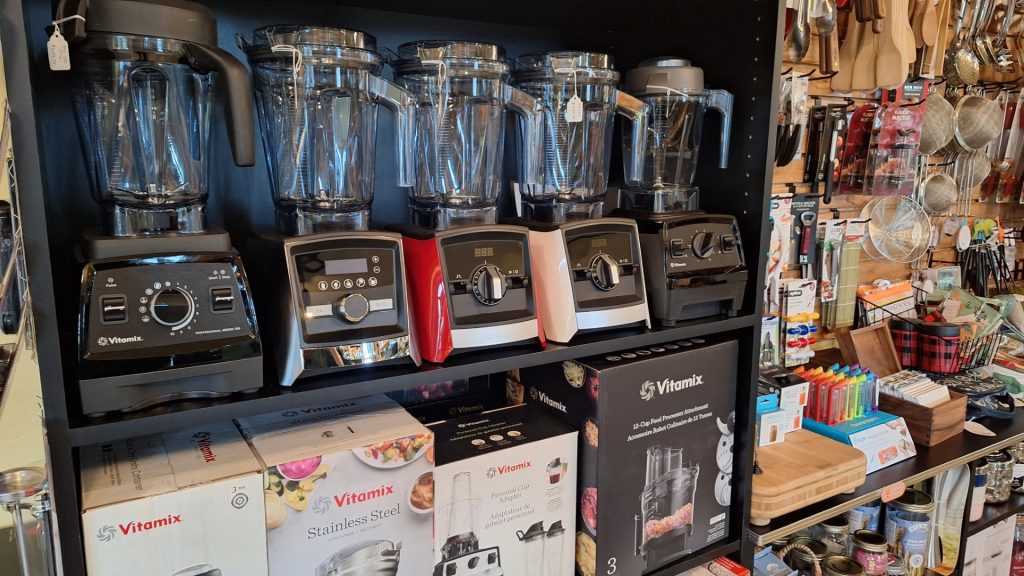 Speaking of Vitamix, The Rolling Pin has several models at hand. There's the classic model, but you can also touch several other models, which are not at other retailers. "You can see them in person," says Victoria. She liked the two blades for slicing and shredding with the processor. "We can order accessories," she adds.
Fun Kitchen Gadgets and Thoughtful Products
It is easy to find stocking stuffers at The Rolling Pin. There's a thermometer to put in your bird or roast that connects to a reader outside of your oven. It will let you know when it gets to your desired temperature. For the griller in your life, check out the small individual thermometers that go into each piece of meat.
There are cute dish pads, coffee accessories, piping bags and a mix to make the perfect royal icing.
The Rolling Pin offers cookware made in the USA with lifetime warranties. Non-stick pans are free from PFAS, PFOA, lead and cadmium. "We like to have a good variety of stainless steel, silicone and wood spatulas," says Victoria. "GIR spatulas are made with surgical-grade silicon. There are books on bread baking, fermented beverages, wild foraging and others."
The Rolling Pin will have extended hours the two days before Christmas. Yes, some people really do all their shopping then. The shop anticipates last-minute needs and can even gift wrap your choices. You can place an order online and have curbside delivery or in-store pick-up, which is right above The Park Side Café. "We do our best to make helpful suggestions," says Victoria, adding, "I like meeting people of all skill levels."
Follow The Rolling Pin's latest news and store events on Facebook and Instagram.
The Rolling Pin
1909 Harrison Ave NW Floor 2, Olympia
360.754.3955
Sponsored