Heading back to school can be a pain, but there is always one fall tradition to look forward to: the homecoming dance! Finding that perfect outfit – including shoes, purse and accessories – getting your hair done and picking a restaurant for dinner beforehand is all part of the fun. Capital Mall makes all this easy as your one-stop Homecoming Dance central! And now Olympia has a Windsor inside the mall, giving you even more options for your big night.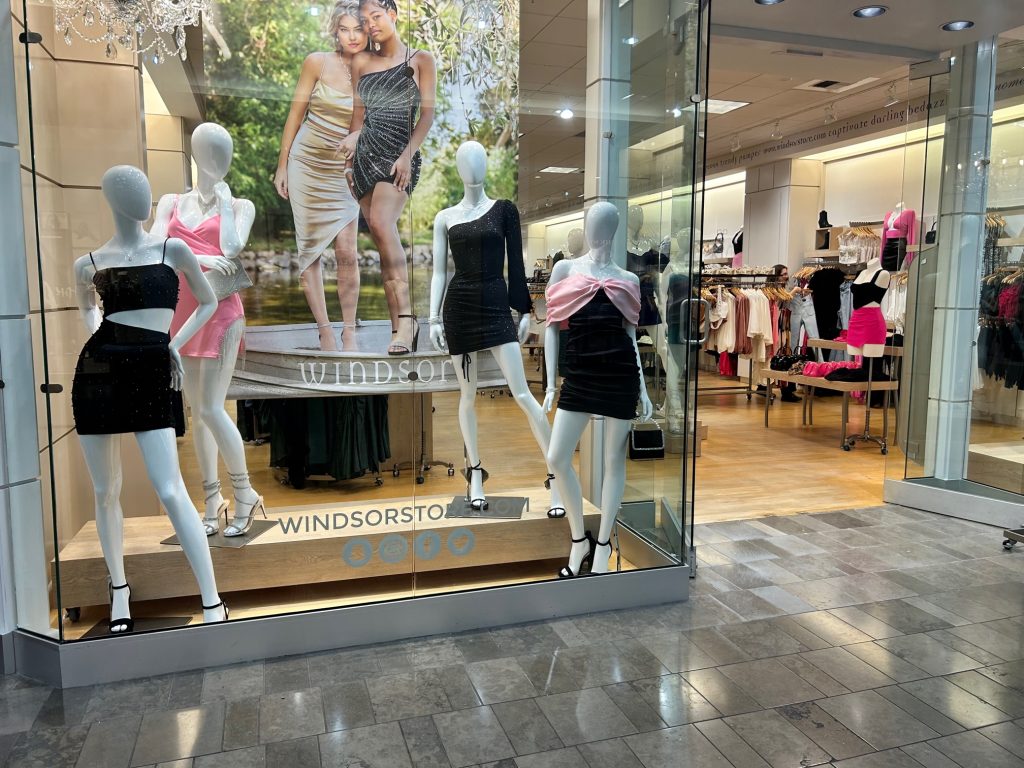 Shopping Homecoming Dresses at Capital Mall Saves You Time and Money
Buying clothes online is a pain. I just purchased 12 items from Amazon and ended up having to drive to the UPS Store to return all but two. Some didn't fit right, others were poorly made, or made of flimsy material and see through. You think you are saving time but you really are not. By the time you have waited for them to arrive, tried them on and then spent time returning those you don't like, you've wasted time and money.
Instead, head to the Capital Mall! In one fun day of shopping with your friends you can get outfitted from head to toe.
First the dress. The newly opened Windsor is stocked full of the latest trends in dresses, including those perfect for your Homecoming Dance. From short to long and princess to skater style, Windsor has it all. Whether you like romantic with full skirts, feathers and lace or something more edgy with asymmetrical lines and a tighter fit, they have you covered. And in every color imaginable, from black to "Barbie" pink.
"We're really excited about the trends this year. We're seeing really bright colors like hot pink and electric blue paired with fun details – everything from ruffles, to feathers to bows!" shares Catherine Seaton, VP of marketing for Windsor.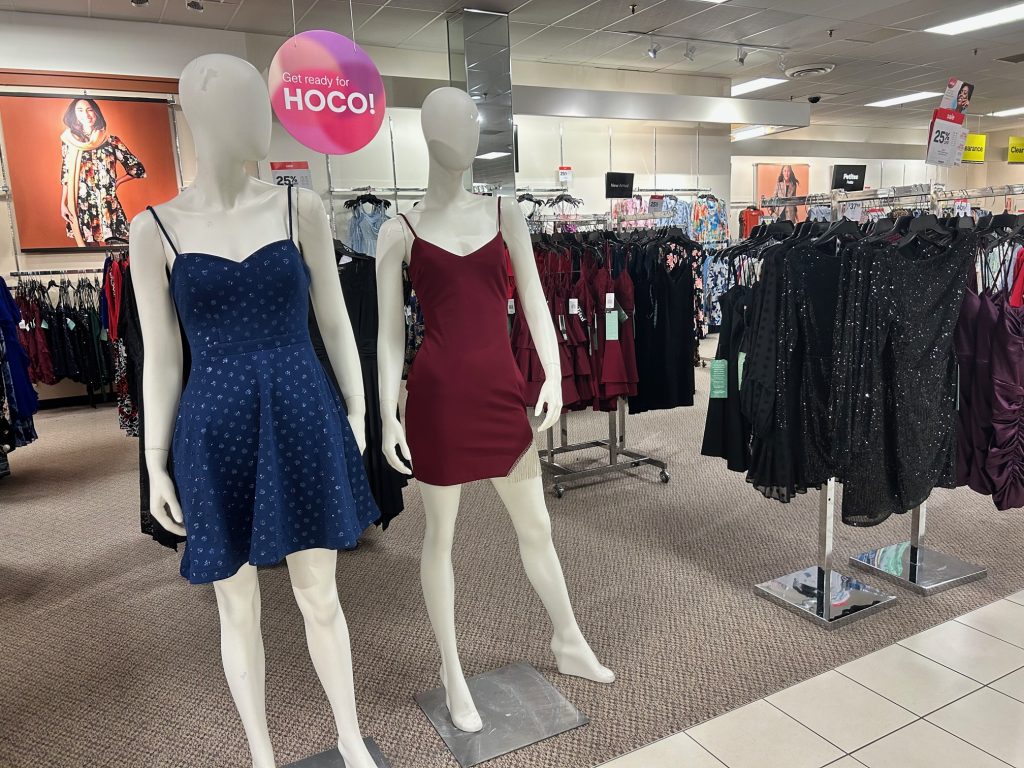 Be sure to check out Macy's and JC Penney's as well. They have each have a formal dress department with the hottest styles for homecoming.
Capital Mall has dresses for everybody and every budget. "Windsor offers over 500+ dresses for homecoming starting at $29.90," shares Seaton. "There is something for everyone whether you are looking for a sassy fit and flare skater dress in taffeta to a sparkly glitter knit dress with a beautiful lace up back."
Then the accessories. The best part about shopping in-person at the Capital Mall for your Homecoming dress is that you can make sure your purse, shoes and accessories match the dress you just bought, because you have it with you! And finding accessories at the mall is easy. Windsor carries bags, purses, and jewelry, making them a one-stop shop! Looking around the mall can give you more choices. Check out JC Penney and Macy's for shoes, bags and jewelry. And Claires of course has a wide range of hair accents and jewelry.
Looking for something edgier? Hot Topic has jewelry and hair accessories perfect for those skater dresses! Try Journey's or Vans for the perfect flat shoe to complete the look.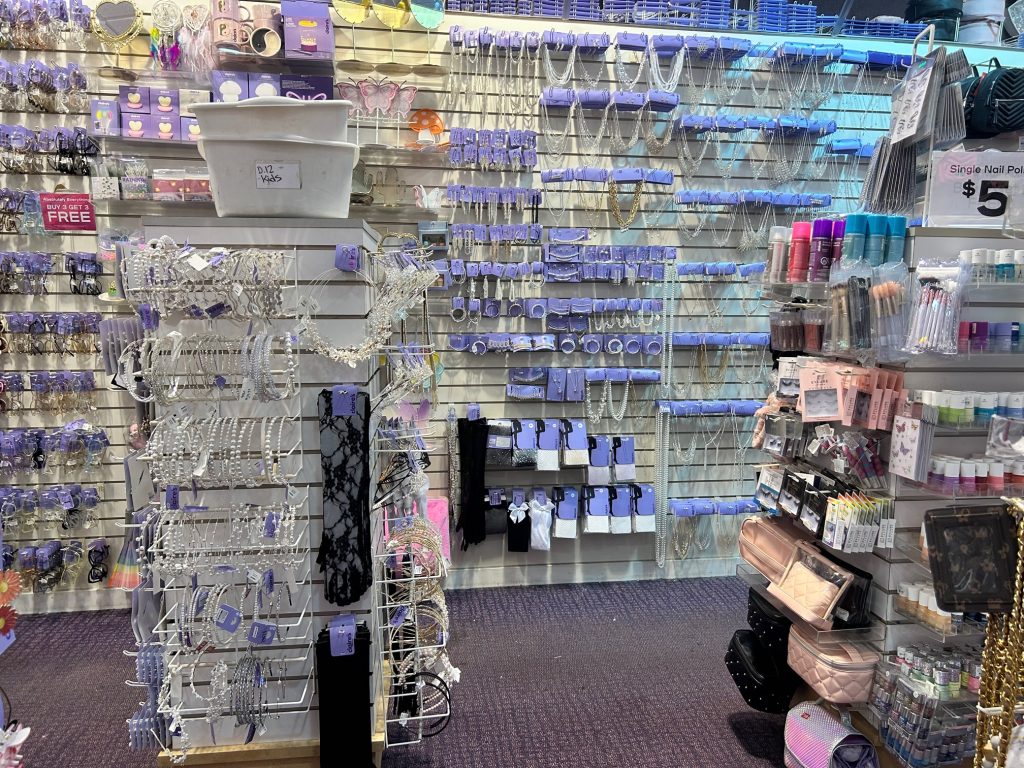 Lastly, the makeup. Don't forget to refresh your make-up for Homecoming! Whether you need a matching eye shadow for that dress or the basics like waterproof mascara and NYX eyelid primer to make sure it doesn't budge all night, you can get what you need at the Capital Mall! Stop by Sephora, Terra Firm Cosmetics and M.A.C. to finish off your homecoming look.
Get Your Hair Done for Homecoming Dance in Olympia
Amazon can't do your hair for you either! But Capital Mall can! Pre-book an appointment with the new Hair We Go Salon. This local hairy stylist can make sure your hair pulls your whole look together. And now you are all set for homecoming!
Well, almost…
Don't forget that all important pre-dance dinner! Capital Mall has you covered there too with plenty of options including STACK 571, Applebee's, Olive Garden, Red Robin and Fujiyama. From steak and pasta to burgers and shrimp, there is sure to be a restaurant that your date, or group of friends, will enjoy!
Head to Capital Mall
The Capital Mall is the Olympia area's one stop shop! With an amazing combination of local and big box stores, you can find what you need for every occasion from homecoming to graduation! Don't want to drive? Intercity Transit can give you a free lift right to the mall! So, what are you waiting for? The early bird gets the top pick when it comes to homecoming dresses. Create memories that will last forever, including a quick selfie by the entrance of your favorite store.
Then all that's left to do is decide who to take to the dance!
Capital Mall
625 Black Lake Boulevard SW, Olympia

Sponsored