Trying to cram in all of the outdoor sports fun into three short summer months can be overwhelming. Thanks to Oly Town FC, you and your kids can stay active into the rainy season with Olympia Indoor Soccer. They offer opportunities for recreational and competitive level soccer locally at The Evergreen State College on their indoor field, so you can easily keep the fun going year-round. Visit their website to learn more about their youth and adult soccer programs!
Indoor Soccer for the Olympia Community
Olympia Indoor Soccer has been around for over a decade and now operating in the covered pavilion at Evergreen. Their large indoor field provides the perfect space to host a variety of soccer programs and has allowed for the community to come enjoy soccer even during the rainy winter months. "We appreciate our partnership with Evergreen on this," shares owner Ryan Perkins. "Every person out playing in these community leagues and classes helps subsidize TESC student programs, athletics and their facilities." Olympia Indoor Soccer has really become a space for the community to connect and come together.
Ryan is passionate about bringing soccer to every level, age and ability through Oly Town and Olympia Indoor Soccer. From beginner programs all the way up to professional soccer, Oly Town FC has opportunities for each person to stay active through soccer. The adult leagues include a professional amateur soccer club called the Oly Town Artesians as well as introductory leagues for players who have been off the field for a while. "Even if you're out of shape or feel like you have been away from the game too long, there is a league for everyone," says Ryan. "These leagues are designed for anyone who wants to get back in the game, so come out to build some camaraderie and play some soccer."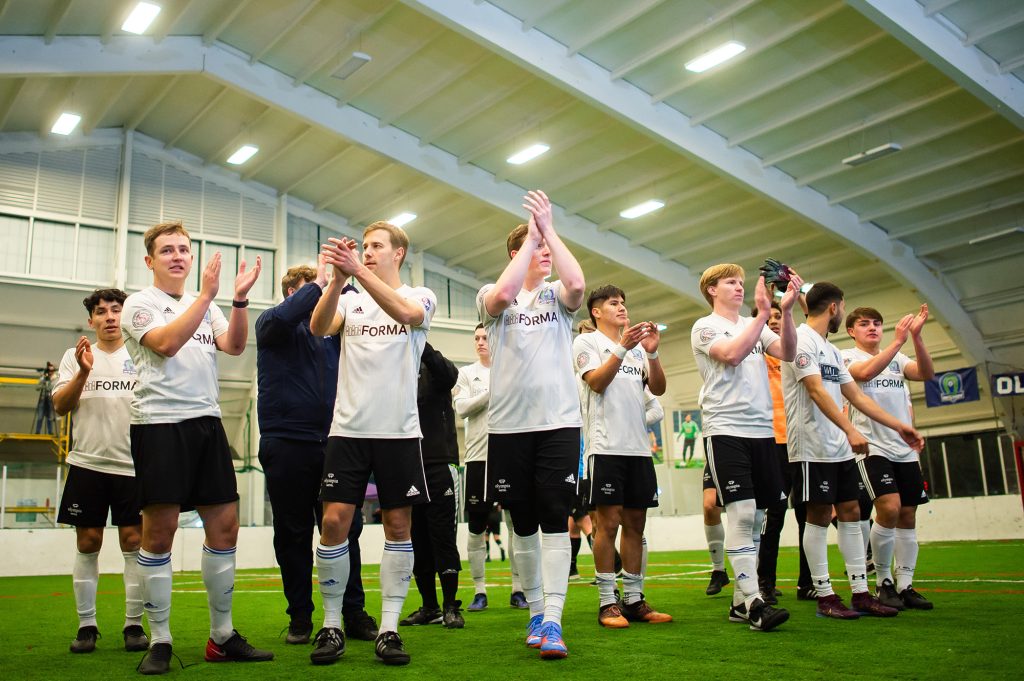 Youth and Adult Soccer Programs Available with Olympia Indoor Soccer
Kids of all ages will love the fun and challenge of indoor soccer, whether they come from a sports background or are just getting started. Youth camps and clinics are offered on a pay-as-you-go basis with Olympia Indoor Soccer, giving kids of all ages the opportunity to work with a local professionals while building their skills. "Kids can be signed up for our Saturday leagues and get their very own jersey and play on an assigned team," explains Ryan. "It's a really good building block for children to be able to develop teamwork and have a healthy outlet." Olympia Indoor Soccer gives children a new experience and opportunity to learn something new while staying active and participating in organized sports.
On the flip side, the fun isn't just for the little ones. Adults of various ages and experience levels can easily come together to participate in adult soccer leagues, all without the obstacle of bad weather getting in the way. Olympia Indoor Soccer provides opportunities for both recreational and competitive players looking for an exciting way to connect and stay active. Men's and women's soccer is comprised of over 40 leagues, including a co-ed league on Monday and Thursday nights and a men's division for high school and college level players held on Friday nights. No matter your skill or age, there is something for everyone at Olympia Indoor Soccer.
Even if you're playing days are truly behind you, Olympia Indoor Soccer is a great place for local enthusiasts to enjoy the sport together. The Oly Town Artesians bring a professional-level soccer experience right here to Thurston County, featuring male and female soccer athletes from all over the world. Game days at the arena are full of excitement, food and drink for the whole family. "Indoor soccer is nothing like outdoor soccer, with the walls, boards and glass," Ryan shares. "It rarely ever goes out of bounds and is always continuous play, which is even more fun to watch with our pro arena team!" The men's and women's season runs from November through February, so get your tickets and prepare for winter season full of some great sports action.
Players of All Ages Can Kick It with Olympia Indoor Soccer
Indoor soccer is an amazing offering to have right here in our community, and with Oly Town FC running things, there is so much to try to stay active and have fun. Check out their youth soccer and adult soccer programs and register today to experience the joy and excitement of soccer for yourself! For more information, visit the Olympia Indoor Soccer website.
Olympia Indoor Soccer
2700 Evergreen Parkway NW, Olympia
Sponsored