For 50 years, Olympia Harbor Days Festival has brought our community together Labor Day weekend to celebrate maritime heritage. This end-of-summer tradition stretches the length of Budd Inlet from 4th Avenue to the Port of Olympia, out to the deep waters for tugboat racing, spilling onto the boardwalk and shore where the sounds of live music, the aroma of unique eats and the talents of local artisans meet. Olympia Harbor Days Festival remains a free event for every age, an opportunity made possible through the generosity of volunteers, sponsors and community donations.
Olympia Harbor Days: 50 Years in the Making
The award-winning Olympia Harbor Days Festival can trace its roots back to 1973. The founders, now known as the South Sound Maritime Heritage Association, gathered together to honor the tugboat tradition and their skippers.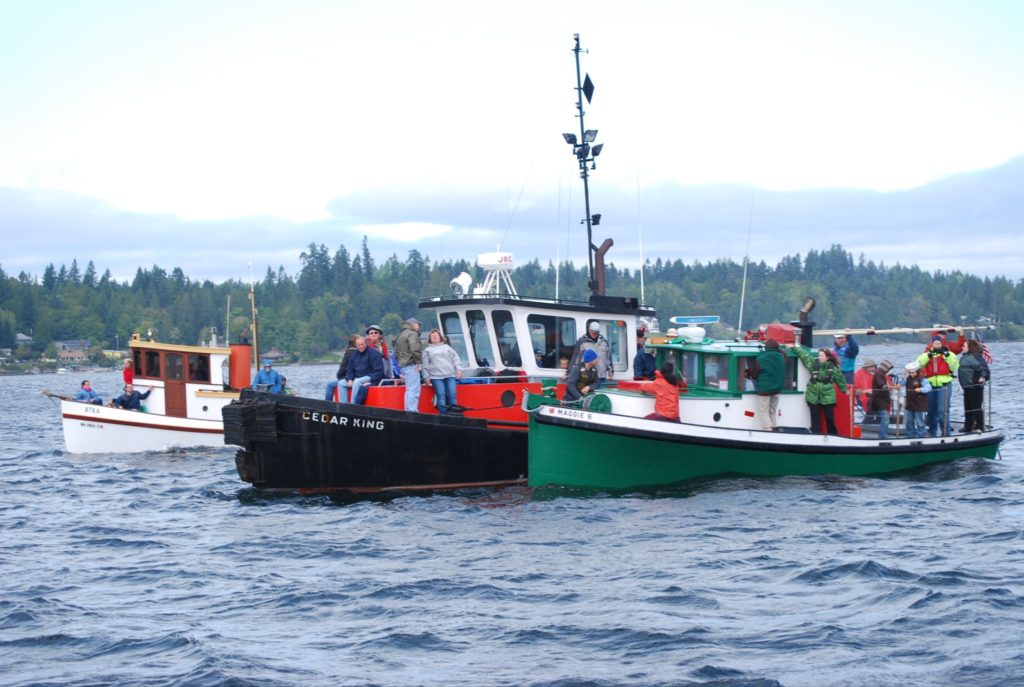 "Tugboat racing grew from the days when tugs raced to the tall ships to bring them to harbor," explains Carol Riley, Olympia Harbor Days Festival executive director and producer, "The first tug to arrive would get the job."
The tugs racing in today's Olympia Harbor Days Festival events have a different opportunity on the line, a chance to be chosen as the logo boat for the next year's festival. The logo tug represents the oldest tug from the year prior. To be eligible, the tugboat had to have raced that year and not been chosen as the logo tug before.
This year's tug of honor is Tug Chippewa, who homeports in Tacoma and is owned by Jeff Mincheff. Tug Chippewa participated in the Olympia Harbor Days Festival in the 1980s and is one of the last wooden tugs built locally in the Puget Sound. She even served in WWII.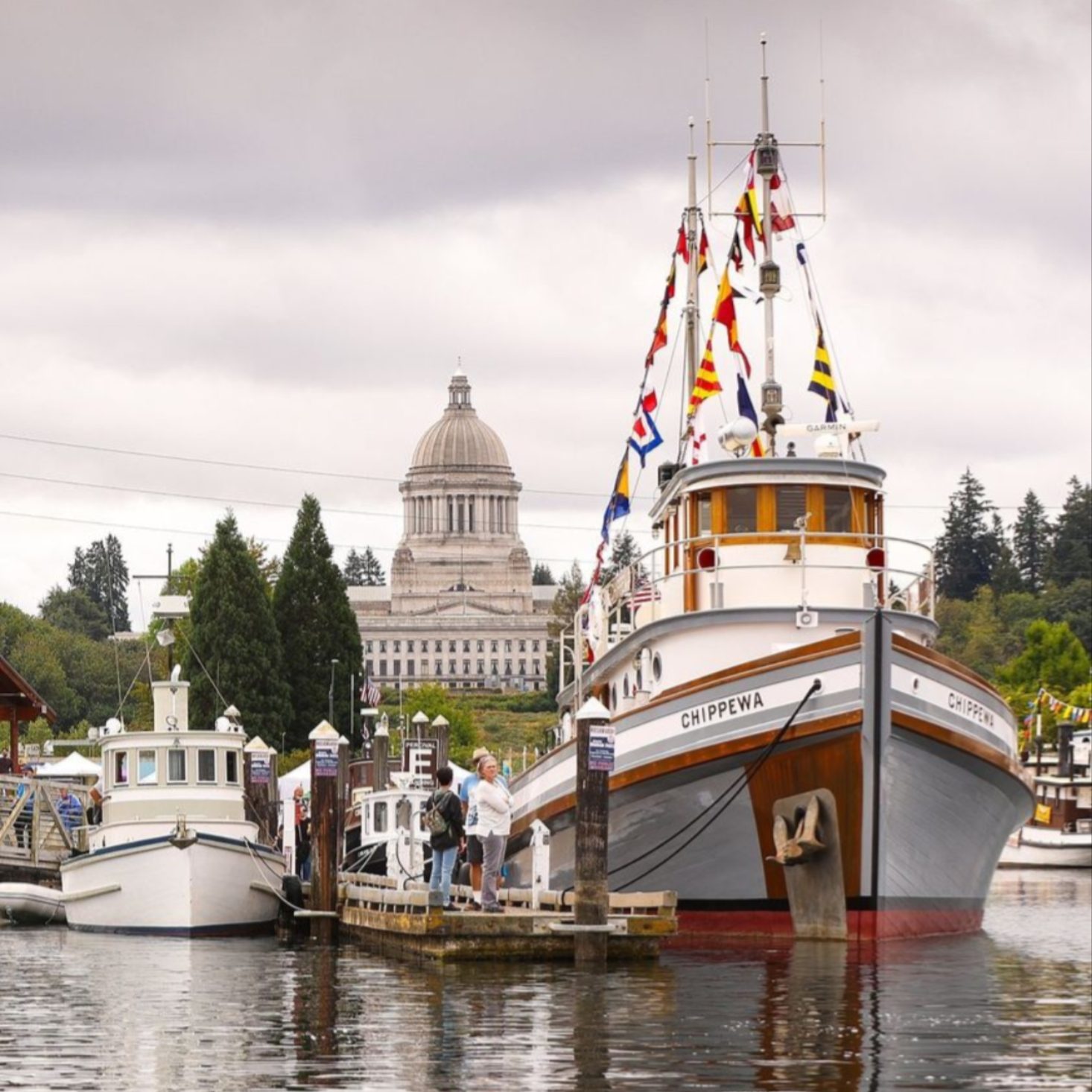 Expanded Harbor Days
In 1978 the Olympia Downtown Association added an element known as Haborfair, which incorporated the music, arts and food elements that we know so well today.
This year's Olympia Harbor Days Festival will take place September 1-3. The full schedule and lineup of events can be found on the Olympia Harbor Days Festival website. With over 300 things to do and see and 32 ships registered to attend, where to begin?
"Start with the food!" encourages Carol. "There are so many choices that you might want to plan multiple visits and not have to cook all weekend."
"There truly is a surprise around every corner," she adds, "from the Kiss Statue on 4th Avenue to the Lookout Tower at Port Plaza. Be sure to wear comfy shoes and dress for the weather and don't forget the sunscreen!"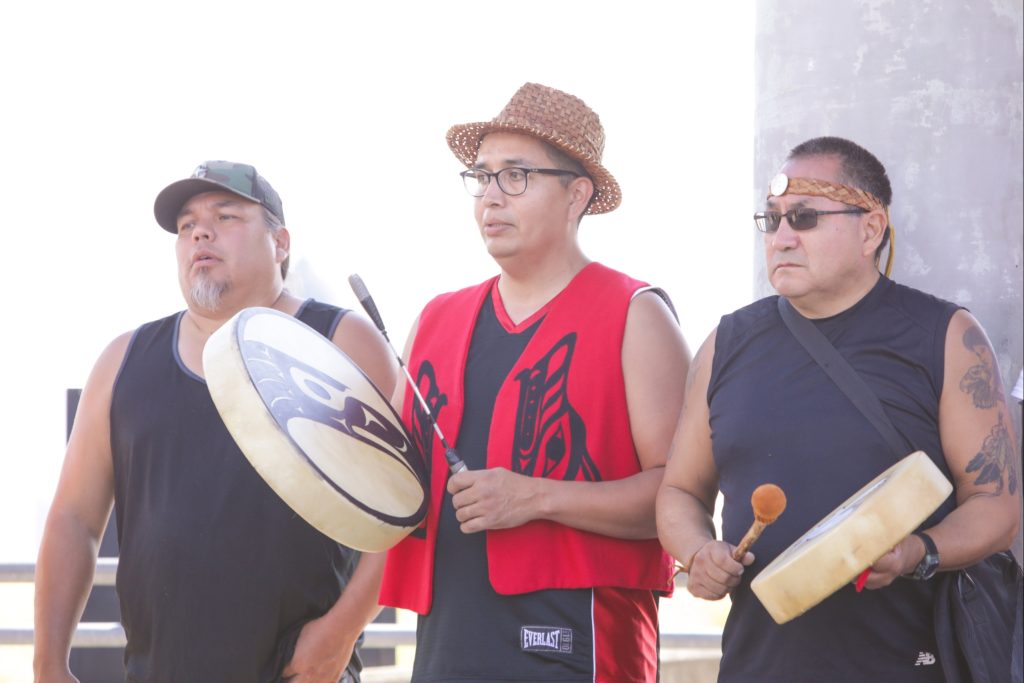 In addition to tugboat races, unique food and local artisans, attendees can sign up to embark on water excursions on vessels small and large. Harbor sailings on the Lady Washington and Virginia V fill up quickly, so sign up soon on the Olympia Harbor Days Festival website. There will be maritime skills demonstrations, contests, live music and plenty of fun for the kids.
New this year at the Olympia Harbor Days Festival will be a 75 Drone Maritime Light Show, Friday September 1 at 9:30 p.m., with a test rehearsal Thursday night same time. Viewing will be best running east to west. Prime locations include the Percival Landing Boardwalk near the park, Port Plaza and West Bay Park at the north end of West Bay Drive. Live music will be broadcast on both festival stages as well as on our local KXXO MIXX 96.1.
Community Makes Olympia Harbor Days What it is Today
"It takes tremendous financial support from our local community partner sponsors and advertisers to keep this nonprofit event growing and free," reminds Carol. "It is hosted by the very small South Sound Maritime Heritage Association, although many think it is a city or private event. We have collection boxes spread throughout the festival and donations are greatly appreciated. We suggest a donation of $5 per person or $10 per family. Community support donations are critical to keeping the event going for another 50 years."
"I also want to express my gratitude to the Squaxin Island Tribe known as 'The People of the Water,'" adds Carol, "who provide cultural sharings and who are our largest sponsor followed by the Chehalis and Nisqually tribes. Special thanks to Capital Heating, Cooling, Plumbing and Electric whose generosity and commitment to providing funding for so many of our community events, not just Olympia Harbor Days, is amazing. We have had continual support from the banking community over the years – Oly Fed, Heritage Bank, 1st Security (Anchor Bank) and others."
Olympia Harbor Days Festival represents the intersection of maritime history, tribal culture, port vitality and community contribution. It is a tradition that has anchored our community for 50 years and with your support another 50 more. It is the launching point of family memories that span generations.
Please visit the Olympia Harbor Days Festival website today for full event details. A volunteer form can be found there as well for those wishing to contribute their time. See you at the harbor!
Sponsored