The residents of The Hampton, an Anthem Memory Care community in Tumwater displayed an incredible act of kindness by creating blankets for foster children and their families supported by Community Youth Services (CYS) in Olympia. Their dedication and drive pushed them to create 54 amazing fleece blankets that were donated to the Knots of Love program.
Knots of Love ensures all blankets and beanies knitted are given to homeless shelters, chemotherapy patients, and to NICUs for babies in incubators.
The Hampton staff collaborated with CYS to give residents the chance to help out the Thurston County community. "This was the first community outreach event that we've done," shares Tammy Chamberlain, life engagement director for The Hampton. "We are aiming to get involved every quarter."
Building Community with No-Sew Blankets for Charity
The dedicated seniors worked on the blankets at least twice a week for three months. They surpassed their original goal of 50, ending with 54 blankets being donated to Knots of Love.
To create the blankets, they used a no-sew method by layering fleece cloth and tying knots into the ends of the blanket to seal them together for thickness and warmth. "Everyone worked together in the same room. Those who were able to knot blankets participated, and those who couldn't still engaged with the group," shares Chamberlain. "They sipped hot drinks and talked. It was a great way for everyone to stay involved in the process."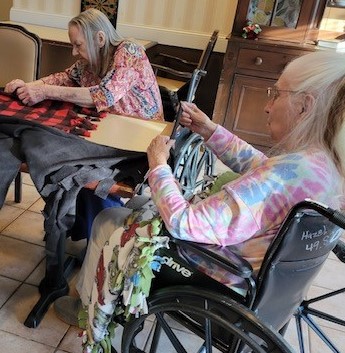 Some residents enjoyed the social aspect of creating the blankets with each other and used the time to reminisce on projects they've made. "We had the time and I enjoyed getting together with the ladies to make the blankets," shares resident Jeanette Jacobson.
Many were motivated to create something new that they could give to someone in need. "It's great to be able to help supply something that often wears out and to provide comfort for the children." shares resident Carol Walster.
Other residents simply wished to offer their support for children and families who needed it. "I have a positive reaction to helping those in need," shares resident Bill Hosford.
Residents' families provided a variety of supplies used to help make these radiant blankets come to life, including fleece cloth and extra pairs of scissors. "They donated extra fleece for the blankets when we were already provided with the materials needed," Chamberlain shares.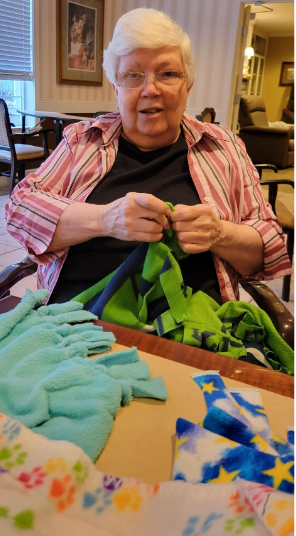 Community Youth Services Distributes Blankets to Those in Need
After receiving the blankets, Community Youth Services extended their gratitude to the residents and staff of The Hampton Memory Care for their impactful donation. "We are overjoyed and grateful to extend a heartfelt thank you to the wonderful team at The Hampton, an Anthem Memory Care Community, for their incredible act of kindness," shares CYS Olympia. "Residents created a collection of stunning blankets that radiate love and care. These creations will find their home within the arms of the children and families served by Community Youth Services."
Parents as Teachers and the housing program through CYS will use the blankets to comfort individuals and families. Children and families supported by CYS in need of extra warmth were given the handmade quilts and blankets made by the residents of The Hampton free of charge.
The Hampton Memory Care residents and staff hope to participate in more community outreach programs to make a difference in their community. "We would love to do this project again," shares Chamberlain. "Great quality of life is the best thing for the residents, and we want to make sure we give them many activities to do while in our care."
The Hampton staff already has a few exciting ways to get the residents involved in the community at least once a quarter. "We'd like to put together goodie bags with the residents and give them to families in homeless shelters," shared Chamberlain. "We would also love to work with My Very Own Blanket, who donates handmade blankets to children in foster care."