Climbing 20-feet up to an eagle's nest and walking on the deck of a 2-masted schooner are rare opportunities for kids that are uniquely possible in Olympia. Through the big-hearted efforts of local citizens in the late 1980s and early 1990s, the inspiration to create a place for learning and exploration became a reality. Once established, the Olympia Hands On Children's Museum grew beyond the confines of its two previous locations and is at home today in a stunning facility with 150 exciting exhibits.
Impressing visitors, residents and growing families, the museum has won many awards, such as best travel destination, as a birthday party location, for being kid-friendly and more. In recognition of the love Olympians have for this treasure and to spread the word, local Olympic Sotheby's International Realty featured the museum in a Community Story video.
Early Days of Olympia Hands On Children's Museum
Ideas for a children's museum circulated in late 1980s Olympia. In Summer 1987, a group of Olympia residents were bringing to a close a guide for local activities for kids. They originally met to talk about having a children's museum in Thurston County that would be a developmentally-based place for parents to take their children. Research at the time suggested such a museum would draw 20,000 visitors.
The Hands On Children's Museum first opened in January 1994 at 108 Franklin Street in downtown Olympia, where Old School Pizzeria is today, premiering with its Ocean Odyssey exhibit. There was a fishing pier, boathouse, sea creature costumes, a seaside diner and a water play area.
"Olympia was a much smaller community at that time," CEO Patty Belmonte says in the Olympic Sotheby's video. "There wasn't a lot to do for families indoors, especially during the rainy months. It was such a neat opportunity, and I loved it right away."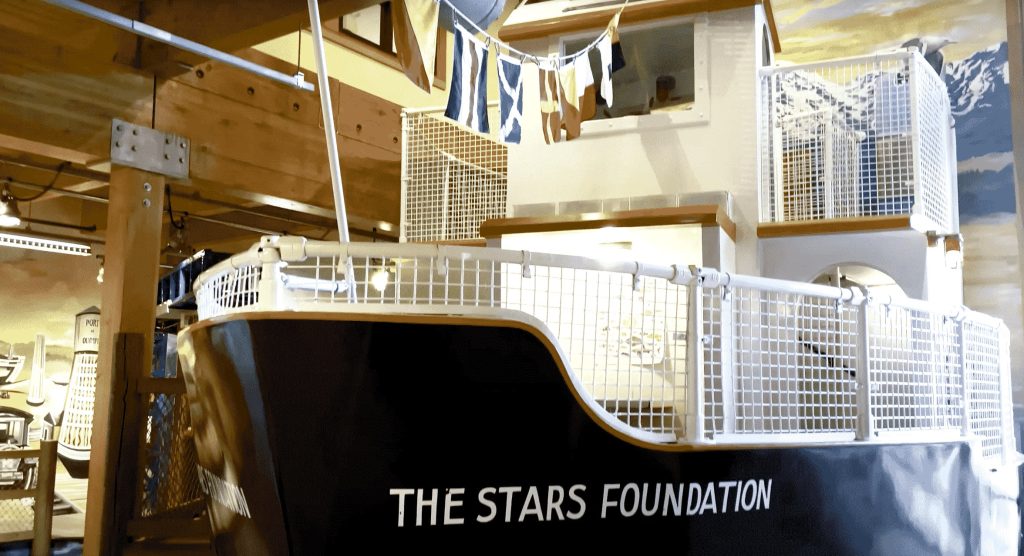 Hands On Children's Museum Grows in Popularity
The expected 20,000 visitors grew to 150,000 visitors after the museum moved to its new location near the Capitol Campus and later grew to an astonishing 300,000 yearly visitors in the Marine Drive building. The new site, built in 2012, spans 28,000 square feet. Exhibits fill the interior, connect to another 1.5-acre outdoor museum space and are near the delightful kid-sized water stream in adjacent East Bay Public Plaza. It is a home well-suited for its purpose.
Learning through Exploring at the Hands On Children's Museum
With 150 exhibits to investigate and absorb, learning opportunities abound. Kids can make art with recyclable materials, build structures with wood or experiment with a giant Light Bright wall. They can explore careers in the Emergency! exhibit behind the controls in a helicopter or behind the wheel of a firetruck or police car.
"We are doing something that is in short supply these days," Belmonte, who has been with the museum since just a few years after its opening, says in the video. "We are spending time with our children not on a TV screen, not on a phone screen, so it's quality time for families to get together and really interact with one another."
The outdoors come inside with a wind power experience in the Woodland Wind Tunnel watching scarves race through air tubes and shoot out high above the room. The Tides to Trees Climber exhibit extends 20 feet into the air with an eagle nest at the top where kids can take in a bird's eye view.
The Outdoor Discovery Center is the 1.5-acre area connected to the main museum with a lighthouse, a 2-masted schooner, boulders, sand and a children's garden. Safe Harbor is just that, a low-key space just for those under 4 years to climb small things, build and experiment with objects just their size and speed.
"We all got to do a lot of fun activities together, and they also got to learn how to play independently," a visiting parent of two says. "There are different job activities for kids to learn about like veterinarian, mechanic, artist or musician. The toddler area was a perfect place to let kids run free. It was also nice that I had the option to bring the kids into a quiet room if activities got too busy for them."
Visiting the museum extends into yearly events such as Summer Splash and 56 different summer camps and a preschool. People even return for birthday parties and weddings.
Access for All Throughout Hands On Children's Museum History
It's a museum for all, a place for multigenerational families to learn, explore and play together. The museum provides not only the space for families to explore but also financial accessibility. Free and reduced admission is offered to any family receiving assistance through the state EBT program, and on the first Friday night of each month, admission is $1 for nonmembers.
The original children's museum group worked toward giving Olympia area families and kids a place to learn and explore together, and the result was a gift that keeps on giving. If you have never been, you're in for a delightful day of playing with science, exploring nature or looking into the cockpit of a helicopter. To learn more, visit the Hands On Children's Museum website.
Sponsored