For many students, their artwork is capable of expressing more about life than words themselves. The ability to create allows them to send a message without ever speaking. Through different mediums, colors, and materials, the student artwork in this year's exhibit says something about what South Puget Sound Community College (SPSCC) art classes can teach. Every year the art faculty of SPSCC goes through the art students' completed assignments from a variety of courses and picks out the best of the best to be featured in the annual student art exhibition, open now through June 16, Monday through Friday from 12 p.m. to 6 p.m. at the Leonor R. Fuller Gallery.
Outstanding Artwork on Display at the Leonor R. Fuller Gallery
This year's works include drawing, painting, digital photography, film, ceramics, printmaking, sculpture, 2D and 3D design exercises, and mixed media. There is also a continuous slide show of student work included in the exhibition.
The artwork on display was chosen based on how the art was crafted, the student's technical merit through their creative process, and how the art aligns with the course rubric. Gallery Coordinator and Professor of Drawing and Watercolor Sean Barnes explains: "They are all pieces that exemplify the requirements of a course, as all of the artwork are class assignments. There is a consideration of the student's ease while creating, and if there were a lot of struggles they overcame."
The annual student art exhibition began 18 years ago when the Kenneth J. Minnaert Center for the Arts building was constructed. Over the years, the Leonor R. Fuller Gallery became a staple showcase for art emerging around Olympia. "Student art exhibitions are expected and common with art departments in colleges, but before the Gallery was created, everything was taught and displayed in portables," says Barnes.
The Awards of the Exhibit
Seven different awards for pieces in the Exhibit were announced on May 29 during the opening reception. 2D, 3D, film, and photography categories were each awarded honorable mentions and an Olyphant Art Supply certificate. This year, Olyphant is the sponsor of the student exhibit.
The 2D Award was given to Olivia Vazquez's "Megatron" for her beautifully detailed graphite and colored pencil drawing.
The 3D Award went to Sophia Young's "Song Birds" ceramic sculptures reminiscent of historical vintage ceramic birds.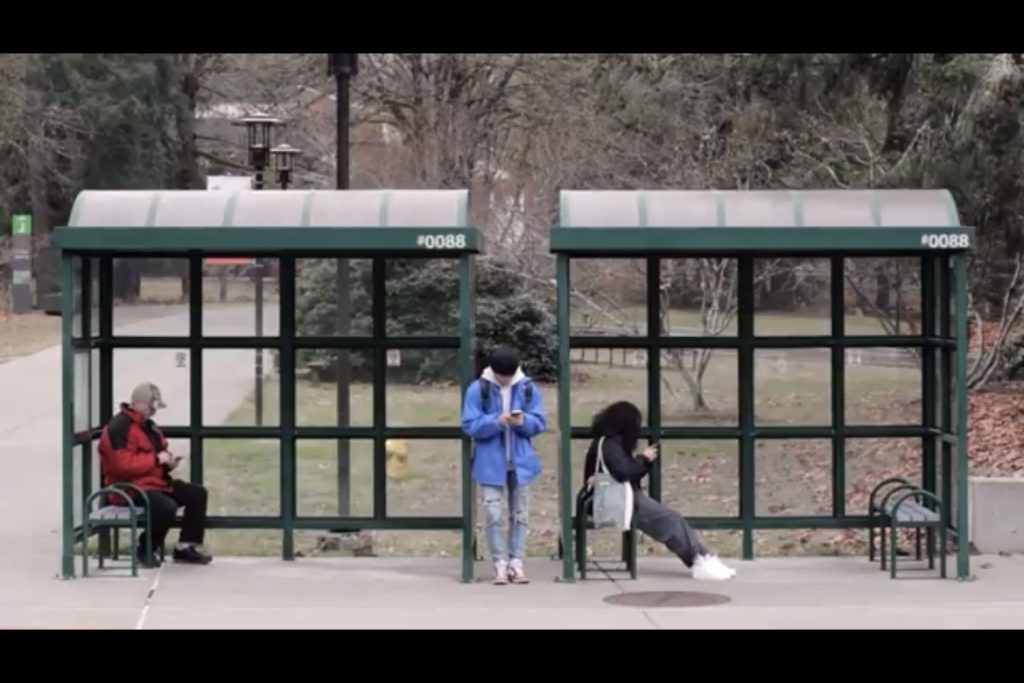 The Film Award was given to Charlie Kuvangasan's comical short about student life and love titled "Like Somebody."
The Photography Award went to Kaitlyn Dillard's enchanting photo "Don't Look," depicting the sculpture of a little girl "looking" at a bird.
The Dean's Award, which was selected personally by SPSCC's Arts and Humanities Dean Melissa Meade, went to Allyn Schimdkofer's "Coastal Waters" painting. It was then purchased by the humanities division to be displayed in the humanities office.
The Technical Merit Award – granted to the student who shows the most technical improvement throughout the creation of their artwork – was awarded to Brooklyn Adragna's "Whittled Man" pencil, colored pencil and charcoal drawing.
The Poster Award was awarded to an extraordinary collage piece using charcoal on paper titled "Sunset," created by a team of students: Luke Shepard, Tre Simmons, Alissa Strandberg, and Ryland Swanson. They will have their art as the poster image for the next annual student art exhibition. The current poster displays last year's winner, Hayden Witcraft's painting, "Untitled."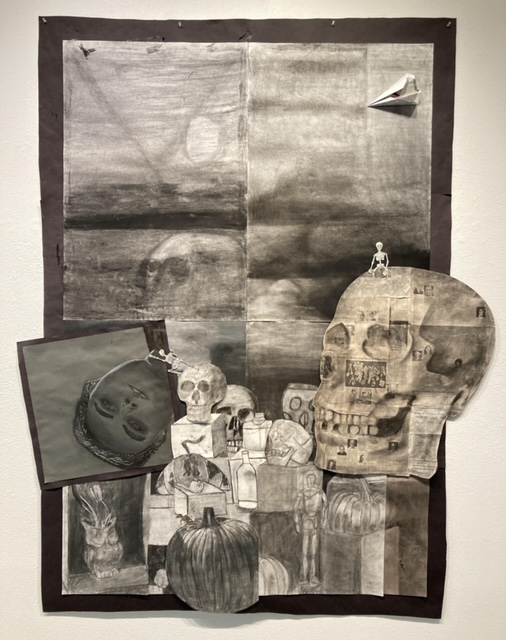 To view all the winners, head to the exhibit before June 16 or check out the Leonor R. Fuller Gallery webpage, where all the artwork and the award recipients will be digitally archived.
Get Involved: South Puget Sound Community College Arts Programs
Want to showcase your work? There are two future opportunities in the gallery that are open to the public. First, the 2025 Emerging Curator Program, which invites participants from Clark, Cowlitz, Grays Harbor, Lewis, Mason, Pacific, Skamania, Thurston, and Wahkiakum counties to gain hands-on experience in the field of exhibition curation. Proposals for this program are due by October 31, 2023. For more information, check out their full prospectus and apply here.
Secondly, they are calling for entries for their 2024 Fine Art Postcard Exhibition. This is an annual event, open to anyone. The 2024 theme is "The Creature Within." There is a small entry fee. All artwork will be sold through a silent auction with the proceeds going to support gallery programming. The submission deadline is December 8, 2023. For more information on how to submit, check out the SPSCC gallery webpage.
Not a student yet? Applying to SPSCC is easy and can be done online through their registration portals. Pursuing a career in the arts at South Puget Sound Community College is a great way to make your talents known and seen. "My favorite part is supporting the students," relishes Barnes. "As a community college, we are a stepping stone for art careers as many of our students will go on to four-year universities after this."
Nurture your passion for creating art, and earn the recognition your talents deserve. Check out the SPSCC Arts & Communications Pathway page, where you will find helpful support and connections to start your art career today.
Sponsored