The colorful joys of summer are coming our way with a cavalcade of local berries. Beginning with strawberries, the parade of berries enjoys prominence at the Olympia Farmers Market. June welcomes other fan-favorite produce including snap peas, spring onions, summer squash and cherries. With winter to our backs, it's time to get our hands on and mouths into jams, jellies, and other ways to savor flavors now and into the future.
Strawberries grab the first headlines. You'll find them at either end of the Market with Spooner Berry Farms and Johnson Berry Farm. Picking takes place daily, meaning berries are fresh and ready to use, especially on warmer days. You could buy a single green box, but really? It's no problem to use a half or even a whole flat, even if you aren't putting up most of them.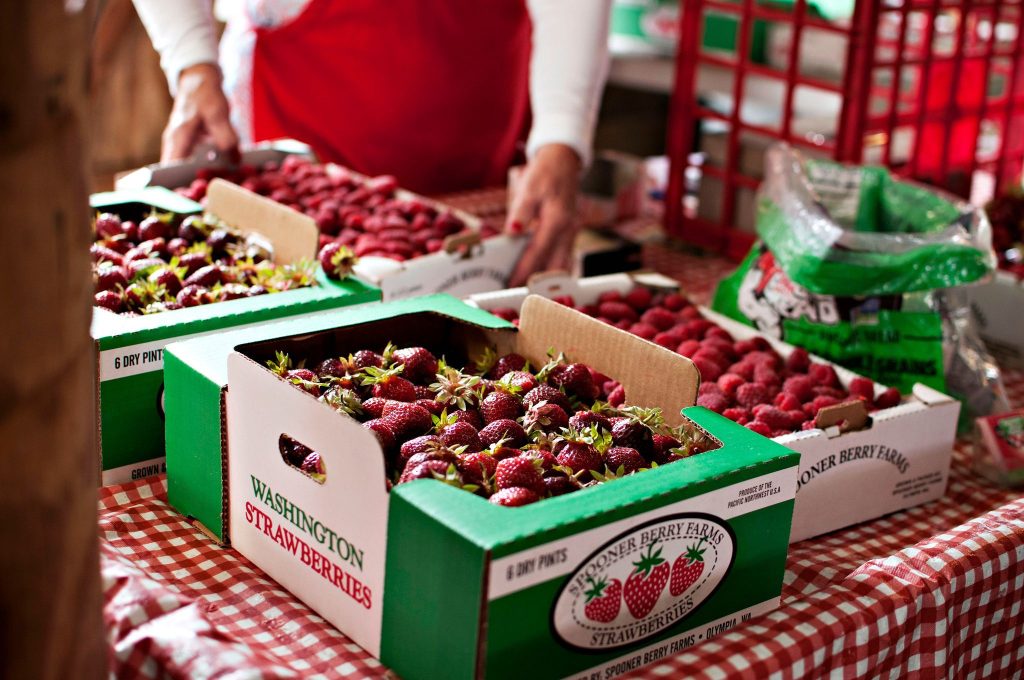 Easy Strawberry Recipe Suggestions
Rinse a box and leave out for simple, summer snacking.
Breakfast cereal or morning smoothies are certainly enhanced with a handful of local, red strawberries.
The summer salad with spinach, strawberries and poppy seed dressing is sure to be popular at your neighborhood potluck or evening meal.
There are plenty of recipes that mix strawberries into savory dishes, such as meatballs or chicken stew.
It may be old-fashioned or seemingly plain, but sliced strawberries over vanilla ice creams tastes great every time.
After rinsing and drying whole berries, you can put them into plastic bags for freezing. It's a taste of summer for your winter smoothies.
You can also buy berries in bulk if you have plans and the equipment to can. Freezer jam is popular because it requires no cooking and maintains that extremely fresh fruit flavor. It's best to eat within six months. If you use heat and can jam, it can last longer. If you don't like spending time in the kitchen, you can always buy ready-made jam right at the Olympia Farmers Market.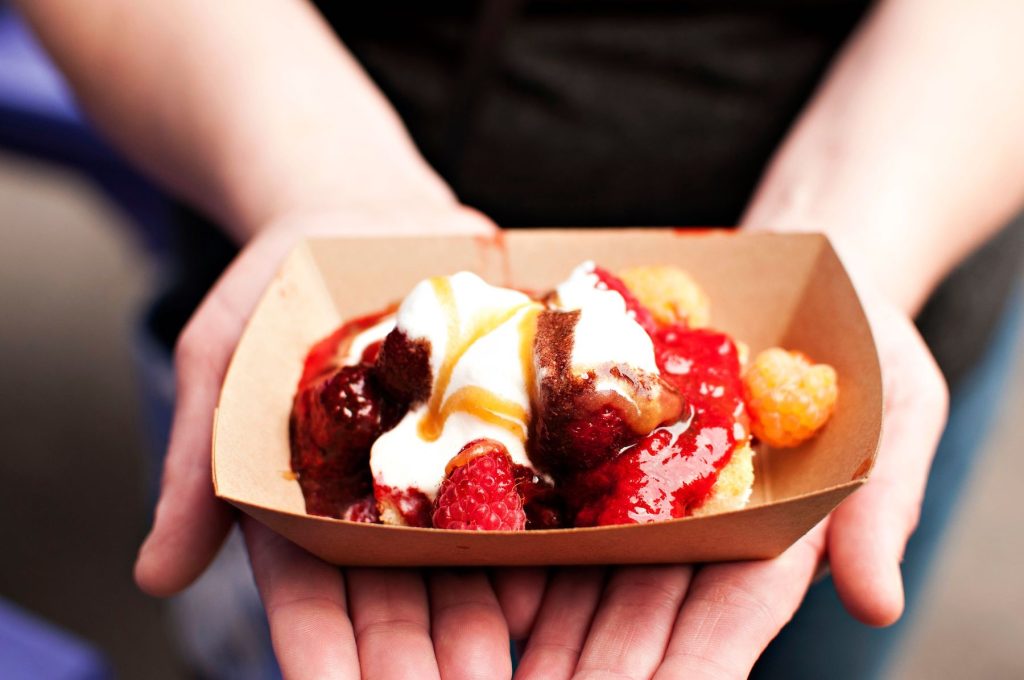 Strawberry Shortcake Fundraiser
Celebrate the season with strawberry shortcake on Saturday, June 24. It's a fundraiser for the Olympia Farmers Market's Farm-to-Table Holiday food drive. The Farmers Market partners with local organizations to provide fresh Market-sourced food to families during the holiday season.
The shortcake is made with ingredients from vendors. Fresh berries come from Johnson Berry Farm and Spooner Berry Farms with fresh cream from Tunawerth Dairy. There will be shortcake from the San Francisco Street Bakery. Shortcakes sales begin at 11 a.m. and end when goods are sold out.
July Produce at the Olympia Farmers Market
Pay attention as the growing season continues to add new goodies while tapering off on others. As strawberries fade, you'll find raspberries, blackberries and marionberries. Blueberries come a little later. More summer delights include cherries, tomatoes, cucumbers and much more. Canning options are uncountable! I like to do a session of chunked tomatoes, which are incredibly useful throughout the year for soups and casseroles. People are crazy for pickling beans and cucumbers. Consider making your own pickle relish, which tops all the store-bought I have ever found. There are too many vegetables to name. See for yourself.
Bring Guests and Yourself to the Farmers Market
Our amazing Farmers Market is a winning spot to share with visiting friends and family. It's all about local flair and flavors, whatever time of year. You can get lunch or a snack or find meats, fish, and produce to take home for dinner. The variety of arts, crafts and artisan goods are more fun than a museum, because you can touch things and afford to take them with you. But don't save a trip to the Market exclusively for your out-of-towners! Take yourself. I get inspired to cook something new, find a perfect gift, run into a friend, and often, all of the above.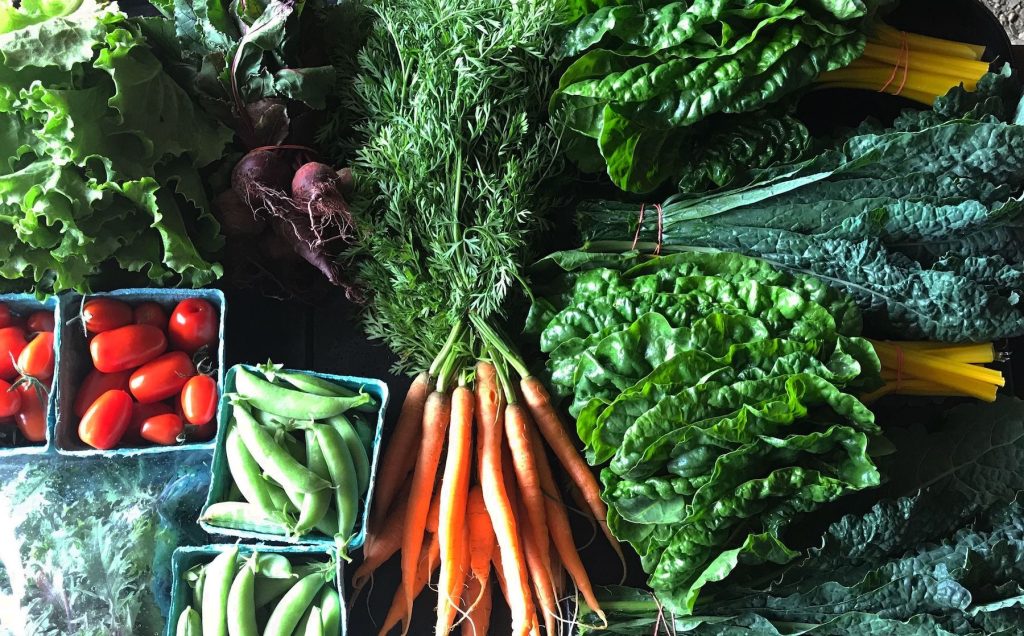 SNAP Market Match – Up to $25
The SNAP Market Match Program is a collaboration between the Olympia Farmers Market and the Washington State Department of Health, thanks to funding from the State of Washington. Use you EBT (Electronic Benefit Transfer) card at the Market Office to receive up to $25 (per day when you redeem $25 of your EBT card) in additional funds to spend on fresh fruits, vegetables, mushrooms and edible plant starts.
How to Receive and Use SNAP Market Match Dollars:
Go to the Olympia Farmers Market office window.
Swipe your EBT card and receive EBT Market Vouchers.
Double your dollars up to $25 per day in matching funds.
Shop, save, enjoy.
Eat fresh. Meet Farmers. Talk to Vendors. Breathe the Amazing Air.
The Market is opens four days a week, Thursdays through Sundays from 10 a.m. to 3 p.m. There is a free parking lot on the north side of the market. Visit the Olympia Farmer Market's website for more information. You can also follow on Instagram, Facebook and Twitter or via email with the newsletter sign-up.
Sponsored