The Blue Heron Bakery, a beloved fixture for decades on Olympia's westside, is in transition and you can be part of it. The bakery is evolving into a unique community- and worker-owned cooperative. This change means the business is returning to its roots while keeping its connections to the South Sound. Like its bread, this effort is rising now.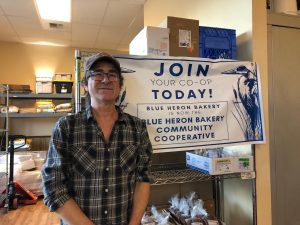 "We are deciding the future of the bakery," says owner Evan Price. "We have always been sustained by our workers and the community, and to best protect the legacy, it's best to leave it in their hands."
Blue Heron Bakery Returns to its Cooperative Roots
The Blue Heron Bakery offers delectable baked breads, sandwiches, soups, pizzas, lasagna, coffee, pastries, desserts and ice cream seven days a week at its storefront and other Thurston County locations. The bakery opened in 1977 and Price has been working there since 1988. He says the bakery originally operated as a cooperative. Later, it became a partnership and then he became the sole owner. He has been in the driver's seat for about 35 years.
Now Price is reverting the business to a cooperative. A cooperative is an association of persons united voluntarily to meet their common needs and goals through a jointly owned and democratically controlled enterprise. Price is currently finalizing the Blue Heron Bakery Community Cooperative with plans for a new oversight board of consumers and workers who share the bakery's vision. "We are returning to that," Price says of the cooperative. "And we are also upholding the natural food aspects as one of the most important things. We bake things from scratch. No mixes."
Price says he wants to preserve the bakery's role in the community. And in doing that, he thought about his long decades at the bakery and what is sometimes called the "Silver Tsunami," a metaphor for the large numbers in the workforce who are becoming seniors. Although future ownership will rest with the new cooperative, Price says he wants to remain as a bakery worker. He's not retiring yet.
Bakery in Olympia Adopts Unique Consumer-Worker Cooperative Format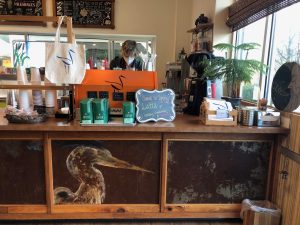 The bakery's chosen cooperative format, with both consumers and workers guiding its future, is somewhat unique. "'Sociocracy' is the technique we are using," says Price. "It uses a consensual model. That is, even if you don't 100% agree, you can go along, and it might be you can even improve it."
"Sociocracy" means governance by those who associate together, using circles of decision-making rather than a linear hierarchical structure. Price read "Many Voices, One Song," a manual for sociocracy. He also received help from the Northwest Cooperative Development Center (NWCDC) in Olympia and its co-director John McNamara. The NWCDC is a not-for-profit organization assisting cooperatives and supporting an entity's transition by providing guidance and other resources to establish a cooperative.
McNamara says while Blue Heron's shared-governance model with both consumers and workers at the helm is becoming a bit more common, it is still unique. "Evan supported that because of being part of a larger community," McNamara says. "It is interesting because the key stakeholders are the consumers and the workers. It's a shared psychological ownership. There's physical ownership and psychological ownership. With the co-creation of ownership, both bring ideas and knowledge to the organization."
Price says the long process to move from a single owner to a cooperative included attending NWCDC classes and receiving other NWCDC guidance on establishing articles of incorporation, bylaws, a marketing plan, an interim structure, operating manuals and other tasks. "We are laying the groundwork for the transition," he says.
While Price had hoped the change would be final in January, he anticipates it may take until the end of 2023's first quarter. McNamara says implementation can take longer in part due to the structure. "It's about having meetings where people create rules by which they work," he says. "It creates a stronger commitment by people and workers. It's a really neat concept. But building that into the bylaws is heavier work. You have to work through these issues."
How The Blue Heron Community Cooperative Will Operate
The bakery's mission is to "bring people together through quality of natural foods, personable service and cooperative practices." The new board will include four workers, four consumers and a board-selected general manager. Consumers 18 or older can join for a $77 one-time refundable fee, entitling them to attend board meetings, vote, run for a board director position, receive discounts on bakery-produced goods, and other benefits. For more details, see the bakery's webpage and Facebook.
The Blue Heron has long invested in the local area. And now, the bakery will belong to the community itself. "We are sustained by the community, so they should control it," Price says.
Blue Heron Bakery
4419 Harrison Ave NW #108, Olympia
360.866.2253
blueheronbakery@yahoo.com