It's easy to lose your gift-giving mojo after the holidays. But that doesn't mean birthdays, anniversaries, and celebrations are put on hold. If you're completely unprepared for Cupid, the Easter Bunny or an upcoming party, head over to Olympia's Capital Mall on Saturday, February 11 from 11 a.m. To 8 p.m. The South Sound Artisan Guild will be hosting their first Artisan Market of 2023 and you're sure to find inspiration around every corner.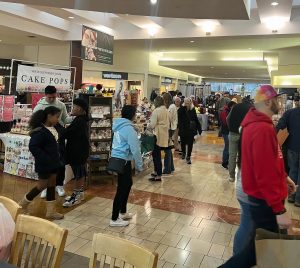 South Sound Artisan Guild Sets Up Shop at Capital Mall
The South Sound Artisan Guild is a symbiotic hub of businesses sharing resources and working together, not unlike Capital Mall. Guild owner Lina Ciampi says this ongoing partnership has been a great success and is excited for 2023's upcoming events.
"Partnering with Capital Mall in Olympia has been an absolute delight," says Ciampi. "As small businesses that specialize in handcrafted goods, we are at a huge disadvantage compared to other retail stores. Rental prices are often unaffordable for one small business alone, so we work together to share the space and split the cost so we can all have a quality marketplace that helps local small businesses connect with their customers and build their clientele. Capital Mall in Olympia provides us with a place to conduct business in the Grand Courtyard where we are easy to find and hard to miss."
Beyond the advertising bump that comes from such a partnership, they also appreciate the high level of foot traffic that is provided at Capital Mall, says Ciampi. "It increases discovery by even more potential customers and provides a place to offer our unique goods and services."
Handcrafted Goods from Skilled Crafters
Amidst the hustle and bustle of weekend shopping, what will catch your eye at the South Sound Artisan Guild's January Market? Well, says Ciampi, just about everything. "The merchandise that you find at the SSAG Artisan Market is crafted by local artists and small business owners, so the items that you find at our events are unique," she promises.
But more than just the unexpected, these Markets allow for one-on-one conversations with local artists. "Another benefit of shopping the SSAG Artisan Market is that you can speak with and connect directly to the artist in person," says Ciampi. "Customization and special orders are mainstreamed directly with the creator, so you can get exactly what you want for that special someone. When you shop with the SSAG Artisan Market you are supporting local small businesses, stimulating the local economy, giving back to the local community, nurturing innovation and growth, and helping skilled artisans in their craft."
Warm, Dry, Welcoming Events are the Heart of Capital Mall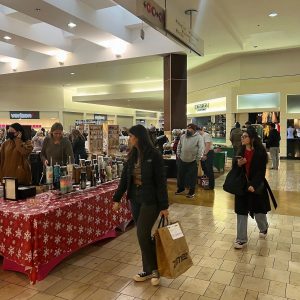 Families know that warm, dry ways to spend a Saturday are something of a unicorn in the Pacific Northwest. But thanks to Capital Mall, there's always something going on. Hit up the play area, go see a movie, get your steps in with Mall Walkers then warm up with Zumba Gold, or just stroll with a tasty treat or two.
"Families are the core of Olympia, and it's important that they have a place to come to that's fun and safe," says Marketing and Business Development Manager Hope Montag. "We hope that our Mall can be that community bedrock for them as well as all of the incredible artists that will have tables at the event."
She and her team have a special fondness for the SSAG. "They are an amazing community-driven initiative and we sincerely hope to see people come out to support these artisans here at the Mall," says Montag. "It's important to us to support local makers in multiple ways and to promote creativity among the community. Not everyone wants to have a permanent storefront, but they still want to be able to sell their artwork to members of their community. These markets are a great way of giving local makers those opportunities while also giving our visitors a unique experience."
Look for additional Guild Markets at the Mall on March 18, April 15 and May 13 to stock up for summer. Dates are posted on the Capital Mall's event calendar and South Sound Artisan Guild event page. Register to become a vendor by clicking on the specific date you'd like to attend and filling out the online form. Ciampi and her team will get back to you ASAP with availability and details. Send questions their way via SouthSoundArtisanGuild@gmail.com.
Want to rent a storefront, kiosk or retail cart to sell your goods? Reach out to the Capital Mall leasing team today and start selling alongside the pros. Staff even work with pop-up shops for those just starting out or testing the waters. Exciting goods and one-stop shopping are a win-win for everyone.
Sponsored