There is nothing better than a local business. A local business is the splash of color that makes a community unique, even beautiful! Thurston County is especially lucky in the bountiful amounts of local delight offered around every corner. The Blue Heron Bakery in Olympia is full of community spirit, with an owner that treats everyone like family, and, of course, incredible food.

Evan Price appreciated the magic of local businesses when he moved to Thurston County to attend The Evergreen State College. Living just close enough to the school gave him the opportunity of a morning bike ride before class. He used this extra time to stop by a little local store for coffee and a treat. Maybe it was the fact that this little bakery brought back waves of nostalgia, maybe it was the fact that in the '80s, very few places offered such natural food options, or maybe Price knew a good local restaurant when he saw one. Whatever the reason, the Blue Heron caught his attention the moment he stepped foot in it for the first time on his way to school. It is no surprise, therefore, that when a position opened in 1988 to work at the bakery, Price leaped at the opportunity.
Now, 33 years later, Price is upholding the standards and ideals of the Blue Heron Bakery just as fervently as when it was first established. "The goal is always to bring whole-grain, natural baked goods made from scratch to the community. We've been doing that since 1977," Price states.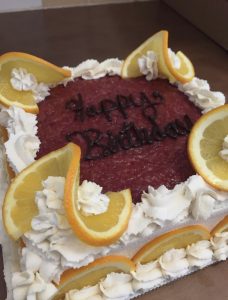 They have achieved this goal magnificently, with dozens of food and pastries available. These options are cooked fresh in single batches and sold until there is none left. Not only is the Blue Heron a haven for delicious and fresh foods, but they are notorious for their plethora of vegan, vegetarian, gluten-free, and granola options. Options so famous that even when people leave Thurston, they still call and order various Blue Heron specialties. This just goes to show how deep the Olympia community connections run, especially those tied to the Blue Heron. Price goes on to say that while their motto may be to bring fresh delicious food to Olympia, their real aim is to support the community and likewise be supported by the community.
The Blue Heron is known for their community involvement; they are a founding member of the Olympia Farmers Market (their products can be found at both Co-opts, Ralphs, Bayview, Jay's Farm Stand, the Island Market, and many other local grocery stores). For years they have helped out with donations to local causes. They have also worked with schools, especially with food education and opportunities. "Community integration is sort of the key," Price wisely remarks.
For a local business so invested in community relationships, it seems only natural the appearance of the Coronavirus would be an even more devastating blow. Luckily, while the Blue Heron has had to temporary shelf breakfast and lunch options, they still offer pick up and over the phone orders. To stay safe, the restaurant has essentially stayed in Phase One for the entire pandemic, meaning two to three people at most are allowed in the kitchen (all properly masked). They have also lessened their business hours.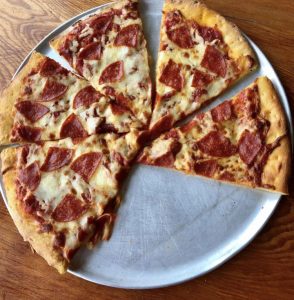 "I miss being able to take plates of food out to people. I was doing quite a few of the morning cooks and just loved being able to bring meals out to people and make their day," Price reminisces. Unsurprisingly, a key aspect of a community-driven business is the social interactions. "The clamor of a full restaurant is sorely missed. I miss the kids playing. We had a box of toys. Folks would come in with their kids and buy them pancakes. You'd trip over them as you walked out to deliver food."
Even with the hole COVID-19 has left in the heart of the Blue Heron, they are still plugging along with gusto. Currently, they offer ready to go hot soup, along with pizzas and breakfast sandwiches. They have focused even more on the bakery side of their business, including their various coffees and homemade breads. When asked what his favorite Blue Heron pastries are, Price professes his undying love for the traditional oatmeal cookies and peanut butter cookies, as well as the mouth-watering cinnamon rolls and soups. Currently available now is the legendary Blue Heron fruitcake. One batch is made each year. The fruit is completely natural and soaked in rum. It is then sweetened with honey and maple syrup, cut into loaves, and placed on the shelves. The fruitcake is so popular, people start calling in November to see if it is ready! Blue Heron baked goods sell out in about two to three weeks, so if you are interested in their mouth-watering fruitcake, get it as soon as you can! Right now, you can buy it at both Co-opts, the Farmer's Market, and the Blue Heron Bakery itself.
In a world filled with stress and uncertainty and often cruelty, the kindness and dedication of the Blue Heron is the freshest breath of air imaginable.
If you are looking for a kind, friendly, community-driven restaurant with undeniably perfect food, this beautiful local treasure is not to be missed. For more information, visit the Blue Heron Bakery on Facebook.
Blue Heron Bakery
4419 Harrison Avenue NW #108, Olympia
360-866-2253