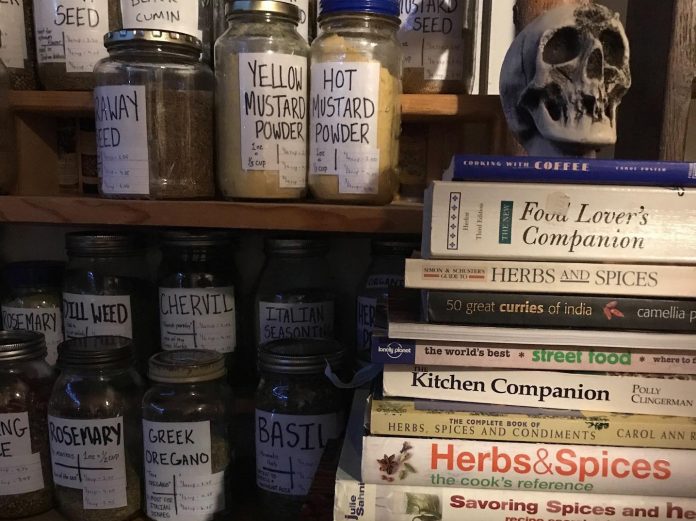 As a meal simmers over the stovetop, or roasts in an oven, the spices included in the recipe heavily influence the dish's delicate balance of flavors. Whether seeking a break from a routine, or comfort during uncertain times, spices lead the way to variety and nostalgia for those preparing homemade meals. From floral notes to spicy, Buck's Spices and Gourmet Pantry has become a sensory vacation for local and faraway flavors, without having to leave Olympia's city limits.
Although housed in the same location for almost five decades, the business now known as Buck's Spices has seen many incarnations over the years. Once a garden supply store and a tea room, Buck's became the spice and gourmet grocery that it is today around the early 1980s. At the helm for most of the shop's history was Anne Buck, who worked to cultivate a true community within the shop's Fifth Avenue storefront. After her passing in 2019, Anne's son, Beau Buck, took over the business, working to continue his mother's zest for life and for the local community.
Through the shop's different eras, Buck's became a local hangout where residents could connect over their love for food, flavors and recipes. This was encouraged by Anne, who installed a table in the center of the sales floor, and actively encouraged store visitors to chat and share in the experience of testing new spices.
"It became this place where people could gather around food, and around cooking," says Beau. "People could come and they could talk about what they learned, and they could interact with each other. People would gather there and would grab a mason jar, and pull something interesting, or fragrant off the shelf to try."
Today, Buck's Spices carries a wide library of herbs, seasonings and spice blends that originate from both the Pacific Northwest and around the world. If a pre-mixed spice blend isn't available, staff members, also known as spice baristas, can create a custom blend with the desired spice profile.
"We offer a lot of interesting, unique and international spices," says Scott Sounds, the manager of Buck's Spices. "We have different blends like Shawarma and Italian seasoning. There are also a lot of Middle Eastern spices and North African, like Harissa and Moroccan Berbere."
With such a wide swath of seasonings available, Buck's Spices includes detailed listings on their store website, complete with the spice's history, and recipe suggestions. Scott also encourages customers to be creative with their spices and have fun with potential new flavor combinations. Recalling anecdotes of Anne Buck, Scott says she would often take a new spice home and add it to whatever recipe she was cooking, to gauge the spice's taste.
From honey to jams and preserves, Buck's also carries gourmet food items that are not found in a typical grocery store. Prepared mostly by hand in New Mexico, the Sun-Dried Red Chimayo Heirloom Chile Powder originates from seeds carried from generation to generation, providing a hot flavor that is still grounded in its natural roots. For a fresh topping to salads, sauces or marinades, Olympia-based MO Vinegar offers unique varieties of small batch vinegar, including strawberry-rhubarb and purple sweet potato flavors. Hailing from flowering fireweeds that span across Washington State and the Canadian West Coast, Hive Five's Raw Fireweed Honey provides a light, but unique experience.
"We try to source organic, sustainable products," says Beau. "And maybe even positive in their practices in terms of how they interact with the soil. We also try to source indigenous products. We actively carry products from certain licensed Indigenous American tribes. We're just really into the discovery of food and the experience around it."
Due to the COVID-19 pandemic and accompanying social distancing measures, Buck's Spices has decided to temporarily close their tightknit storefront. Operating fully online, Beau, Scott and the entire Buck's Spices team have had to adapt to new ways of bringing spices to the people.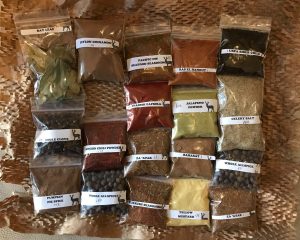 To help support the business the pandemic, Beau says he is grateful to Thurston Strong, which has awarded Buck's Spices with grants to continue operating through the pandemic. Thurston Strong is a Thurston County-based task force to help small businesses recover from the economic effects of the COVID-19 pandemic. "Thurston Strong has just been amazing," says Beau. "And we might not be here today if it weren't for them. "We're very, very aware of that and grateful to Thurston Strong."
Looking into the future, Beau and the Buck's Spices team hope to revisit old traditions and pursue new ventures in 2021. Producing their own range of spice blends within their downtown Olympia storefront, Buck's hopes to distribute these new seasonings both at the Olympia Farmers Market and to retailers across the United Sates. In addition, the art of the spice is poised to be passed down to the next generation. Melina Deinum-Buck, granddaughter of Anne Buck and daughter of Beau Buck, has recently become more involved in the family business and is now carrying the torch of a longtime family tradition.
"My daughter has kind of taken up the mantle of what her grandmother used to do," explains Beau. "Which was to take a spice, and try something new. Pick a spice and put it on an old food that you normally eat and make something new with it. Every week, she publishes the store newsletter. And that is something that we're really trying to develop in continuity. Her grandmother had a wealth of experience and stories and there's no replacing her. But we can extend some of the experience and continue it through Melina."
To learn more about Buck's Spices and to view their online store, visit the Buck's Spices and Gourmet Pantry website.
Buck's Spices and Gourmet Pantry
209 Fifth Avenue SE Olympia
360-851-1793