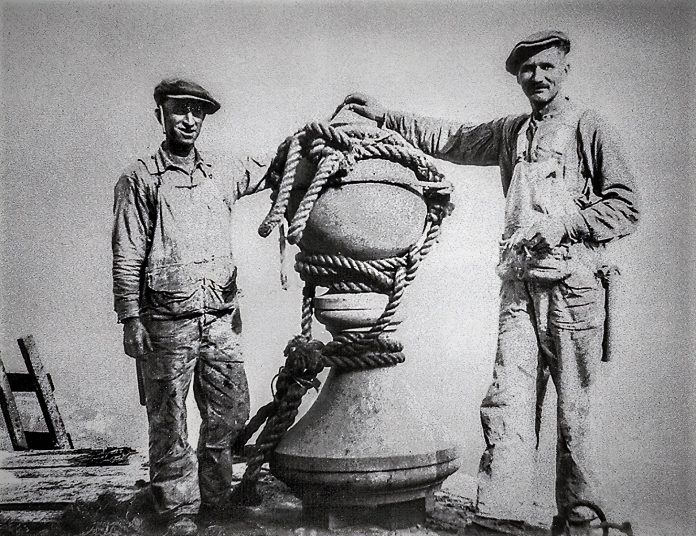 We make history every day. But, as educator and politician John W. Gardner once said, "History never looks like history when you are living through it." It takes bold exploration, careful consideration and lots of (often exhausting) dedication to collect the stories, anecdotes and wisdoms that comes over time. But within such collections are many common threads, experiences and ways to learn about ourselves and the world. Celebrate our past with the new book, "Thurston County: Water, Woods and Prairies."
The project of compiling this history of regional essays began in 2012. "When I joined the Thurston County Historic Commission," says co-editor Sandy Crowell, "I was assigned the task of coordinating a Thurston County history book, based on one I had written for Lewis County." The book is made up of works by 9 local authors and contains more than 250 photographs, 12 maps and 25 sidebars.
Funding came from the Thurston County Historic Commission and the county granted the Olympia Historical Society and Bigelow House Museum the right to distribute and market the finished product.
"It starts with Native American and tribal pre-history," explains Crowell, "and runs through Procession of the Species and the Olympia music and college scene. It's history on a broad scope; we wanted to understand the forces that made things happen. We tried to cover our bases on many things and show part of the big picture. Context helps people understand why things are and what they are."
Co-editor Shirley Stirling joined the project two years ago and served in a more organizational capacity. She says she tried to re-imagine the layout, and worked hard on fact-checking, digging up fascinating historical photos—and their illusive ownership rights—and tracking down sources to make writing styles consistent across so many creative voices. Having worked on historical books and videos for such groups as the Daughters of the American Revolution and National Society Daughters of the American Colonists, she is well-versed at maintaining both historical accuracy and an engaging narrative.
More than just a coffee table book of pretty pictures, Crowell and Stirling's work is a treasure trove of research and information. A professional indexer was brought on to create searchable access and each chapter contains endnotes with sources, documentation and additional material. Even the printer was specially chosen for their expertise in working with history books of this type.
Authors for "Thurston County: Water, Woods and Prairies" include Gerry Alexander, Drew Crooks, Jennifer Crooks, Sandra Crowell, the late Les Eldridge, Dr. James Hannum, Karen Johnson, Shanna Stevenson and Don Trosper. Len Bali, Genevieve C. Chan, the late Sharon Mathews, Kati Sagawa and Todd Sprague contributed essays and the introduction was written by David Nicandri.
With the fast holidays approaching, it's the perfect time to share local history with the ones you love. "The book is being released now," says Crowell. "It is the goal of the Thurston County Historic Commission to educate and motivate the public about local history. With the help of OHS, the books are available in time for Christmas gifts."
It's especially important to shop local this year as many small businesses, nonprofits and charitable organizations are feeling the impact of our state's vital Coronavirus response plan and day-to-day restrictions. "The book represents thousands of hours of volunteer work by many people," says Crowell. "It is truly a community project."
There hasn't been a comprehensive history book about our area since 1992. This one is unique in that chapters and content were decided by a meeting of historians and experienced, published authors. Net proceeds from all sales will benefit the Olympia Historical Society and Bigelow House Museum.
Bigelow House, though currently closed under COVID-19 restrictions, is the oldest residence in Olympia and well worth touring. Until doors re-open safely, take a video tour to wander the halls of period architecture, furnishings and artwork.
John W. Gardner also said that "Some people strengthen the society just by being the kind of people they are." When working together towards a common goal of education, memory and celebration, the writers, editors, organizers and encouragers behind Thurston County: Water, woods and prairies have done just that. We are better—and wiser—for their decade of hard work and elegant craftsmanship. Spend your Quarantine Christmas and socially distanced New Year reading about the past to prepare for the future.
For questions about the book, Olympia Historical Society, Bieglow House Museum or associated research, email olyhistory@gmail.com or follow them on Facebook.