The CDC reports our current national outbreak of monkeypox (MPV) started in mid-May 2022. To date, there are approximately 22,000 cases in the U.S. and nearly 58,000 worldwide. But despite our fears of a new pandemic, regional health officials are documenting, treating, and educating both patients and the public to keep fear to a minimum and reduce the spread of contagion. Locally, Thurston County Public Health & Social Services (TCPHSS) created a dedicated monkeypox portal with information about transmission, vaccines, care and up-to-date data to keep residents safe.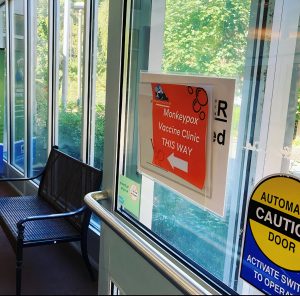 Monkeypox Timeline
Thurston County reported the first presumptive monkeypox case in a Thurston County resident on September 9, 2022. The Thurston County Disease Control and Prevention team investigates cases and contacts and provides information on isolation, disease prevention and vaccination. To see a statewide, county-by-county list of cases, visit the Washington State Department of Health's website
Washington's first case was confirmed on May 27 and so far, there have been 506 confirmed and probable cases to date. The CDC explains that symptoms typically start within three weeks of exposure and patients who have flu-like symptoms will often develop the namesake rash within four days. It can be spread from the time symptoms start until a fresh layer of skin has formed at all rash sites and typically lasts between two and four weeks. You can find photos of various MPV rash types via the CDC.
What is Monkeypox?
Monkeypox is a rare disease caused by infection with the monkeypox virus. Monkeypox virus is part of the same family of viruses as variola virus, the virus that causes smallpox. It is spread through close physical contact between people.
Symptoms of monkeypox include a rash that can look like pimples or blisters that appears on the face, inside the mouth, and on other parts of the body, like the hands, feet, chest, genitals, or anus. It is often associated with a flu like illness including fever, headache, muscle aches, backache, swollen lymph nodes, chills, and exhaustion which can appear 1-3 days before the rash. The rash goes through different stages before healing completely. The illness typically lasts 2-4 weeks. Sometimes, people get a rash first, followed by other symptoms. Others only experience a rash. Immunocompromised people, children and pregnant people are at increased risk for severe disease.
Monkeypox Transmission and Prevention
"The risk for most people is low," shares Disease Control and Prevention Director, Dr. Laura Warner. "However, anyone who has close skin-to-skin contact with a person with an infectious rash can get monkeypox. Monkeypox spreads in different ways. The virus can spread from person-to-person through direct contact with the infectious rash, scabs or body fluids. Respiratory secretions during prolonged, face-to-face contact, or during intimate physical contact, such as kissing, cuddling or sex."
But it's more than just physical contact. MPV can be passed by touching items such as clothing or linens that previously touched the infectious rash or body fluids. Pregnant people should be especially careful because they can spread the virus to their fetus through the placenta.
Transmission risk is low at events or gatherings without skin-to-skin contact. However, if someone is feeling sick or has a rash, they should stay home to avoid infecting others. When out, socially distance, wash and sanitize your hands frequently, and avoid activities which may spread the disease.
Vaccines and Treatment for Monkeypox
If you think you've been exposed or are starting to show symptoms of a new or unexplained rash, reach out to your healthcare provider and isolate at home. Avoid skin-to-skin contact with people and pets until you receive your test results and wash your hands often with soap and water or use an alcohol-based hand sanitizer. Isolation may be ended with the entire rash has completely healed. Caregivers should not handle the bedding, towels, or other items from a person with monkeypox or share dishes and cups. Studies show that the virus is often mild but severe cases have been seen in children and people with weakened immune systems.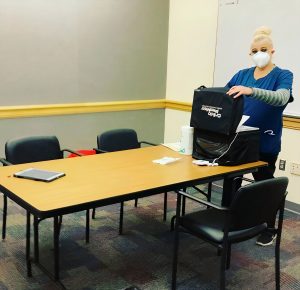 Jynneos is fully licensed for use in the U.S. for individuals 18 and older for the prevention of smallpox and monkeypox disease.
The supply of the JYNNEOS vaccine is limited across the U.S. Vaccination with Jynneos is recommended for individuals who have been exposed to monkeypox (that is, post-exposure prophylaxis). Vaccination is also recommended for groups that have an increased risk of exposure to monkeypox  during the current outbreak including, Gay and bisexual men and transgender individuals who have had multiple or anonymous gay, male bisexual, or transgender sex partners in the last 3 months, people who have used methamphetamine in the last 3 months, people who have exchanged sex for money, drugs, or other purposes in the past 3 months, people who have been sexually assaulted, regardless of gender or sexual orientation and people who have had sexual contact or prolonged skin-to-skin exposure with people who were exposed to MPV. People who meet eligibility criteria for vaccine can call 360-867-2610 to schedule an appointment.
TPOXX is an antiviral which may be recommended for people who are more likely to get severely ill, like patients with weakened immune systems, says Warner. TPOXX is FDA-approved for the treatment of smallpox, however its use for monkeypox is not approved by the FDA. CDC holds a non-research expanded access Investigational New Drug (EA-IND) protocol that allows for the use of tecovirimat for primary or early empiric treatment of monkeypox, in adults and children of all ages.
After the long months of COVID-19 we're all wary of a new global outbreak. Thankfully MPV was spotted early, and protocols put into place to limit the spread and severity. You can also follow TCPHSS on Facebook, Instagram and Twitter for ongoing updates. As with Coronavirus statistics and information, their Monkeypox portal will be adjusted frequently as things progress. During these unprecedented times, these areas of public health are still working to provide critical services to the community. All areas of our local Public Health Department work together to keep our community safe and healthy!
Thurston County Public Health & Social Services serves with a mission to work together to achieve the highest level of health and well-being for everyone. They are funded by local, state and federal authorities and work tirelessly for the community. If you have questions, give them a call at 360.867.2500 or 800.833.6388. PHSS also posts updates to their social media feeds so follow them on Facebook, Instagram and Twitter.
Sponsored