Well 80 Artesian Brewery sits atop one of many natural artesian wells in Olympia and is continuing the area's brewing legacy. They like to have a good time at Well 80, and they have created a casual and hip atmosphere that reflects local history and serves award winning meals and beers. Visit at dinner hour, and you'll find multigenerational crowds and activities that are lighthearted and fun. Chris Knudson, owner and director of operations, has taken his local restaurant industry experience and grown a popular downtown Olympia pub.
Olympia and Lacey Restaurants Are the Family Business
Well 80 opened in March of 2018, and from the start, a good time and positive experience was Knudson's aim. "I wanted to create a space that was community focused, a gathering place for all ages," he says. "I wanted a place for people like me with families and kids to have a good time. I also remember having a good time in my 20s with a bunch of single friends, so we have that space available too for people in their 20s and 30s who just want to hang out and have some drinks."
Knudson grew up in the Olympia restaurant scene, working in the Casa Mia Italian Restaurant business his parents opened in 1982. Working during high school and after college, he found that he liked the restaurant business, and he knew the challenges of starting from the ground up. After a search, he settled on the current Fourth Avenue location.
"The previous owner built the building and put these amazing beams in it," Knudson says. "When we came and toured it, it was basically a warehouse. It was four walls, this amazing roof, and that was it. It had a well in the back, which to most people would be in the way. But, for us, it was what this town was founded on, artesian wells. It just looks like a brew pub, somewhat rustic but modern."
Filling the wide openness of the space are massive art and photography displays on the dining area walls reflecting early days of the Olympia Brewing Company and its nod to the water.
Continuing the Olympia Brewing Tradition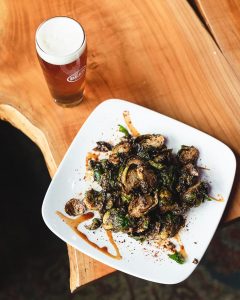 "What sets us apart from other breweries in town is the well," says Paul Pearson, head brewer. "That's pretty special to have magical brewing water bubbling out of the ground. It's pretty cool as a brewer to have great brewing water that just comes right out of the ground. That this whole town is kind of centered on that is great. Brewing with the previous head brewer Paul Knight is really special, carrying some of that brewing tradition forward. We worked with him on some of the recipes, and he comes in whenever we are brewing one and brews with us, about every two or three weeks."
One of those brews is the '64, made from Knight's 1964 recipe. That and the signature 80 lbs of Hops are favorites. The bar keeps a standard rotation of four to six beers year-round, sometimes a seasonal one-off, an experimental IPAX series and beers from other local breweries.
"I hope that we are doing it justice and paying respect to it," Knudson says of the iconic Olympia beer tradition. "That was the only goal here. It's definitely a brewing town, and I think the brewing history here is really important to multiple generations of people. I hope that people who worked there, or their family members, come in and feel like we are doing a good job of preserving history a little bit, respecting the groundwork that was laid."
Well 80 is Award Winning on Many Fronts
Accolades from the 2022 Best of Olympia votes demonstrate customer reactions to the Well 80 fanfare with awards in both the best burger and best sandwiches categories. In addition to burgers, the brewhouse is well-known for deep fried Brussel sprouts and the ever-popular chicken and waffles dish. Best of Olympia gold medals also went to Well 80 for best lunch spot, brewery and happy hour, then a silver for best bar and all-around restaurant.
With three Washington Beer Awards earned, there's a lot of greatness to choose from. A silver went to their 80 lbs. of Hops in 2021. Before that, their Volle Pulle! hefeweizen and Downtown Sour Brown, a collaboration with Top Rung Brewing Company, both won silvers in 2019.
Olympia Trivia, BINGO and Scavenger Hunts
Something exciting is always happening at Well 80. Two years in a row, they were host to the brewer's karaoke contest with local community figures as judges. Trivia Tuesday, emceed by entertainer Jim Westerling is a multimedia experience, and Wednesdays mean an exuberant round of BINGO and music with bar manager Matt Trotter as the BINGO caller. Seasonal and periodic events are on the calendar too such as an Oktoberfest and a Leopold Scavenger Hunt in which patrons hunt photo-ops together.
At Well 80, Chris Knudson is continuing a family restaurant business, keeping alive traditions of Olympia brewing and creating a positive atmosphere. Check out the Well 80 Facebook and Instagram sites to get a look at some delicious entrees and appetizers or to see what exciting events are coming up next.
Greene Realty Group, is a local real estate firm that loves connecting with local businesses and nonprofits.  Watch their community story on Well80 here.
Well 80 Brewhouse
514 4th Avenue E, Olympia
360.915.6653
Sponsored