At the Shelton High School Health Science Academy, students build a strong foundation toward a career in the healthcare field. To further support students, the academy also partners with local organizations and potential employers in the community, including Mason Health. Through this partnership with Mason Health, Health Sciences Academy students receive hands on experience, mentorship and scholarship opportunities that can help propel them toward becoming the next generation of healthcare professionals.
The Shelton High School Health Science Academy began its partnership with Mason Health when the academy was still in its planning phase. As a leading healthcare provider in Mason County, Mason Health saw a unique opportunity in helping to support the Health Science Academy, which first welcomed students during the 2018-2019 school year. As students complete courses geared toward healthcare-related subjects, the partnership also allows students to form connections with a local employer and gain additional hands-on experience.
"It helps us show students what opportunities there are in their own community," says Deena Alley, director of academies K-12 for the Shelton School District. "So that kind of 'grow your own model' we want students to see. That there's this huge variety of opportunities with an employer right here in their community. And it also allows our teachers and our students to learn directly from industry professionals, so they know that what's happening in the classroom is immediately relevant in the work world."
As a partner of the Health Science Academy, Mason Health provides opportunities for hands-on learning and mentorship. These opportunities range from hospital staff acting as guest speakers for HSA students, to students serving as volunteers within Mason Health.
"We can accomplish more together within our organizations when we partner up," says Jennifer Capps, chief development and communications officer for Mason Health. "Because we really feel like it's important to pave the way forward for the future, not just for the health care workforce, but the students and the young people in our community, and the families. We want to make our community strong and healthy and well and that's more than just providing health care. It's really bringing everybody together. We have a responsibility to help our community and to make it what we want it to be."
The Health Science Academy also provides a head start for students who plan to pursue a college degree or professional certification program after graduation. Many courses at the Health Science Academy are geared toward preparing students for a career in the healthcare field. While studying subjects like physiology, chemistry and psychology, students also receive an introduction to medical terminology and patient care. Melissa Strong, chief nursing officer at Mason Health, says that students from the Health Science Academy may enter their continuing education programs with a higher baseline of knowledge compared to a non-healthcare oriented high school, which can also be helpful once students enter the workforce.
"We look to the Health Science Academy because number one, they're community," explains Strong. "We've already been partnering with them. Pre-pandemic, we would go into the classroom, we started to develop those relationships with those students in the ninth grade. Their focus is on health science. And they get a broader background than typical high school students. So, they learn medical terminology. They learn anatomy and physiology. It gives them a really good baseline, should they choose to go into health care and nursing, specifically."
Looking ahead to the future needs of students and of the Mason County healthcare community, Mason Health has also introduced a scholarship program that will help multiple Health Science Academy graduates to jumpstart their healthcare careers. The three inaugural scholarship recipients Gregoria Alonzo Tomas, Carly VanAagten, Eryka Delgado-Hernandez, are all Health Science Academy graduates. All three recipients will receive full-ride scholarships to complete a nursing program or medical assisting program while gaining additional hands-on experience as a Mason Health employee.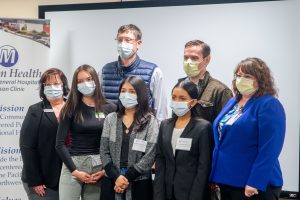 "Personally, this is the highlight of my career for sure," says Strong. "Just seeing those students. And this is an opportunity they wouldn't have had. One of the candidates had looked into college, but the cost was just prohibitive for her family. So, this could be changing generations to come."
Looking to the future, both Shelton School District and Mason Health see potential ways to expand their partnership. This can include inviting more hospital employees and healthcare professionals into the classroom. Academy leadership also wants to show students that a career in the healthcare field doesn't only involve clinical work, but can also include professions related to engineering, administration and business.
"Where else can we partner together? We have a culinary pathway, business and marketing," explains Alley. "We have just lots of different opportunities. And so now, it's how do we think broadly in a broad-based business sense, to, how does that match up to the coursework that we have available? And start looking at doing these same type of things."
To learn more about the Shelton High School Health Science Academy, visit the Shelton High School website. To learn more about healthcare services through Mason Health, visit the Mason Health website.
Sponsored