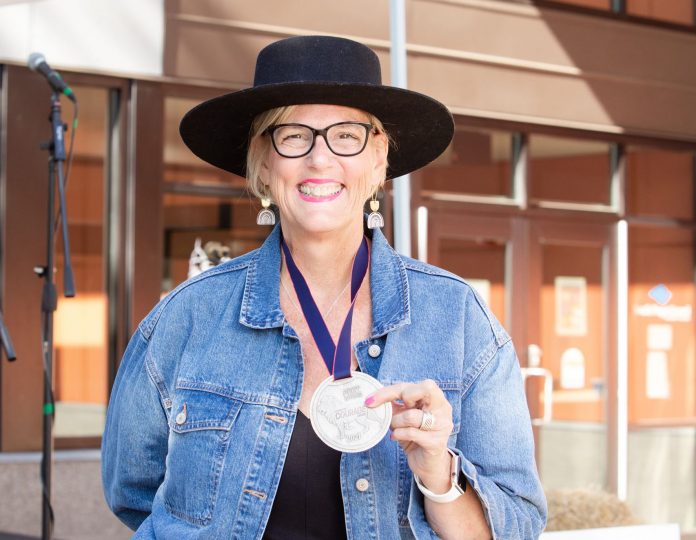 The Thurston Economic Development Council's second annual Hootenanny will once again feature food, drink, music, and fun! This year, Southbay Dickerson's BBQ will be catering the event and providing delicious, southern, homestyle food to couple with the theme, including some vegan-friendly options for everyone to enjoy. Sofie's Scoops, one of last year's award winners, will be returning this year to set up shop and provide tasty, sweet gelato treats to cool you off in the warm summer sun. Local bluegrass band Runaway Train will be playing sweet tunes to set the free-spirited and lighthearted mood during the event. And while we're not saying last year's event was all about the beer garden…we are proud to announce the return of Top Rung Brewery and Whitewood Cider to this year's event! Along with some exciting new games and activities to keep the entertainment going all day long, like an old school strong man, complete with sledge hammer and bell, and crazy, silly, fun Hippity Hop races with last year's dunk tank participants. This as an event you won't want to miss!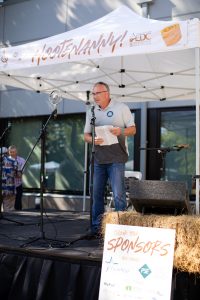 The idea for the Hootenanny was inspired by the local businesses within our community and their commitment to service through difficult times. The Thurston EDC not only wanted to recognize their tenacity, but also wanted to create a FUN event where people could let their hair down and enjoy the fruits of their labor. Last year, the Thurston EDC developed and hosted a unique and fun event to bring people together to celebrate the success and resiliency of small business in Thurston County and surrounding areas. Complete with cornhole, a dunk tank, and a mechanical bull, last year's event proved to be a great success and brought great joy and togetherness after such difficult and unpredictable times.
As we continue to come out of the pandemic, small businesses are beginning to recover and experience stability and growth. The Thurston Economic Development Council (EDC) has been deeply committed to supporting businesses in our local community through challenging times, and the efforts of the EDC's staff have given many business owners the resources, tools and opportunity to rise above obstacles. This year, the Thurston EDC is hosting the Second Annual Hootenanny to provide FUN to the community and recognition to the businesses that make it great. This event is $50 per person and will be held on July 19 from 3 p.m. to 6 p.m. outside the Thurston EDC Center for Business and Innovation. Be sure to buy your ticket today!
At last year's event, the Thurston EDC presented Economic Courage Awards to local business owners to commemorate them on their resiliency during the pandemic. With uncertainty around every corner, many small businesses struggled to find their footing and navigate the new landscape created by COVID-19 regulations and guidelines. They made every effort to keep people safe and continue to provide their services to the community they loved, and the Thurston EDC did not want this commitment and determination to go unnoticed. Last year's winners included Taylor Shellfish Farms, Sofie's Scoops, TVW, Serendipity Children's Center, Morningside, and Olympia Symphony Orchestra, all of whom showed exceptional resiliency alongside many of the other nominated businesses.
This year, the Thurston EDC is once again presenting the Economic Courage Awards and has adapted them as we continue to come out of the pandemic. For the EDC, economic courage is defined as a leader, business, nonprofit or other organization that exudes the fortitude to preserve and succeed in an ever-changing business climate. These businesses have demonstrated bravery and innovation in a challenging time and have found ways to overcome struggles so they can continue to serve their community. This demonstration of adaptability and creativity with unprecedented uncertainty speaks volumes of the resiliency of our local businesses community and is deserving of recognition. You can view this year's nominees on the Thurston EDC website.
To find out who the winners are, come to the Hoot!
The Thurston EDC would like to offer special thanks to this year's event sponsors. Aegis Real Estate Services, Washington State Department of Commerce, Olympia Federal Savings, KPFF, Kidder Mathews, Cap City Law, StraderHallett, Lacey South Sound Chamber, TwinStar Credit Union, Morningside, TVW, Heritage Bank, Port of Olympia, South Puget Sound Community College, and South Sound Business have all contributed to make this event possible. Their continued support and presence in the community is greatly appreciated!
With so much to celebrate and experience, the Hootenanny is the perfect place to let your hair down and support the local businesses that make our community so special. New surprises and activities are sure to make this year's event just as exciting and joyous as last year, so be sure to get your tickets today so you can join the fun!