As a leading healthcare provider for Mason County residents, Mason Health is not only tending to the community's current health needs, but also to the health of future generations. Through a partnership between Mason Health and the Shelton School District, a new scholarship program will open the door for students graduating from the Shelton High School Health Sciences Academy to begin a healthcare career at Mason Health while also furthering their education.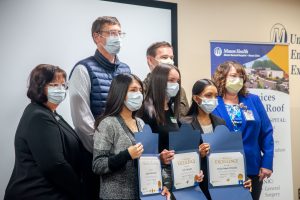 After a thorough application process, three Shelton High School Health Sciences Academy students have been selected as the first students to receive this scholarship, allowing them to pursue their career goals while also giving back to the local community.
"It really touches my heart," says Wyeth Jessee, superintendent of the Shelton School District. "We have a shared value between Mason Health and Shelton School District, and that's investing in our youth."
The Health Sciences Academy at Shelton High School prepares students for future careers in the healthcare sector. As Health Sciences Academy students complete coursework related to biology, chemistry, physiology and psychology, Mason Health also wanted to provide additional education opportunities for graduating students. This scholarship program will not only allow students to complete college and professional courses, but it will also help to address the ongoing healthcare professional workforce shortages in the region.
"We're partnering with the Shelton School District and supporting that next step for future members of the workforce and also modernizing our recruitment strategy in an innovative way," says Eric Moll, CEO of Mason Health. "We're helping the students gain exposure to different career tracks within the health care sector. We are doing this by creating a nurse career track, creating a medical assistant career track and offering a phlebotomy career track as well. I think it's this great extension, these students are pioneer. These three wonderful students, are the ones who will set the example and inspiring the next generation of students coming through the Health Science Academy."
This year's recipients will receive a full-ride scholarship to their respective college or continuing education program while also working full time as a Mason Health employee. Educational pathways can include nursing, medical assisting or phlebotomy. After each scholarship recipient graduates from their chosen program, they will then work at Mason Health for a minimum of two years if there is an open position.
Carly VanAagten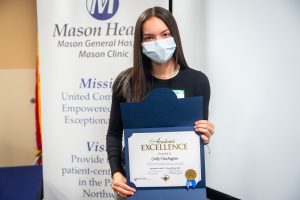 Scholarship recipient, Carly VanAagten plans to continue her healthcare education after graduating from Shelton High School's Health Sciences Academy. VanAagten first became interested in the Mason Health scholarship program after learning about the opportunity from her high school career center. Receiving a full-ride scholarship, VanAagten will enter the registered nursing program at South Puget Sound Community College later this year, while also being employed as a nurse technician at Mason General Hospital. One day, VanAagten hopes to work as a pediatric nurse or as a nurse within in a neonatal intensive care unit.
"It's pretty amazing," says VanAagten, about being a Mason Health scholarship recipient. "I'm just very thankful that I can be here."
Eryka Delgado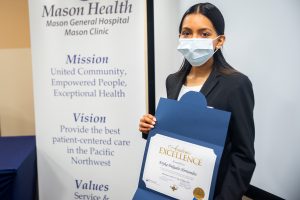 Scholarship recipient Eryka Delgado-Hernandez plans to work toward a degree in nursing after graduation from the Health Sciences Academy. Like VanAagten, Delgado-Hernandez will also receive a full-ride scholarship to the registered nursing program at South Puget Sound Community College while also working as a nurse technician at Mason General Hospital. In the future, Delgado-Hernandez hopes to become a labor and delivery nurse.
"I feel very honored and just very proud of myself for being the first one," says Delgado-Hernandez. "So that I can show other people that things are possible in any way, if you put yourself to it."
Gregoria Alonzo Tomas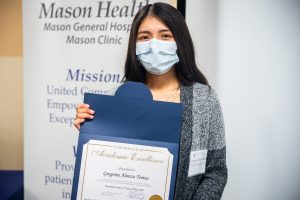 As a Mason Health scholarship recipient, Gregoria Alonzo Tomas will receive a full-ride scholarship for a one-year medical assistant apprenticeship program with the Washington Association for Community Health. In addition to being a student, Tomas will also be employed at Mason Health. Upon completion of the medial assistant apprenticeship program, Tomas will take the exam to become a Medical Assistant-Certified (MA-C). One day, Tomas also hopes to earn a degree in nursing and work in an emergency room.
"I feel proud of myself and making my parents proud," says Tomas about being a Mason Health scholarship recipient.
Although the scholarship program is in its first year, Mason Health and Shelton School District officials have ideas for how they can expand the program in future years. This can include expanding opportunities beyond healthcare pathways to include students in other Shelton High School academies, like the Natural Resources Academy or the Manufacturing, Engineering & Technology Academy. Jessee says that he is also excited about the future possibilities of the scholarship program, including possible expansion to provide hands on experience for additional Shelton School District students.
"This is this is the future of public education, where we are in partnership with local industry and organizations," says Jessee. "Mason Health was so generous to help get us started. This partnership is to us, only going to grow. Critical Mass is something always important. The need is there. And we are absolutely more than willing and are now capable of growing it, so that more students have these kinds of opportunities."
To learn more about the partnership between Mason Health and Shelton School District, visit the Mason Health website.
Sponsored