As our community approaches another summer, many of our young community members are preparing to graduate from high school and pursue higher education. With rising costs, every little bit helps in making this goal a reality. The Lacey South Sound Chamber is honored to raise funds to offer the Kidwiler-Dolan Scholarship, which is awarded to students across North Thurston Public Schools to support their academic aspirations. This year, the South Sound Chamber was proud to recognize 10 exceptional students, totaling to $17,000 in scholarship funds.
The South Sound Chamber scholarship program has been around for 50 years. It was originally inspired by founding Chamber member Ray Kidwiler, who served as a two-time president. "He was a firm believer in education and wanted to have a scholarship for students in North Thurston Public Schools who wanted to go into business and needed assistance," shares Stewart Ridgeway, who has been a longstanding committee member for the program. After Ray passed away in the '70s, his wife established the scholarship in his name to carry on his passion for supporting academics in the community. The scholarship was later renamed the Kidwiler-Dolan Memorial Scholarship to honor Eugene Dolan, who was equally passionate about education and served on the Kidwiler Scholarship Foundation Board of Trustees for over 40 years.
Lacey South Sound Chamber Business Scholarship
Today, the scholarship program is still going strong and creates greater opportunity for graduating students to pursue their dreams of going to college and working in a business-related field. "We use 'business' in the broadest sense of the word," explains Stewart. "It could be a doctor opening a business, a lawyer with a law firm, a hair stylist with a salon, or even a clothing designer selling clothes online. We are looking for students with entrepreneurial desire, so business can be just about anything you want it to be."
For the South Sound Chamber, many industries are able to offer opportunities for entrepreneurship that will trickle back down into growth and prosperity for communities like ours. This is why the scholarship has been kept open to so many different pursuits, with the funds available to be sent directly to any accredited college, university or trade school.
In order to qualify for the scholarship, students are asked to complete an application and answer a few questions about their current activities and interests, their community service contributions and their intentions with higher education. "We ask for an essay on the private enterprise system and what it means for the United States, as well as how their career choice fits in," shares Stewart. In all the years they have offered the scholarship program, they have been able to offer something to every applicant, even if it just to cover books for students that already have a full-ride offer to a university. While needs of each student are taken into consideration, a student does not necessarily have to meet any specific financial status in order to be included in the program.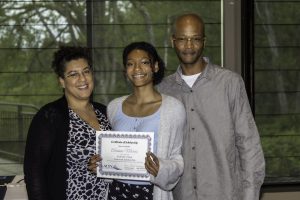 Once the applications have been received and reviewed, the Board of Trustees meets with each student to conduct an individual interview and gauge how committed they are to their education. From there, they are able to make a determination and decide the proper awarded amount to support each student's academic goals. The South Sound Chamber invites each student to one of their monthly luncheons to formally award and recognize them for their aspirations and congratulate them on their accomplishments thus far. Students are able to bring their families to accept their awarded scholarship, which makes for a very special moment in our community. With this scholarship award, the students can have additional funds readily available through the school of their choice so they can begin utilizing them for their academic expenses right away.
Kidwiler-Dolan Scholarship Winners
This year, the scholarship fund was open to two years of graduating students since funds could not be dispersed in 2021.  At the luncheon held at Indian Summer Golf & Country Club, the South Sound Chamber proudly recognized 10 students and awarded $17,000 across the recipients. This year's recipients included:
Hallie Eickmeyer was a proud recipient of the Kidwiler-Dolan Scholarship. After graduating from River Ridge High School, she is eager to continue her education at Clover Park Technical College in the field of network operations and security. Photo credit: Clair Ferris

Ahna Rader of Timberline High School, pursuing law at University of Washington.

Alan Hua Ly of River Ridge High School, pursuing law at Case Western Reserve University.
Trent Jensen of North Thurston High School and the South Puget Sound Community College (SPSCC) Running Start Program, completing his Associates of Arts and pursuing political science at University of Oregon.
Evan Barkis of Pepperdine University, pursuing corporate law with one year of school already completed.
Arianne Morris of River Ridge High School, pursuing criminology at Washington State University.
Aliya Robles of Timberline High School, continuing her pursuit of cosmetology with Fosbre Academy of Hair Design.
Denzel Martinez of River Ridge High School, pursuing family law at University of California, Davis.
Halle Eickmeyer of River Ridge High School, pursuing network operations and security at Clover Park Technical College.
Samantha Conner of North Thurston High School and the SPSCC Running Start Program, completing her Associates of Arts with plans to develop her own non-toxic makeup.
Kaydence Doublerunner of Timberline High School, pursuing chemistry and eventually dentistry at Western Washington University.
The Lacey South Sound Chamber would like to officially thank the community and their ongoing contributors to the scholarship program. While some of the funds are generated through well-performing stocks, much of the money is generously donated by community members and local businesses. The South Sound Chamber is grateful for the continued support of the program and hopes to continue to make this scholarship bigger and better with every year.
Special thanks to the community for their contributions, and congratulations to this year's scholarship recipients!
For more information on the chamber, visit the Lacey South Sound Chamber website.
Sponsored