Headless Mumby Brewing Company is hosting a bit of fun for a good cause. Whoever brings in the most hard-plastic, six-pack tops for recycling during the month of July will win a $50 gift card on August 1. If that sounds like a little friendly competition that also protects the environment, you are right. Recycling the tops also gets customers a dollar off their purchase.
"Let's have some fun along with keeping some plastic out of the landfill," Alex Maffeo, cofounder and CEO of Headless Mumby says. "We're all in this together. No matter if you bring in 1 or 100 tops, you're helping us all move in the right direction."
Maffeo recycles the tops through the manufacturer, PakTech, who repurposes the 100% recyclable HDPE (high-density polyethylene) material into flowerpots, composite lumber and more. "We have been doing the return program for about a year, and we get a lot of them back," Maffeo says. "Some people bring them one at a time. We've had a few folks bring bags full."
Headless Mumby and its customers have been filling the PakTech recycling bin with tops about every two months. July tallies are kept for the most can holder tops brought into the taproom. Updates can be found on the Headless Mumby Facebook and Instagram. Maffeo says he wants to see just how many plastic tops he can get and is looking forward to awarding the $50 gift card to the winner.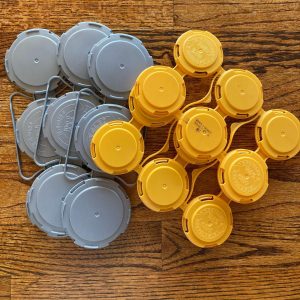 "There's a lot of plastic floating around out there, and it's only getting worse," Maffeo says. "We want to do our part to reduce that however we can." One way he is doing that is by sourcing a six-pack holder, from a local company in Kent, that isn't plastic at all. "We switched to fully compostable so you can throw it in the compost or in the paper recycling, and it will break down. They're made out of wheat and barley byproducts. They have also proven durable and won't fall apart when you are carrying your sixer to the register or from the fridge."
Headless Mumby Brewing Reduces Footprint
Many people are familiar with the clear, thin plastic bands that hold cans together. Damaging to the environment, many have been replaced with the hard-plastic tops. Even these have been bested by the new compostable version.
Reducing one's footprint, recycling, re-using and repurposing are on people's minds. Headless Mumby is indeed aiming at being part of the solution too. In the brewing process, barrels of water are reused up to three times throughout the cooling cycle that is part of brewing. Not only is the tap room recycling its plastics, but brewery practices include using yeast to its fullest before discarding as well as composting their grains and hops. Local farmers reap the benefits of the spent hops to use as compost, and they can use the grains in livestock feed.
Recycling plastic can holders is just one thing on the list, and it is the one that customers can jump on board with and have some fun. Choosing compostable six-pack holders is actually an added cost, but Maffeo sees it as an acceptable and worthy one. "Not everyone can fix every problem," he says, "but we can at least do what we can to be a part of the solution."
Check Out What's New at Headless Mumby Brewing in Olympia
Customers will notice some new developments when stopping in to recycle and to get in the running for the gift card. Eric's Awesome Altbier is a new lager at the taproom. Eric Wilcox, the brewery's first intern from the South Puget Sound Community College craft brewing and distilling program, created the Altbier as a culmination of his internship with the brewery. Maffeo describes Wilcox's cold, fermented amber lager as having notes of honey that balance the traditional, noble hops and that it adheres to their all-lager brewery style. Dortmunder, one of the favorite summer lagers at the taproom, is another to look forward to. Its balance of a soft body and firm hop profile makes it an enjoyable choice in the warmer weather.
"Each Friday we feature a rotating one-off cask of our regular lagers that has a special ingredient added to it," Maffeo says. "These are each unique, and we fill and seal them weeks before, so they condition just right. We have no way of knowing what they taste like until they're tapped at 4 p.m. on Friday afternoon. We also have food vendors set up in the parking lot on Fridays, sometimes Saturdays too, to accompany our outdoor seating."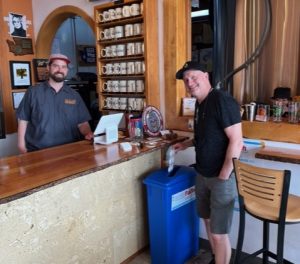 Board games and cards are back out, and the taproom has expanded its comfy seating as well. "We love having families come enjoy their time together in our taproom and have several snack options and non-alcoholic offerings. This includes soft pretzels, goldfish and chips. We currently have juice boxes, sparkly water and NA ginger beer too. In the very near future, look for our new Mini Mumby Craft Soda to be on draft as well."
For more information, visit the Headless Mumby website or their Facebook and Instagram pages. Take a look at your recycling collection. Gather up your hard-plastic can holders and head to the taproom at 232 Division Street NW, in Olympia. You may end up with the $50 gift card.
Sponsored