Stepping onto the field, students who participated in the Yelm Community Schools (YCS) Day of Champions on June 10 were met with cheers all around. With participants from all nine Yelm Community Schools, special education students participated in field day activities with the encouragement of fellow classmates, teachers, family members, volunteers and local nonprofit organizations. Through the Day of Champions, the YCS community banded together to celebrate inclusivity, a love of sports and each athlete's individual talents.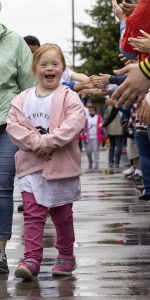 "We want all students to have the opportunity to be successful and have fun at each station," says Brittany LaPalm, Office of Student Support coordinator for Yelm Community Schools. "The inspiring thing about Day of Champions is that our special education student athletes are mentored by their general education peers for the entire event. It gives us an opportunity for all of our students to come together and participate in a wonderful event for our community and celebrate all the differences that we have."
Day of Champions Beginnings
Yelm previously participated in the Day of Champions event hosted at North Thurston Public Schools, bringing togethers students from surrounding school districts. The event continued to grow, with hundreds of students participating annually. The event's popularity inspired YCS to split off and create their own Day of Champions specifically for their students. In future years, YCS hopes to also include students from additional rural schools.
Day of Champions Comes to Yelm
The YCS Day of Champions was made possible through community support from fellow students, families and local organizations like Bounty for Families. Bounty for Families is a Yelm-based nonprofit that works closely with different facets of the Yelm community, including with YCS, to provide support programs that benefits local families. This includes special programs like the Power of Produce and Learners Without Limits. Bounty for Families became partner for YCS's Day of Champions as a way to further support local students.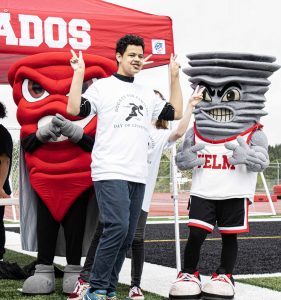 "Bounty for Families made a ton of sense because they already do so much work for students and families in our community around food bags at holidays and clothing drives and different things that they're doing to help support the community," explains LaPalm. "This just was another opportunity for us to include them in helping students in our community."
2022 Day of Champions
On the Day of Champions, the athletes of the day were greeted by a welcome, complete with cheers and applause from the crowd as students entered the field. Throughout the day, the athletes participated in over a dozen track-style events, including variations on the high jump, javelin throwing and a relay race. Along the way, participants also received support from peer volunteers. Local first responders offered tours of their vehicles and posed for photos with the athletes. The event culminated in a traditional Day of Champions dance party for all attendees.
Mindy Noland, a parent of a Day of Champions athlete, says she was able to watch her child thrive on the Day of Champions and she looks forward to seeing this event continue in future years.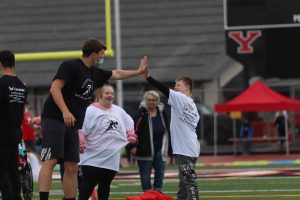 "As a parent I am always hesitant to have my kids participate in big events," says Noland. "This year's Day of Champions was phenomenal for them. I felt like they were given an opportunity to participate in something just for them. Not just like any other 'special' event, but designed for our Yelm students' needs. Having parents observe was fantastic. Very rarely in life do we get to just be parents and not have to help. To see our kids shine, from a spectator standpoint, was such a great feeling."
The 2022 Day of Champions saw participation from special education students from across the district, including students who participate in the Unified Sports programs throughout the school year. The Unified Sports program pairs special education and general education students together to play team sports like soccer and basketball. Emily McIntire, a teacher at Yelm High School and the soccer coach for the Yelm High School Unified Sports soccer team, says activities like the Unified Sports and Day of Champions are a great way to be inclusive of students with special needs while also allowing the entire school community to celebrate and have fun together.
"It is just making them rock stars," says McIntire. "It is events that they are going to excel in. They get cheered on by cheerleaders and police officers that are just there to root them on in these different events and have fun with the peers that they've made relationships with over the year. And it is super community based."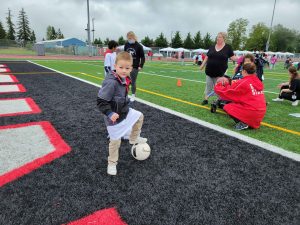 The Day of Champions is perhaps most special for student participants and their family. Kay Anderson, a parent of a Day of Champions athlete, says she enjoyed seeing her son participate in the day's festivities that ranged from sporting activities, to meeting with local first responders who volunteered at the event.
"I was rather impressed with Day of Champions," says Anderson. "The kids really enjoyed all the cheering and the actual sports they did. The smiles went on and on. My son had the best time. He was so engaged and actually continued engaging after he noticed I was there. I felt the organization and the participation of everyone who was there to help was amazing. As a parent it is so hard to just sit back and watch our children because we are the ones who have to be 'on' all the time. Having the first responders there is crucial to any event with our kiddos so they can engage with them in a setting that is not scary or emergent. That was the icing on the cake."
To learn more about Unified Sports of the Day of Champions, visit the Yelm Community Schools website.
Sponsored