Great news! The Little Gym Olympia has opened its doors to a world we have been sorely missing. You and your young children can jump into a high energy, family-centered place where everyone is having fun. The Little Gym offers classes, camps and activities for tots on up. The adults get to make connections and reduce stress while the children are having a blast, all the while gaining body and mind skills. It's a win for everyone.
At a recent Bug Class, little ones from 4 to 10 months were crawling up foam ramps, laughing and rolling balls. Moms were moving about on the padded floors, totally engaged with their children. Program Director Tim Smiedala was orchestrating the class by rearranging equipment, offering instruction and playing music. It was non-stop action, not frenetic, but heartwarming. The 45-minute class gives everyone time to focus on the moment. There was a grandmother in the viewing area who couldn't take her eyes off her grandchild.
Owner Melissa Lilley is thrilled to see everyone who comes through the door. "It feels amazing. It is a dream coming to reality, plus I get to play with babies all day!" says Melissa. It's actually not only babies. A group of five-year-olds meets regularly. "The moms have struck up friendships. There is a real sense of community," she explains. "They support each other and cheer for all the children's successes."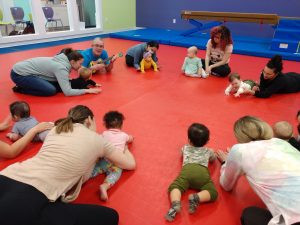 The Little Gym promotes childhood milestones noted by the American Academy of Pediatrics (AAP). These are guidelines for what children are able to do as they grow. The Little Gym incorporates three-dimensional learning. First there are the obvious physical skills. Children get to practice and gain coordination, balance, strength, flexibility, and cross-motor skills, all while having fun with others their age. Then there are the cognitive skills such as problem solving, pattern recognition, colors, numbers, and step memorization. The third aspect is the social skills including teamwork, sharing and turn-taking. The learning takes places as children explore the balance beam, use their arms to swing on bars and practice summersaults.  Many children missed out on group activities over the past two years.
Celebrate With Movement!
Classes are offered throughout the week. Weekends at The Little Gym are for birthday bashes. "The birthday child is the center of attention during the party," says Melissa. The initial parties have been totally successful. Party goers get an hour in the gym with two instructors leading themed activities. "After an hour in the gym, it's enough time," says Melissa from experience. The last half hour is spent in the multipurpose room for refreshments.
Parents supply the cake, pizza or other snacks. The Little Gym will provide table service and do all the set up and cleaning up afterwards. How nice to go home after the party where there is no mess and not a cupcake sprinkle in sight! They even provide an evite template and a t-shirt for the birthday child. The cost for 16 children, including the birthday celebrant, it $250 for members and $350 for non-members. Additional children are $10/each. Parties have exclusive use of the space during the event.
Keep Summer Active!
It's time to sign up for summer camps for your children from ages three to eight! Each week is a new theme based on an exciting mission they are challenged to complete each day. The session last for three hours. Two are spent with activities in the gym area and the other hour is a craft/experiment and snack time. You can purchase passes for maximum flexibility, and they can be shared among siblings.
Explore the many options for classes.
Bugs: 4-10 months
Birds: 10-19 months
Beasts: 19 months to 2.5 years
Super Beasts: 2.5 – 3 years
Pre-K
Funny Bugs: 3 years
Giggle Worms: 4 years
Good Friends: 5 years
Grade School
Flips and Hot Shots: 6-12 years.
There are also gymnastic options for youth from preschool up to 12 years of age. "We have a flexible make up policy," says Melissa. You just call ahead of time so that a credit can be added to your account.
The Little Gym Olympia is truly a family centered place. "Our entire team is incredible," says Melissa. Nora Lindquist, one of the instructors, feels like the team is also like a family. "I love working with kids. I love this job," she smiles. Her enthusiasm is mirrored with Tim. He quit his long-time job in the restaurant industry to find something where he could work with purpose. He found it. "I have the best job in the world," he concurs with Nora. One of his favorite things is seeing the youngsters coming into for their highlights of the day or week at the gym. "It makes a difference," he says.
Get your own taste of the positive energy that abounds at The Little Gym. "You are welcome to try a class and have an introductory experience," encourages Melissa. For information about enrollment, membership, camps, parties and what's new, you can visit The Little Gym website or Facebook page or give a call.
The Little Gym of Olympia
3315 Pacific Avenue SE A2, Olympia
360.972.4515
Sponsored