From a company just two years old to two established over four decades ago, the Lacey South Sound Chamber of Commerce celebrated its own on February 2. The annual Business Awards ceremony recognized outstanding organizations in seven categories. For winners, it was a moment to reflect on their achievement in weathering a pandemic and the economic upheaval it created while continuing to care for clients and staff.
Songaya Gay is the owner and founder of Enlightenment Home Care, a company that serves clients of all ages in a range of situations rather than focusing specifically on elders. Her team cares for those coping with chronic and acute illness, post-surgical patients, pregnant women pre- and post-delivery, newborns and people of all ages dealing with injuries. They also provide respite and companion care. "What I've found is that everyone can benefit from help with activities of daily living when they're in a crisis," says Gay. "It's not just restricted to seniors."
Unfortunately, Gay opened her business in February 2020. One month later, she and her team found themselves cut off from access to potential clients because they could no longer physically visit anyone. "That first year was emails and cold calls because there was nothing else we could do," she says. "It was scary to have invested everything we had into this business and then COVID hit, and we weren't sure what we would do next."
They persevered and as restrictions began to lift, business slowly improved. This year, the Lacey Chamber awarded Enlightenment Home Care Entrepreneur of the Year. "The award was fabulous," says Gay. "Being so new, I'm not well-established and to be seen like that was great. I plan to just keep plugging away and doing what I love."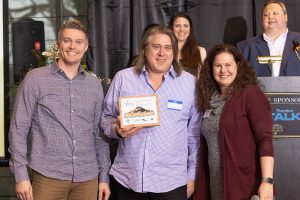 Business of the Year winner Dirty Dave's Pizza Parlor also felt the impact of COVID, according to owner Greg Wilson. His father Dave opened the restaurant in 1972 and it has been a fixture in the South Sound ever since. "The pandemic has shown that we have a great customer base," says Wilson. "They supported us for a couple of years now with all the things we've had to change. That's why we're still here."
Once COVID-19 hit, Dirty Dave's had to abruptly replace in-person dining with take-out orders and Wilson's schedule suddenly included hours of hunting down supplies. "I spent a lot of time in the last couple of years trying to figure out how to find the products we needed," he says. "Our takeout orders have doubled and there have been times where I spent part of every day driving around to stores to see if they had pizza boxes."
Dirty Dave's is well known locally for its contributions toward students and youth, from sports teams to bingo nights, even during the pandemic. "We're always a 'yes' to the kids," says Wilson. "We never say no to anything having to do with school districts or foundations that work with kids."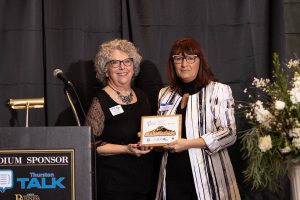 The Legacy Award went to Madelin White of Merle Norman Cosmetics, Wigs & Day Spa, a company she established in 1974. When White first started, she couldn't get a credit card in her own name because she was a woman. Insurance was prohibitively expensive for the same reason. She had already experienced being one of the few women at the precursor to the State Department of Transportation. "I was resented," says White. "I remember sitting in my car in the garage, thinking, 'It's not you, it's the position.' Part of my legacy has been fighting to make people understand that just because I'm a woman doesn't mean I can't do things."
White's father suggested opening a salon business because he believed that anything connected to the beauty industry would be recession-proof. Eight recessions later, it's clear he was right. White has withstood them all and remained open to provide not only services to clients but also mentorship and classes for cancer patients through the Look Good, Feel Better program.
She has been involved with the chamber for decades, holding multiple roles within the leadership team, including president. "The chamber has been near and dear to my heart for many years," says White. "This award was a big honor because it was done by my peers."
Lacey South Sound Chamber wishes to congratulate all the well-deserved winners including:
Learn more by visiting the Lacey South Sound Chamber website or calling 360.491.4141.