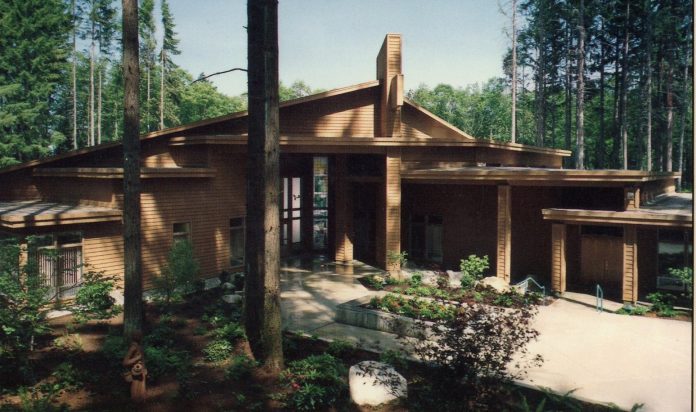 From their early days in a small building in rural Thurston County, to today's modern facility and online programs in Lacey, the Benedictine sisters at the Saint Placid Priory are well-versed in adapting to the times. And now they are waiting to see what their future holds, while providing education, chaplaincy and hospitality.

"We are watching to see who is joining us and what talents they are bringing us and that will define who we will be," says Sister Laura Swan, formation director and a past prioress of the women's monastic community. "We are listening for spirit."
2022 marks the institution's 70th year as an independent monastery. The priory is the daughter house of Saint Benedict's Monastery in Minnesota, an order that has its roots in Bavaria. Those sisters traveled here to do mission work and teach beginning in the late 1800s, and they stayed.
Swan, who is also the priory's archivist, says in 1952 the Saint Martin's Abbey Benedictine monks in Lacey gave the sisters property on Delphi Road near Mud Bay Road to establish an independent priory. It was named Saint Placid, after a disciple of Saint Benedict. A converted chicken coop served as the first novitiate, which is a house where novices are trained. Much later, rock musician Courtney Love bought that property. Meanwhile, the priory had moved to Lacey and is now in buildings that opened in 1992 in a forested campus on College Street. Swan says the priory houses 15 sisters and has at least 60 oblates. Oblates are not nuns, but make a lifelong commitment to the Benedictine community.
The priory's sisters have long championed education. They founded four Catholic schools in Tacoma and Puyallup and have taught at Saint Martin's University (SMU). From 1961 to 1985 the priory also operated its own high school. With dwindling student enrollment in the 1980s, the sisters adjusted. They closed their high school and opened a daycare for five years. With SMU, they educated five sisters from Tanzania who were obtaining degrees in the United States. They established a Spirituality Center to conduct in-person classes, retreats and workshops. But today, with COVID-19, in-person offerings are paused. So, the priory recalibrated once again. "Within 48 hours Sister Lucy (Wynkoop) had the entire Spiritualty Center online," Swan says. "People found us from all over the world, including Scotland and New Zealand."
The sisters' emphasis on education is unsurprising. They are scholars with multiple professions. Swan formerly worked in the insurance industry and holds master's degrees in theology and spirituality. She is a published author teaching religious studies part-time at SMU. Sister Angela Hoffman teaches chemistry at the University of Portland. Hoffman holds several patents related to her research on the anti-cancer drug Taxol, receiving an outstanding teacher award from the Oregon Academy of Science. Sister Raphaela Cady is studying Greek, Latin and Hebrew as she completes a SMU psychology degree with a minor in religious studies.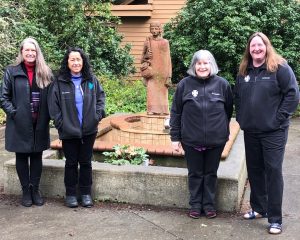 Paz Vital, a postulant joining the order, has a doctorate in biomedical science and worked in the medical field. She also holds a master's degree in theology with a concentration in Hispanic ministry and is preparing to become a spiritual director. Vital says the diverse education and lives of the sisters, many of whom had careers prior to entering the order, is part of what drew her to this priory. "That's what attracted me," she says. "I liked their backgrounds."
Vital is also impressed with how the priory modified during the pandemic. "We are reaching people in a different way, and online," she says. Spirituality Center Coordinator Janice Ariza says her job changed significantly from settling in guests at the priory, to now ensuring online programs launch smoothly. "I feel like when I am going 'live,' it's newscaster style," Ariza says. She says with Zoom, priory programs include from 10 to 100 global participants.
However, some things do not change. Daily life at the priory has always required juggling multiple communal and solitary prayers, work, institutional business and upkeep, meals, guest hospitality and education. This means the sisters must multi-task. Cady, who was in industrial plant maintenance before entering the order, is also the priory's IT person and works in the finance office. "What surprised me about priory life is that it requires quite a bit of time management," she says. "It requires some ability to do that. It's about balance, which is all of Benedictine's Rule: prayer, work, community prayer, single prayer."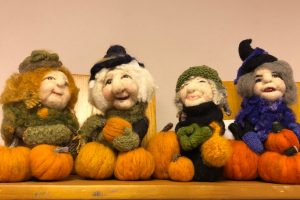 While awaiting to discern what is on the priory's horizon, the sisters continue to tailor their Benedictine order to modern life. The priory's online doors are open, providing a remote campus tour, retreats and programs and an arts shop selling goods crafted by the sisters. And, like so many of today's institutions, the priory has expanded into social media by joining Facebook.
St. Placid Priory
500 College Street NE, Lacey
Monastery: 360.438.1771
Spirituality Center: 360.438.2595