Submitted by Chris Groen for North Thurston Public Schools
The students in Stephanie O'Dell's classes at River Ridge High School are making a habit of getting under people's skin this year. In a good way.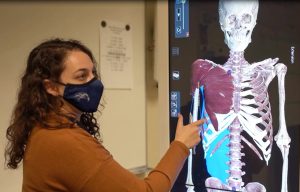 O'Dell, a health sciences teacher in the Career & Technical Education (CTE) department of North Thurston Public Schools (NTPS), has spearheaded the effort to get 3D interactive digital anatomy tables installed and integrated into health science classes at River Ridge, Timberline, and North Thurston high schools this school year, in an effort to help high school students better understand how the human body works and to prepare them for careers beyond high school.
The fully interactive tables, made by Anatomage, digitally allow students to visualize what is beneath their own skin by featuring life-size digital replicas of humans and animals that students in class can rotate, cross-section, and animate to learn how the various body systems and processes work.
"We can look at all anatomical pieces of the human body and look at different injuries and illnesses," says O'Dell, a former athletic trainer.  "It is a wonderful, amazing tool that lets students really get to see all the intricacies of anatomy, apply the physiology, and see more in-depth at different levels what the anatomy experience looks like."
Providing teachers and students with the tools that help make learning come to life for students—such as these anatomy tables—is one of the most rewarding elements of North Thurston Public Schools' CTE Director Brad Hooper's job. "We want our students to experience the most engaging activities and cutting-edge technology that they can when they're taking our CTE classes and when they're preparing for their careers," says Hooper. "We think the Anatomage tables can really enhance the student experience in our classrooms across the district."
"One of the best features of the table is the awesome amount of engagement it provides," says Heath Owens, a CTE teacher at North Thurston High School. "Students are understanding and retaining information much better when they're able to see and manipulate the table."
Students agree.
"Something cool that I've found about the anatomy table is being able to watch how fast the heart can contract and relax," says Emilio Lopez, a student in O'Dell's sports medicine class, a course where students earn first aid, CPR certification, athletic training concepts and more.
O'Dell notes that students, through the use of the electrical current and circulatory features found on the Anatomage table, are able to visualize why CPR and an AED (automated external defibrillator) works.  "It is cool to be able to see that because normally you can't if you're just talking about it," says Lopez.
With the ability for users of the table to interact with bone structures, musculature, pregnancy stages, and a variety of internal systems (circulatory, nervous, etc.) of both humans and animals, cross-classroom integration is expanding. Teachers across the district expect the tables to become regular learning tools for students taking courses in animal science, biology, child development, independent living and other areas in coming semesters.
Both now and going forward, Hooper sees priceless benefits for district students.  "These tables benefit every kid who gets to interact with them," says Hooper. "Not only do they teach about body systems, but if we can help inspire some of our students to consider career paths in medicine, biotechnology, computer science/programming or any other path in part because they interacted with these tables, that's why we are committed to bringing this type of interactive, industry-grade equipment for our teachers and students in our classrooms."
Read more about all the great CTE programs, awards and classes in NTPS here.