The Genetic Support Foundation has created educational videos discussing how understanding family genetics is connected to understanding individual cancer risks. In a partnership with Washington State Department of Health, GSF created a series of videos that include personal stories about family cancer connections and a tutorial on how genes work. The videos walk viewers through gene function and hereditary connections by means of narration and easy to follow diagrams. Viewers will find sincere stories and accessible information on a complex topic.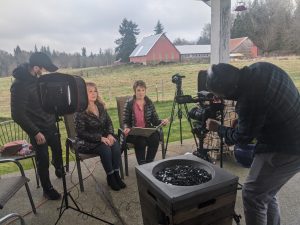 The first of the three new videos, "Family Cancer Stories," produced by Sky Bear Media, gives a view into two families' personal walks with cancer. The stories exemplify how both sides of a person's family histories matter when it comes to discovering connections between gene mutations and cancer. Sisters Janet Shimabukuro and Eileen Hugdahl share their story as an example of how cancer from their father's side had a genetic connection to the female cancer they both experienced. "I've never heard that the male cancers can be linked to the female cancers," shares Shimabukuro in the video. "I had no idea, and I just wish that somebody would have told me that. The general public just doesn't have that information and just doesn't know, and it could really save lives."
Participating in the video production was important to both Shimabukuro and Hugdahl. "I really want the link between male and female hereditary cancers to become common knowledge," says Shimabukuro. "Maybe someone famous will learn about it and share it with the world." 
"I hope these videos will be helpful," explains Katie Stoll, executive director of the Genetic Support Foundation, "in raising awareness about hereditary cancer and will encourage people to follow-up with a genetic counselor if they have a family or personal history of cancer. They have been made with the input from experts in the field of public health, genetics and cancer." People merely looking to update their knowledge of how family genes are passed down will find the videos educational and enlightening. People looking for a tool to help explain the topic to a member of their family, will appreciate their design for varied audiences.
Not only does the video explain how genetic screening helps people identify gene mutations but that learning one's specific risks from the results can help pinpoint treatments. "If you can catch anything early," explains Hugdahl in the video, "the outcome is so much better. You have this information so you can make the decisions. Instead of having cancer make the decision for you, you can choose to make the decisions." Learning information through her sister's cancer experience and genetic screening, Hugdahl was able to make vital, preventative care choices for herself. "My breast cancer would have gone undetected," says Hugdahl. "I had a clean mammogram just three months prior. My doctor ordered an MRI as soon as he learned I was BRCA2 positive. Finding out saved my life. If we can educate anyone, maybe a person with a lot of cancer in their family, they will see three strong women who had different paths who got through it. We put a face to cancer."
Following the first video's narratives of male and female cancer connections, the second in the series, "Genetics and Cancer," tackles the inevitable questions about what DNA is and how genes, mutated genes and cancer operate. An easy to follow, animated series of sketches presents a step-by-step explanation of what genes are, how they operate and how the possibility of a mutation can be inherited.
The third in the set of new videos, "Cascade Screening," wraps back around to the Cascade Screening service established between GSF and the Washington State Department of Health. This two-minute video gives an overview of the service and how families not only benefit from the test results, but how the service can connect relatives across the state with genetic counseling services in their area. "Cascade screening is one of the best tools we have to efficiently and accurately identify and contact at-risk family members," says Nikki McCoy who also shares her family's story in the first video. "I'm grateful this free service is available to people in Washington. To use a popular term in the hereditary cancer risk community, knowledge is power, and this video helps spread that knowledge."
The series of three videos carries a wealth of information in a short time frame and is delivered with heartfelt messages. "Please talk about your family health history," expresses Shimabukuro. "Be open and share. While none of us wants to know we are high risk, that information is highly valuable to a family because early detection is key."
GSF is a nonprofit genetic counseling service assisting people with interpreting DNA test results. Whether the results came from an online company or were the result of testing suggested by a primary care provider after a diagnosis, GSF helps people take that information and map out their family history. The goal is to provide people with a better understanding of how their family history may play a part in their individual diagnosis. A better understanding means being able to make more direct choices in preventative measures or specific treatments.
Sponsored