Aron Dowell has spent his entire adult life in commercial banking, one way or another. Now he gets to channel that experience and expertise as the new Small Business Banker for Olympia Federal Savings (OlyFed), helping organizations bring the bank to their office to meet their financial needs in a more efficient and effective manner.
Dowell shared that he helps many clients optimize their cash flow by saying goodbye to paper checks with ACH or Automated Clearing House (ACH) technology. ACH eliminates the manual work that goes along with the traditional process of sending and receiving payments. Dowell explains that you can set up ACH for one time or recurring transactions and that with OlyFed's system you have the ability to set up dual controls and approval limits for your employees who manage your funds.
One other tool Dowell says he helps clients with is Remote Deposit Capture (RDC), which saves them time, money and stress by not having to come into a branch to deposit checks because it can all be done from a client's office. While Dowell has been with OlyFed for a few years now, they created his new position in 2021 to meet the growing demand for business services, particularly those related to online banking. He helps clients understand the resources available to them and stay up to date with the continuing advancements in digital finance.
"For the past five or six years we've been helping a lot of business owners with their commercial lending needs; however, in doing that work we began to seeing an increasing need from our clients to help them with their deposit and cash flow strategies to help make them more efficient and profitable." says Dowell. "We spent the last two years developing our ACH and RDC programs so we could have a more robust offering."
ACH is a network used to move money between bank accounts electronically across the United States. It's been around since the 1970s, but has grown in popularity since 2012 and become an increasingly common way to manage financial transactions during the pandemic. In the third quarter of 2021, users made 7.3 billion payments with a value of $18.1 trillion via ACH.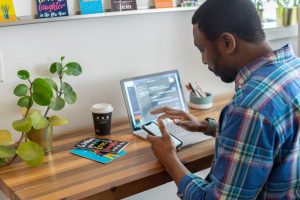 Dowell helps businesses familiarize themselves with the network. Once it's set up, ACH is fast and convenient and can be tailored to the needs of each client. As an example, in one case a customer was managing rental units and would visit each tenant to collect rent by hand. "You can imagine how difficult it is in this day and age with quarantines," says Dowell. "We talked through his situation and set him up with our ACH collections."
Now, tenants are billed once a month based on their contract and the money is automatically withdrawn from their accounts. The property manager can count on consistent income and no longer has to manually bill tenants or collect rent in person.
Within the nonprofit world, both donors and recipients are frequently exchanging funds. Dowell and the OlyFed team are working on a system to allow donors to easily contribute to causes they care about and help nonprofits accept those donations. "Instead of people mailing checks for their charitable giving, we're looking at moving them into ACH for sending out funds," says Dowell. "It's faster and more secure. They're now able to donate money at a quicker pace and at the same time, protect their assets because there is no potential of the money getting lost."
On the day we spoke, Dowell had just helped another client onboard their finances to ACH, resulting in a much faster process. "Essentially, it used to take a week to get their payments, and now they get them the next day," he explains.
Aside from speed and convenience, ACH is customizable for different clients and Dowell provides one-on-one coaching in the beginning stages. "I will regularly sit down with business and organizational leaders and help them enroll and walk them through the step-by-step process to set up their customized payment systems," he says. "We go through their books, and I help them make their first payments. It's a very hands-on approach to make sure they are comfortable with the process and feel confident to manage their funds with this new process in the future."
Clients have responded positively to the personal touch and demand has continued to increase. OlyFed has seen more new clients since it began offering the service, which is competitively priced, Dowel notes. "What's great with OlyFed is we don't have a one-size fits all approach to banking," he says. "We're able to customize our banking solutions in a way that makes sense for each client and helps them through each step. This personalized and caring approach to technology implementation and digital banking is really beginning to take off as many local small businesses and nonprofits have reaped the benefits of working with a local community bank like OlyFed."
OlyFed also offers Remote Deposit Capture (RDC) for business and personal accounts. RDC allows customers to skip branch visits and deposit multiple checks straight from their office or home by using a mobile device or scanner. It's another way to streamline operations, save time and to get funds deposited into your account quicker.
Dowell is thriving in his new role and was recently named OlyFed's Employee of the Quarter for his work support both his clients and colleagues. "Aron has a great sense of humor and he knows how to encourage others in a positive way," Lori Drummond, OlyFed president and CEO, said. "This combination of traits and skills make him an incredible resource that's appreciated by his entire team. In fact, Aron never shies away from a challenge and he continually finds new and innovative ways to improve processes and procedures for the good of the organization and our customers."
To learn more about all of the banking options available through OlyFed or to schedule an appointment with Aron, visit the Olympia Federal Savings website.
Sponsored