A new monument at the state capitol campus honoring the George Bush pioneer family was unveiled November 19, 2021. Director Jennifer Kilmer of the Washington State Historical Society, former Representative Eric Pettigrew, Representative Deborah Entenman and Lieutenant Governor Denny Heck all gave remarks to the crowd. The public, as well as legislators, the WSHS Black History Advisory Committee and the Tumwater Historical Association were all invited to attend. A few dozen people gathered for the unveiling amid some rain.
The granite and bronze monument displays a short reading titled "Putting Down Roots" that briefly narrates the Bush family's journey, their struggles and their contributions to settlers who came after them. It is located on the capitol lawn between the North Diagonal and 11th Avenue, just west of the WWII Memorial. Funding for the monument comes from $100,000 in the capital budget allocated to the WSHS for a celebration of Black History Month. WSHS set up an advisory committee to plan the creation of public resources such as the Bush monument and K-12 Black history curriculum.
Lieutenant Governor Heck called it a happy day. "Let me tell you how deeply deserved I think this is," began Heck. "As somebody who has the privilege to chair the state capitol committee, we have the responsibility for this campus. And, quite literally, I look upon this ground as part of a sacred altar to our democratic values, and every square inch has to be regarded as such. Anything that goes on any square inch has to meet the standard of eternal good decision, and this is not only an eternally good decision, it is a long overdue decision, and much, much deserved."
Heck, along with all speakers, spoke highly about the Bush family generosity toward others. Representative Debora Entenman called Bush a good Samaritan and praised the addition of the monument on the capitol campus. "I hope we can continue to work together," said Entenman, "to acknowledge each and every person who contributed to Washington State on this campus. I think it is very important for us to walk through those halls and know the names of all who have made sure that Washington became a state. I think it enriches us. I think it makes us stronger, and I think that we know that in our diversity is strength."
The granite monument and accompanying bench are within view of a living historical feature connected to the Bush family. Planning to set up a homestead, the family brought trees west with them. The Bush family's original butternut tree lived over 170 years, and a nut from it was used to grow another, which was planted on the capitol grounds. It is a living reminder of the 640-acre land claim that the Bush family farmed.
George and Isabella Bush came west from Missouri in 1844, hoping to settle in the Willamette Valley. However, George Bush's father was African-American and his mother Irish, and Oregon's provisional government banned a Black person from land ownership. The Bush family, along with their supportive friends from the trail, decided to continue north of the Columbia River into territory that was more welcoming. Two years after Washington Territory was established, a vote came from its new legislature petitioning congress to make George Bush's land claim legal. The following year, 1855, "An Act for the Relief of George Bush, of Thurston County, Washington Territory" was passed.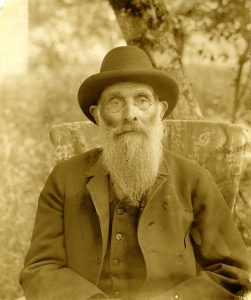 Also integral in the founding of the state was Bush's oldest son William Owen who served in the first Washington state legislature. He was instrumental in both civil rights and agricultural education. During the first legislative session, "An Act to Protect All Citizens in Their Civil and Legal Rights" was passed. It stated, "That all persons within the jurisdiction of the State of Washington shall be entitled to the full and equal enjoyment of the public accommodations, advantages, facilities and privileges of inns, public conveyances on land or water, theatres and other places of public amusement and restaurants, subject only to the conditions and limitations established by law and applicable alike to all citizens of whatever race, color or nationality." It was the first civil rights act in Washington. The very next day, "An Act to create a Commission of Technical Instruction, and to establish a State Agricultural College and School of Science and to declare an emergency" was passed as well. The school that William Owen Bush helped create would go on to become Washington State University. A monument identical to the capital monument is planned to be dedicated on the Tri-Cities campus of WSU in Richland to honor him.
"We are honored to have facilitated the Bush monument," says Kilmer, "and proud to see this physical marker at the seat of our state's governance, recognizing the significance of George Bush and his family. The stories of Black Washingtonians have been underrepresented in our history, and this is one step in moving toward an inclusive telling of our state's past."
Locally, a monument recognizing the Bush family and farm sits at the northwest corner of 88th Avenue and Old Highway 99. Nearby is the last remaining portion of the Bush land claim that continues as a farm, aptly named Bush Prairie Farm, a community share agriculture.