Matt Herrera, Ryan Perkins and Jason Smith have each been involved in the local soccer community for the past two decades. From players and coaches, to all the behind-the-scenes operations, the trio have pretty much done it all.
You can now add owners to their resume.
Herrera, Perkins and Smith became the new ownership group of the Oly Town Artesians, purchasing the soccer club a handful of weeks before the start of the indoor season.
"I started playing soccer in the Thurston County youth programs 41 years ago," said Smith, who coached eight seasons at Shelton High School and is a current Black Hills youth soccer coach. "I played for Tumwater High School and later at Tacoma Community College. After high school and college, I continued playing in many different adult leagues. Soccer in this community has been such a big part of my life. I'm excited for this opportunity with the Artesians where hopefully I can give something back."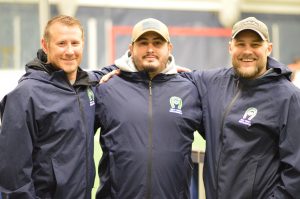 Oly Town, which offers clubs for both men and women in the Washington Indoor Soccer League (WISL) and Evergreen Premier League, is comprised of NCAA players, transitioning professionals and former collegiate athletes.
"Our goal is to provide a platform for younger players to play out of the college season so their skills don't diminish," Herrera said. "The reason I wanted to get into was to help the growth of the players. We're doing it so guys can play. If I can be a part of something that helps out the younger generation then I'm all for it."
"Right now, we're just getting our feet wet, learning all the details," Smith added. "We're not making a lot changes, but we have a lot of goals. It's about the players and about the soccer community here. It's just a great opportunity for college kids. If we can make it even better, that's our goal."
While technically labelled as new owners, all three have been associated with the Artesians for years with Herrera's time dating back to the club's inaugural season, back when they were known as the Tumwater Pioneers, as a player.
Herrera, who along with Perkins is a 2005 North Thurston High School graduate, served as the organizations director of operations last year, while Perkins held the titles of general manager and partnership director and Smith, who also owns the Shelton-based GGCW Renovations construction company, was a business sponsor.
But, more important than their ties off the field, the three have played countless times as teammates. "I think we knew it would work as owners because of that," Smith said. "I've played a million times with Ryan and Matt. We all have really strong personalities, but we always communicated really well on the field."
Herrera also believes that it's their vast experience as players—especially with all three playing on the 2017 Oly Town squad—that will go a long way in their success as owners. "I think I am really excited about what we can do as owners because we all played the game," he said. "We understand in the moment things. When we view the coaches or the players or wins and loses we understand playing here and the unique aspects it presents itself as a player."
Oly Town opened its Western Indoor Soccer League season on November 6 at Snohomish. The Artesians will next play at the Tacoma Stars Reserves on November 13 before hosting Oly-Pen Force in their season home opener at the Evergreen State College Pavilion on Saturday, November 20.
"Games here are pretty special," said Herrera when asked to describe the type of play fans can expect to see at the Pavilion. "In here it's more like a cage match than soccer. Fans are right on top of the action. You're seeing people slammed into the boards. You're seeing people sweat. You're seeing people put the effort into it. On this field you could shoot it from anywhere and if you have a good leg on you, it has an opportunity to go in. From a player's point of view it feels like you're constantly attacking. It's exciting."
Oly Town will play a total of five matches at the Pavilion with additional home dates set for December 11 against the Portland Blacktails, December 18 against the Snohomish Steelheads, January 8 against the Tacoma Star Reserves and January 22 against the Bellingham United. The WISL playoffs will begin February 5 with the league championship match on February 12.
"We have this really tight-knit soccer community here. Everyone helps each other out and that's what we want to continue to do with the Artesians," Perkins said. "For years, players had to travel to Seattle for competitive soccer outside the collegiate ranks. Now that opportunity is here, minutes away in Olympia with the Artesians."
Sponsored