December 6, the Lacey Lighted Parade and Lighting of the Christmas Trees will wind its way from Sleater-Kinney Road to 7th Avenue, culminating in the annual lighting of the Christmas trees at Huntamer Park. Kids and families can watch the parade, get photos with Santa and enjoy hot cocoa.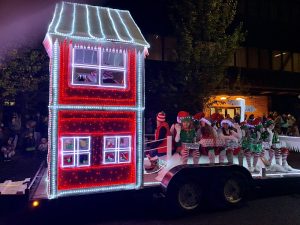 "It's something to look forward to," says Jeannette Sieler, recreation supervisor for Lacey Parks, Culture & Recreation. "We missed a lot of experiences through COVID and when we started up again last summer, people were so excited to be part of something live and interactive in the community."
The event started in 1996 with a simple tree lighting ceremony at West Plaza Park, in the Fred Meyer parking lot on 7th Avenue SE & Sleater-Kinney, accompanied by the Komachin Middle School choir.  Eventually, it moved to Huntamer Park and city staff expanded decorations from one tree to an entire park, including an animated Santa display. More choirs and bands joined, including adult groups. The lighting ceremony features a giant switch shaped like a candy cane. "People walk around, drink cocoa and enjoy the lights," says Sieler.
In 2016 the city celebrated its 50th anniversary with a lighted vehicle parade, thinking it would be a one-time event, but it was so popular that they decided to make it an annual occurrence. "Our police department, our public works department and the folks who take care of our streets all come together to make this a fun, safe event," Sieler explains. "The community gets involved by entering their vehicles and lighting them up. In 2019, thousands of people watched the parade and then headed over to the park to see the lights."
Anyone can enter a vehicle as a business or individual at no charge. Many go all out with decorating. Companies like Uline and Lemay usually participate, along with agencies like Intercity Transit and groups like the Girl Scouts. The parks department provides instructions for anyone who wants to light up their vehicle. "Whether it's a classic car or a regular car, the easiest fix is to get netted lights," says Sieler. "Some people will have a trailer with inflatable items. Anyone can participate, and they can put their business banner on their vehicle."
Some of the more memorable entries over the years include an Intercity Transit bus entirely covered in lights with an illuminated bicycle on the front, a Public Works Department truck rigged out with Rudolph antlers and a giant red nose on the front. "We've had trailers with inflatable rocking horses and unicorns," Sieler says. "People get very creative." The parade always ends with our guest of honor, Santa, riding atop a lighted antique fire truck.
The only walkers allowed in the parade are the River Ridge High School Marching Band who lead the way, and each year the bandmembers work hard to out do each other with all the lights they wear!
In 2020, due to COVID, the city modified the event with pre-recorded audio of Santa reading stories and holiday favorites performed by the River Ridge High School band and the BACH musicians, a local homeschool choir played through a low-frequency radio station for families to enjoy from their vehicle as they admire the light display. This year we want to give people lots of way to enjoy the holidays, so we will bring back the radio station starting December 7th through the end of the year, along with the return of the big event on the 6th" Sieler says. "Also, masks will be required for everyone attending the event ages 5 and up due to the anticipated crowd size."
As of this writing, the Lighted Vehicle Parade, presented by Interstate Batteries,  already has 18  entries, including the River Ridge High School Band, the North Thurston High School Dance Team, Girl Scouts Service Unit 623, Lacey Fire District 3 and a number of local businesses, families and individuals. By event time it usually has around 30, according to Sieler. The parade typically lasts between 20 to 25 minutes, and she recommends arriving early to get a good spot before moving on to the park. "We'll have hot cocoa while supplies last," she says. "Dress warm, come out and enjoy the show."
To enter the Lighted Vehicle parade, fill out this online application. Learn more at the City of Lacey Arts and Events page.
Sponsored