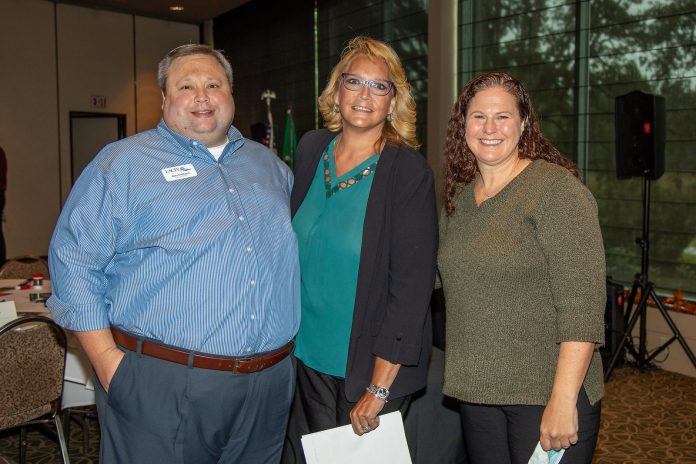 As the incoming board president of Lacey South Sound Chamber of Commerce, Melanie Bakala plans to apply the same principle that she uses in business and life: leave it better than you found it. "I'm excited to bring the experience I've had leading chambers," says Bakala, a past two-term president of the Shelton-Mason County Chamber of Commerce. "I want to give back to the communities that support my business."
Bakala, owner of Lacey and Shelton State Farm offices, is one of a slate of new Chamber board members who will be sworn in this November. When she takes the reins as president, former Vice President Cameron Daniels of Edward Jones will become president-elect, Chris Lester of Thurston County Title will take on the role of vice president, Mike Jones of the North Thurston Education Foundation will become treasurer, and Madeline White of Merle Norman Cosmetics, Wigs & Day Spa will serve as secretary.
Other members, both new and returning, will also be sworn in during the November ceremony. Becky Carver of Prime Lending will serve a second term while Cynthia Knapp of Precisely Right Accounting, John Grantham of Promo Northwest and Jeff Seemen of PC Technologies are joining the board for the first time.
Knapp has already been involved with the Kidwiler Foundation, a Lacey Chamber program that provides scholarships to students, for several years so she was familiar with the organization. "I just celebrated my 16th anniversary in business, and it seemed like the right next step," she says.
Carver's experience as a member of the Lewis County Recovery Court board taught her the impact of getting involved in the community. Once she opened an office in Lacey and moved to the area, she became an ambassador with the Lacey Chamber and found that she resonates with the group. "I like the energy of this chamber," she says. "They're forward thinkers, they do a lot of great things and they're growing."
After two terms as president of the Shelton-Mason County Chamber, Bakala was familiar with how boards worked. Like Carver, once she opened a second office in Lacey, she began to participate in community events and found herself gravitating toward the Lacey Chamber. She joined the board three years ago. "They're a tight-knit group and a place where business owners can really get to know other business owners," she says. "I realized this would be a good organization to get involved with." When the opportunity came to become vice-president and then president-elect, she was honored.
Knapp and Carver both mention relationships as an important aspect of their involvement. "I have longevity within the community," Knapp says, "not necessarily through business relationships but external connections with a lot of the general membership. I know most of the board members and I've been around long enough to know what works and what doesn't."
In her role as a mortgage lender, Carver is used to getting close to clients quickly, a trait she also brings to her role on the board. "Because of what I do for a living, people have to be able to open up and trust me, especially when it comes to their finances," she says. "What I love with the chamber is the genuine relationships I'm building."
Those relationships became more important than ever as the pandemic continued through 2021. Bakala appreciates collaborating with a team that supports each other. "We have a group of board members who are facing similar challenges in their businesses and can help with perspective," she explains. "Everybody is struggling but working with a group of like-minded folks has been a real treat."
Looking ahead, the new team anticipates supporting strategic goals, growing membership and growing professionally. "I'm not sure what to expect because I've never done this before," says Knapp. "It's nice to have an open canvas where I can be of use, and someone can plug me in to do what needs to get done."
The board includes a mix of brand-new members and those who have served multiple terms, and Carver believes that's a recipe for success. "The members who have been there for a long time bring a lot of value," she says. "I'm fresh blood, which is also a good thing. It's important to have both."
For her part, Bakala is committed to helping Executive Director Blake Knoblauch realize his vision.  "My goal is to give Blake the support and guidance that he needs to continue what he's doing because he's amazing," says Bakala, "We're going to focus on growing our membership."
The new board will be sworn in at the Board of Directors meeting on November 17. Learn more by visiting the Lacey South Sound Chamber of Commerce website or calling 360.491.4141.
Sponsored