Just as Melanie Collett and her husband were preparing for a trip to California to see family, he developed a runny nose. In normal times, the couple might have dismissed the minor symptom as nothing to worry about and continued packing. But in the COVID-19 era, the risk of infecting others, especially older family members, can't be taken lightly. "It was three days before our trip and I told him, 'You have to get tested," says Collett. "I needed to figure out if we had to cancel our plans. No one wants to be that family member who finds out they have COVID in the middle of a visit."
Fortunately, Collett is a marketing manager with MultiCare Health System and she knew he could get a rapid test to provide them with the information they needed quickly. Her husband went to MultiCare's Indigo Urgent Care for a rapid test, and they got the results within an hour. "It was amazing," she says.
Indigo offers two types of COVID-19 tests: Rapid (RT-PCR) and standard nasal swab (PCR) tests for those experiencing mild symptoms who can afford to wait longer. RT-PCR tests provide results on the same day, often within hours while regular PCR test results typically take one to two days. Rapid tests resemble pregnancy tests by displaying one or two lines to indicate whether viral antigens are present. Antigens are a type of protein on the surface of the virus that create a positive result.
Demand for rapid tests has increased with the arrival of the COVID-19 Delta variant and the fall flu season, according to Collett. "People are being more proactive," she says. "If they think they've been exposed or have minor symptoms, they want to make sure they don't have COVID before they go back to work, spend time with their families or go out in public over the weekend.
Other reasons for the RT-PCR test include travel, as in the case of Collett and her husband, needing to return to work or school or specific policies at daycare centers and schools that require regular testing. "There are plenty of reasons," Collett notes. "Whatever the circumstances, Indigo has the option for people who want to get their results faster."
Anyone who wants a test has several options. They can book an in-person appointment at any Indigo Urgent Care, walk in or go through Indigo's online care  platform for a virtual appointment. In the latter two cases, an in-person or online provider can help patients navigate the process. "The providers are very experienced. They'll talk with you about how you're feeling, testing options, protocols and your individualized treatment plan," says Collett. Those who have already had online sessions will be directed to a clinic for their test and wait for their results.
Because all Indigo Urgent Care locations have a lab on site, they can process the test results quickly, allowing people to make informed decisions about their next moves. As more of the population has returned to work and travel has opened up, getting results quickly has become more important than ever. "One of the biggest benefits is that people can find out the same day whether they need to quarantine or if they can return to wherever they need to go," says Collett.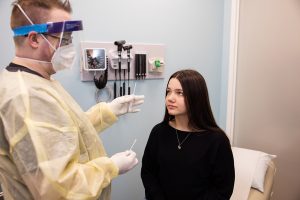 There is a fee for the RT-PRC test. Indigo Urgent Care accepts all forms of insurance and also has a self-pay option. Patients can check their results on MyChart, a free secure portal that provides medical records, results and reminders.
MyChart is how Collett's husband discovered his results. Fortunately for the family, he tested negative for COVID-19, and they were able to make the trip to California to see their relatives with peace of mind. "Rapid tests are so valuable for situations like that," says Collett. Whatever the results, knowing where you stand makes it easier to make the best decisions for ourselves and the people in our lives.
MultiCare Indigo Urgent Care has convenient locations in Lacey, Olympia and Tumwater. Visit their website to learn more or make an appointment.
Sponsored