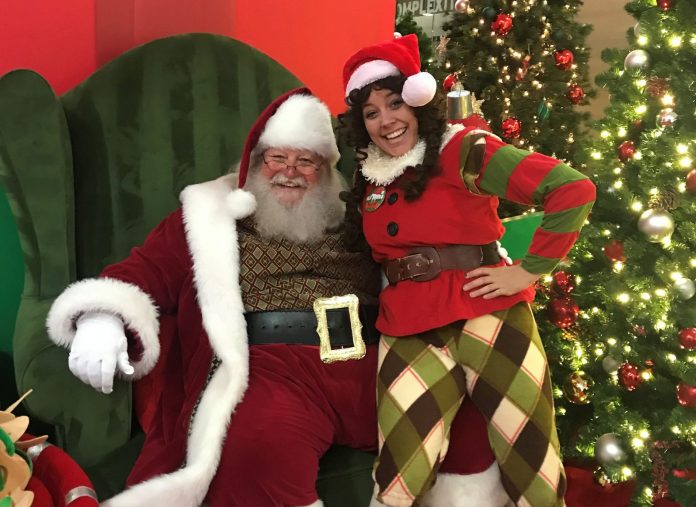 It's time for Christmas cheer! And the best place for that is the mall, of course! Capital Mall Marketing & Business Development Manager Stefanie Cicerello is excited to announce that they are bringing back their holiday events for the 2021 holiday season. They have a full calendar of fun events and activities for the whole family, including photos with Santa, free gift-wrapping, and more.
Photos with Santa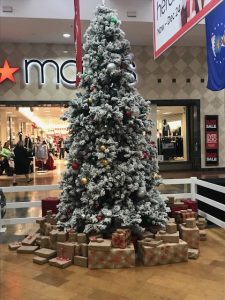 Santa photos are a favorite pastime for many families come Christmastime. Capital Mall is bringing back Santa with a brand-new set sponsored by T-Mobile called Santa's Cookie Café, which will be located off of Macy's Court. "It will be decorated to look just like a cookie bakery," shares Stefanie. Santa will be arriving at Capital Mall on Saturday November 20 at 10 a.m. and is going to need lots of little helpers! Kids that attend Santa's Arrival will be able to participate in Elf Training, where they will have five holiday tasks to complete in order to meet Santa. "If they complete all of their elf tasks, they will be made honorary elves by Santa himself, ears and all!" says Stefanie
Santa photos will be available at varying times between November 20 and December 24. The schedule is available online, and reservations are strongly encouraged. In order to keep everyone safe, the Santa experience will be socially distanced at 6 feet for both the meeting and the photos. Santa experiences are complimentary, and photo packages will be available for purchase afterward. All proceeds from Santa photos will be donated to their nonprofit partner Autism Speaks.
This year, Capital Mall is also bringing back Soothing Santa, which is available by appointment only on December 5 and 12 from 8 a.m. to 10 a.m. before the mall opens. Places that are loud, bright, or crowded can sometimes be overly stimulating for individuals with sensory sensitivity, so Capital Mall created a quieter atmosphere where they can enjoy the Santa experience too. "We keep the lights down and music soft, and bring in one family every 10 minutes," Stefanie explains. "For many kids, this is their first time being able to meet Santa, so these experiences are truly heartwarming to be a part of."
Santa isn't the only one visiting Capital Mall this season. Mrs. Claus will be hosting story time on December 12 at 10 a.m., 1 p.m., and 2 p.m. in Capital Corner by Century Theater. "Kids can come enjoy holiday crafts and a delicious cocoa bar before snuggling in for some stories with Mrs. Claus," says Stefanie. "Jammies are strongly encouraged!" The reservation link for this fun event will be posted online, so be sure to check back soon.
Holiday Pet Photos
In addition to family photos with Santa, Capital Mall is also offering Pet Photo Nights on Wednesday December 1, 8, and 15 from 4 p.m. to 7 p.m. All proceeds for these nights will be donated to their nonprofit partner the Humane Society, so you and your pet can have fun and make a difference all at the same time. Your furry friend is welcome to join this "howliday" event as long as they are a domestic animal and are on a leash or in a carrier.
Holiday Gift Wrapping
In addition to these exciting family events, Capital Mall is bringing back some much-needed holiday cheer with holiday gift wrapping. This service is complementary and provided by the soldiers from the Washington Army National Guard. Gift wrapping starts on November 27 and runs up until December 1 in Macy's Court on Fridays, Saturdays, and Sundays from 12 p.m. to 6 p.m. Gift wrapping While you wait for your gifts to be wrapped, you can enjoy holiday entertainment with Capital Mall's Sounds of the Season. "Local choirs and orchestras will be coming in to perform holiday songs," shares Stefanie. "The magic of the season will definitely be returning this year!" Sounds of the Season will be performed in the afternoons from Thursday to Sunday every week.
With the holidays right around the corner, Black Friday is a great opportunity to get great deals on gifts for your loved ones. Capital Mall is eager to provide a fun and enjoyable shopping experience to the community. "We are going to have a Black Friday lounge with purchase prizes and a hot cocoa bar," says Stefanie. It will be a great place to rest from the shopping madness and enjoy some delicious hot chocolate. The Black Friday lounge will be open from 10 a.m. to 2 p.m. in Macy's Court on Black Friday, which is November 26.
On November 27, the day after Black Friday, Capital Mall is extending the prizes and hot cocoa bar as part of their Small Business Saturday promotion. "It is a big part of our mission to stay local, so we want to reward our guests who shop locally that day," Stefanie says. Guests who shop at locally-owned stores within the mall will have the chance to receive gifts with their purchase, so it is well worth doing some holiday shopping that day.
After postponing their events last year, Capital Mall is eager to welcome the community back for some holiday fun. "We missed hosting events and being able to interact with our guests in person," shares Stefanie. "We are so thrilled to be able to celebrate the holiday season with our community again and bring back the holiday traditions they love!" With so many wonderful events, there won't be a shortage of fun activities for the family to enjoy this holiday season.
Sponsored