Submitted by Experience Olympia & Beyond
The Olympia & Beyond Sports Commission, a division of Experience Olympia & Beyond, hosted the fourth annual Thurston County Sports Awards on Wednesday, November 3, honoring local athletes, coaches, sports enthusiasts and game changers in the community. Seven award recipients were announced during the virtual evening program, including Jack Kiley of the Washington State Senior Games, who was presented with the Thurston County Sports Legend Award for his work leading the athletic competition for active seniors.
"I really enjoyed watching all of the winners react to hearing their names announced at this year's ceremony," said Jeff Bowe, vice president of sales and development for Experience Olympia & Beyond. "We had some very emotional speeches, highlighting special athletic and sports industry accomplishments right here in Thurston County. We look forward to holding this event in person next year and continuing to honor the sports talent throughout our region."
All nominations were submitted from community members and were voted on by an advisory committee made up of community stakeholders.
For a complete list of nominees, please visit the Experience Olympia & Beyond website.
Below is a complete list of the 2021 winners:
Boy's Sports Star of the Year (High School): Jeremiah Nubbe, Rainier High School, Track & Field
Jeremiah, from the small community of Rainier, Washington, owns both state and national titles in the discus throw. He was the 2B state champion as a freshman, then broke the Washington state all-time record for a junior with a throw of 196 ft. This past season at the Nike Outdoor National, meet he placed second and fourth in the discus and hammer throw, respectively, then went on to take the discus national title at the USATF Junior National meet in Florida. Jeremiah has committed to the University of Texas, Austin, to continue his track and field career, and plans to study aerospace engineering.
Girl's Sports Star of the Year (High School): Kendall Hooper, Capital High School, Soccer, Basketball, Fastpitch
Kendall shares a record at her high school, earning 12 varsity letters, and was named captain of the basketball, fastpitch and soccer teams. She has also helped coach and lead Little Cougars Basketball and Oly Kicks Soccer Camps, all while serving as the president of the Future Business Leaders of America.
Men's Sports Star of the Year (College): Cade Otton, University of Washington, Football (Tumwater High School)
Cade was named first-team All-Pac-12 in 2020 and the UW Football Offensive MVP at the team's postseason awards banquet after a pandemic shortened the season. He also earned a place on the 2020 Pac-12 Academic Honor Roll. Cade is well known in Thurston County, having played on the Tumwater High School team, which went 47-5 over his four years. He played for his grandfather, Sid Otton, the winningest coach in Washington state high school history.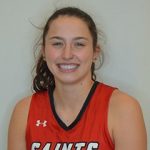 Women's Sports Star of the Year (College): Claire Dingus, St. Martin's University, Basketball
Claire is a 2021 Women's Basketball Coaches Association All-American Honorable Mention, the first since the Saints joined the NCAA in 1998. Claire led her team in scoring (17.5 points per game), rebounding (10.2 per game) and steals (1.9 per game). She shot an incredible 55.9% from the field and 45.8% from three-point land. Claire is also a 2021 Great Northwest Athletic Conference All-Academic Selection.
Contributor of the Year: Kyle Dorsey, Baseball Umpire
Kyle has worked hard to master his craft as a baseball umpire. When he is on the field, he is in control, making quality, decisive and balanced calls, all while proactively managing coaches, players and parents. He recognizes a need for more coaches, umpires and referees in youth sports nationwide so that more kids can be involved.
Sports Moment of the Year: St. Martin's University Men's Golf Team
For the first time in the program's history, the men's golf team won the Great Northwest Athletic Conference championship at The Home Course in DuPont. The Saints also secured a spot in the 2021 West/South Central Regional, also hosted at The Home Course. The team went on to place second overall in the regional, and earned their first berth since 2006 at the NCAA National Championships in Florida, where the Saints finished 15th overall.
Thurston County Sports Legend: Jack Kiley, Washington State Senior Games
For 20 years, Jack Kiley has led the Washington State Senior Games, an athletic competition for active seniors aged 50 and above. When the games started in the mid-1990's only a few sports were offered and only about 200 participants showed up. Today they have grown to approximately 2,000 competitors in 25 sports. Jack has worked to grow the event in Washington state, adding such events as pickleball, badminton and rock climbing. A signature event in Thurston County, it is the largest gathering of senior athletes in the state, taking place in an atmosphere that promotes health, physical fitness, competition and companionship.