I don't know about you, but I don't cook on Thanksgiving. It's a holiday and cooking is not my favorite. We bake Christmas cookies and have those beforehand, but I want to enjoy my day off and that does not include spending it in the kitchen! Instead, I prefer to have my meal cooked for me. Whether you are looking to dine-in or get a ready-to-eat or heat Thanksgiving dinner to go, you've got options! Here is where to get thanksgiving dinner in Olympia and Throughout Thurston County.

Budd Bay Café
525 Columbia Street NW, Olympia
360.357.6963
Wanting to dine-out for Thanksgiving? Head to Budd Bay Café for a Thanksgiving dinner feast! This year, they are offering both dine-in and to-go. So, whether you want to take a scrumptious meal to the in-laws (we won't tell you didn't cook it!), or take the family out, Budd Bay Café has you covered! In-house you will have your choice of an appetizer (Caesar salad, clam chowder or butternut squash soup), choice of entrée (carved turkey, prime rim, braised lamb or salmon Neptune) with all the fixings and sides you could think of including stapes like cranberry sauce, gravy and even green bean casserole with crispy onions! Top it all off with your choice of dessert (pecan or pumpkin pie, chocolate bourbon bread pudding or crème brulee). For to-go meals, you get a choice of two entrees (turkey or honey glazed ham), dessert (pecan or pumpkin pie, or chocolate bourbon bread pudding) and of course you get all the sides to-go as well. Orders must be placed by November 20 for the Thanksgiving Dinner to-go.
Parkside Café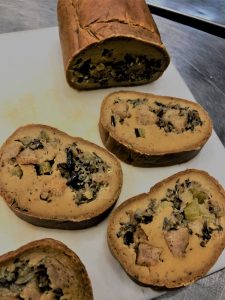 1909 Harrison Avenue NW, Olympia
360.352.8344
Often those of us with allergies, sensitives, or diet restrictions (myself included!), have to make everything ourselves. Not this year thanks to Parkside Café! They are doing a full-plant based Thanksgiving Dinner to-go that includes everything you could want with a choice of four entrees, and six sides. For dessert you get six choices, and we won't judge if you decide to order more than one, I have my eye on the pumpkin cheesecake that is plant-based, gluten and soy free! They even have the drinks you need to round out the perfect read-to-heat meal, including house-made nog (again, dairy free!) or pumpkin coldbrew. Orders must be placed by November 18 on the Parkside Cafe website or via email at hello@theparksidecafe.com.
Ricardo's Kitchen and Bar
676 Woodland Square Loop SE (off 7th), Lacey
360.413.9995
Ricardo's Kitchen and Bar is closed Black Friday, but you can head over there from 2 p.m. to 6 p.m. for a scrumptious non-traditional in-house Thanksgiving dinner on Thanksgiving Day. The special menu includes appetizers, salads, soups, pasta, and entrees, including their dry aged sexy beef. Of course, those looking for the traditional Thanksgiving Day platter with all the fixins', including turkey, green beans, gravy and stuffing won't be put out, they have that too!
Three Magnets Brewing
600 Franklin Street SE STE 105, Olympia
360.972.2481
Three Magnets Brewing is once again offering their incredibly popular ready-to-heat meal for up to eight people. The Thanksgiving dinner includes turkey, of course, with spent grain dressing, red potatoes, green been casserole, maple pecan sweet potatoes, fresh-baked yeast rolls with cranberry relish, brown ale gravy and pumpkin pie with salted caramel drizzle and whipped cream. You can add on a second dessert, a fresh-baked Dutch apple pie (and who doesn't want multiple desserts on a holiday?) Pre-order your Thanksgiving dinner by November 19 and order the extra dessert to get a free mixed four-pack of Three Magnets beer. Order on the Garden Movement website.
Bayview Catering
516 4th Avenue W, Olympia
360.357.8016
Bayview Catering, inside Ralph's Thriftway, is providing a Thanksgiving dinner fit for even the fussiest relatives. They do all the cooking and you can take all the credit! Dinner includes a 10-12-pound turkey, cranberry orange relish, mashed potatoes with gravy, herbed bread stuffing, green beans amandine, fresh baked rolls and butter. Desserts and beverages can be ordered as well. Orders must be placed by November 17 at 3 p.m.