Submitted by Gateway Rotary
With one of the more exciting musical lineups in the history of the festival, Brats, Brews & Bands 2021 is bringing touring bands such as Mas Tequila, Elton/Joel, Dakota Poorman, Breana Renea, Trick Candles, Dead Lee and Tobias The Owl to headline this amazing one-day festival. Also appearing are several local favorites such as Nana's Pants Suit, Slainte, The Lemmings, and Exit 88. Catch them all live at the Brats, Brews & Bands Festival in Lacey on September 11, 2021.
Expect this event for adults 21 and over to sell out. Tickets are $25 in advance with 5 drink tastes, and $30 at the door. From 2017 to 2019, the BBB doubled in attendance annually from 800 to over 3,200 attendees. Buying tickets in advance guarantees you through the door, especially with COVID-19 crowd restrictions.
The Brats Brews Bands Festival is a one-day, 100% volunteer-operated event. Hosted by the largest rotary membership in the area, Gateway Rotary, the event raises thousands of dollars annually for local children's charities in the area. Rotary International has over 1 million members, and has been helping provide humanitarian service and advancing goodwill globally as a non-political, non-religious organization since 1905.
"The Brats, Brews & Bands Festival has expanded to now include Huntamer Park, a wine garden and food trucks to an already fun event!" shares Nathan Peters, Gateway vice president & BBB chair.
It features over 50 types of craft beers, ciders and Washington wines, and a lot of great food, including brats and tacos. It is the end of the summer party before we head into the fall.
"It is such a fun event that brings our community together on one day to enjoy food, beer, cider, wine and music. It's like a great big party!" says Gateway President Janine Ezzell.
"I knew we had a great event, when Rotary members from as far away as Omak wanted to know the date so they could attend," shares Eric Rowe, past Gateway Rotary president.
Gateway Rotary Member Spotlight
Meet Madelin White. Madelin is an active club volunteer with the Gateway Rotary Club of Thurston County. Madelin joined the Gateway club in July 2015. Madelin is always available to help with club service projects. Madelin is often joined by her husband at important projects like supporting All Kids Win (formerly Homeless Backpacks). Madelin consistently demonstrates the Rotary motto of "Service Above Self." Our community is made better through Madelin's actions. Thank you, Madelin!
What We Do In The Community: We Are Gateway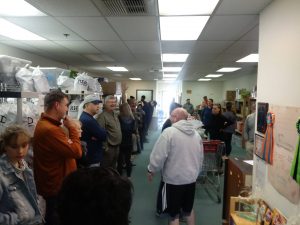 Our fundraising from the Brats, Brews & Bands Festival creates impact in our community. One of the core commitments by Gateway Rotary is helping provide a financial pledge toward the Thurston County Food Bank's creation of the Lacey Food Bank on Martin Way. This is about helping bridge the gap of food insecurity in our area, by providing real dollars and sweat equity from volunteer hours by our club, toward the betterment of our community. Every dollar spent at BBB helps make the Lacey Food Bank's resources more abundant as we have committed toward this project long-term.
Founded in 2011, Gateway Rotary meets in an Irish Pub (O'Blarney's) every Wednesday at 7 a.m. with a membership of 114 and growing. We provide a high-energy experience to those who want to help their community, roll up their sleeves and engage in a setting that welcomes a great group of active people in our area.
New Gateway member Sylvia Davenport said that she defines the club through its commitment to friendship and building trust through members. "It's the people that matter, and Gateway makes me feel a part of it, no longer how new I've been in the club," she shares.