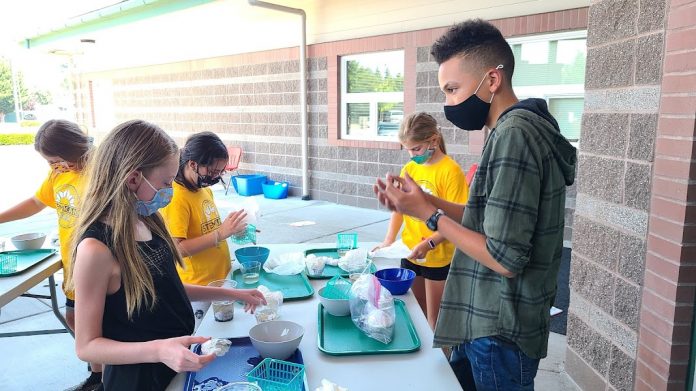 The results of a post-event survey aren't in yet, but the organizers of STEMKAMP have already gotten some feedback. One especially enthusiastic student made his feelings known while getting dropped off by his parents at Ridgeline Middle School one morning several days into the program. "Whoever came up with STEMKAMP is a genius!" he announced.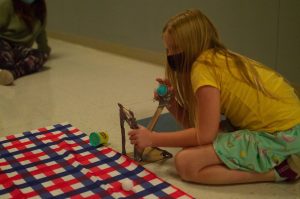 Yelm Community Schools (YCS) was 1 of just 10 districts in the United States chosen to host the three-year program, which is funded by the Department of Defense Education Activity (DODEA). From August 9-13, 122 3rd through 8th grade students gathered at Ridgeline to take part in the pilot program, which focused on hands-on science experiments around the topics of pollution, recycling and conservation. STEMKAMP primarily serves students from military families ('KAMP' stands for 'Kids of Active Military Personnel') and Yelm was selected as a community with a high concentration of active service members. However, non-military students also participated.
Students engaged in a range of activities, including designing conveyor belts and sorters for recycled materials out of pre-selected materials and creating catapults to simulate how fireballs impact different landscapes. "We wanted them to try things and when they didn't quite work out, to go back and fix them," explains STEMKAMP Program Director Shannon McWhorter. "There's a circular pattern for them to try their solutions to problems, test them and improve them."
YCS Director of Student Learning Kendall McNutt was encouraged by how the students responded to the challenge. "They persevered," she observes. "They never gave up, even if their experiment didn't work out. They came back and made adjustments. To me, that was the purpose of the camp, building that resiliency and seeing themselves as scientists."
The program fits in well with the district's overall STEM strategy, which aims to get students engaged in science early and introduce them to potential career pathways before they reach high school and need to start choosing courses. Several of the students who were interested in potentially pursuing careers in STEM or education acted as lab assistants. McNutt points out that the timing works well to help younger students try new avenues early. "It's important to get them before they're making those decisions so that they see the whole range of options and can choose pathways that interest them," she says.
The program also showed the range of potential careers and helped to shift preconceived ideas about what it means to be a scientist. "A lot of kids are turned off early because they see science as this limited thing that's only for some students," says McNutt. "But science is not just some old guy in a white lab coat. This camp helped them see all the different areas of study and tasks that are so much more expansive than what we often think of. Everybody can be a part of it."
YCS Career and Technical Education (CTE) Director Teri Pablo agrees that STEMKAMP is a good fit with the district. "We have really strong programs in our schools that help students explore STEM pathways," she says. "Our manufacturing, agriculture, sports medicine and computer science courses have embedded science, math and technology. We want kids to know that there are opportunities to learn and grow right here in our community."
Yelm was one of the last communities to host the camp, in part because of how the selection process worked. McNutt is the Regional Coordinator for Department of Defense Education Activity (DODEA) in the Pacific Northwest and has been involved with such programs for years. When three of the schools that were originally scheduled to receive the grant dropped out, the grant's facilitator Goshen Education Consulting contacted the DOD to ask for recommendations. They suggested Yelm.
"We wanted districts that already understood how DOD grants work," McWhorter explains. "Kendall has a vast amount of experience, and her reputation is so good. Yelm has been great to work with."
With funding supplied by the DODEA, families paid just $35 for their child to participate in the five-day program. For those who needed support, scholarships were available. During the first three days the students practiced engineering and design principles to solve issues focused around three topics: Conservation – Supporting Succession through Forest Preserves; pH – The Effect of Pollution in Our Water Supply; and Recycling – Solutions for Sorting. The fourth day would normally include a field trip but due to safety measures related to COVID-19, it became a field day for conducting projects focused on water filters, stream tables, plastics in the ocean and fire. On Friday, families were invited to view student exhibits and participate in a family STEM activity.
During the next two years, the goal is to make the program sustainable by involving the larger community. Ideally, STEMKAMP will become a fixture of summer in Yelm, one that students eagerly anticipate each year. The DODEA will track the academic and career choices of students who participate to measure the program's impact.
According to McNutt, that impact is already apparent. "Our kids really benefitted from this experience," she says. "They saw themselves differently at the end of it. They're going to walk into classrooms in September excited to be back and ready to explore the range of what's available for them."
To learn more, visit the  Yelm Community Schools website.
Sponsored